UBS Figures Immunity Beats Getting Busted
UBS is seeking immunity from prosecution in a currency-rigging probe, perhaps because it violated the term of an agreement not to break the law again.
by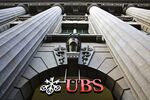 The Swiss banking giant UBS AG has cut a variety of deals over the years to avoid criminal prosecution in the U.S. It signed a deferred-prosecution agreement with the Justice Department back in 2009 over tax-fraud allegations, followed by a non-prosecution deal in 2011 for rigging bids on municipal-investment contracts.
Then in December 2012, its Japanese subsidiary pleaded guilty to a single wire-fraud count as part of the government's investigation into manipulations of the London Interbank Offered Rate and other widely used interest-rate benchmarks. That plea was accompanied by another non-prosecution agreement for the parent company, which pledged to "commit no United States crime whatsoever" for the next two years.
So there really is only one course of action left for UBS to try, short of a guilty plea by the parent company itself. Earlier today, Bloomberg News reported that UBS is seeking immunity in the U.S. and European Union as part of a global investigation into currency markets allegedly rigged by some of the world's biggest banks.
This makes perfect sense, in a warped way. Normally repeat offenders face increasingly harsh punishments each time they get caught committing new crimes. UBS is a too-big-to-fail bank, however. So forget any notion of three strikes and you're out. If UBS can pull this off, it will be more like four strikes and you get a free pass. The bank would have to cooperate with the feds against its competitors, which one would think it would be happy to do.
The currency-market investigations began last year after a story by Bloomberg News in June about widespread manipulation of benchmark rates by companies and investors. There is every reason to believe this conduct was going on at the time the article appeared. So it wouldn't be a surprise to find out it was going on at UBS during the period in which the bank had promised it would commit no federal crimes.
It's the norm for the Justice Department's non-prosecution and deferred-prosecution agreements to include obey-the-law provisions like the kind to which UBS agreed. And they've become something of a joke, especially at large banks.
Back in 2012 when UBS signed its second non-prosecution agreement, the government's paperwork showed that UBS was committing federal crimes during the 18-month period when the 2009 deferred-prosecution agreement was still in effect. However, the government didn't prosecute the parent company for violating the no-crime commitment in the earlier agreement or for anything else.
A cynic might even say there's something admirable about UBS's latest approach: By seeking immunity from the outset, the bank is dispensing with the charade of law enforcement. So this way there's no pretense that the government was ever going to do anything all that meaningful to UBS anyway.
Lots of big banks -- including JPMorgan Chase & Co., HSBC Holdings Plc and Barclays Plc -- have been racking up settlements that let them avoid criminal prosecution. Deutsche Bank AG signed a non-prosecution agreement in 2010 with federal prosecutors over sales of illegal tax shelters, a deal in which it promised to commit no crimes for two years. It's under scrutiny now in the same currency probes as UBS, and it's hard to envision the government enforcing the earlier deal's terms.
It should be dawning on the Justice Department that perhaps all of these non-prosecution and deferred-prosecution agreements don't serve as much of a deterrent, at least when it comes to systemically dangerous (oops, I meant "important") financial institutions. Back in 2012 when the government unveiled its latest deal with UBS, Lanny Breuer, then the head of the Justice Department's criminal division, told reporters that prosecutors considered the consequences to market confidence in deciding not to charge the UBS parent company. "Our goal here is not to destroy a major financial institution," he said at a news conference.
Rather, the government has decided it is preferable to let such a company stay in business and continue breaking the law.
(Jonathan Weil is a Bloomberg View columnist. Follow him on Twitter.)
This column does not necessarily reflect the opinion of Bloomberg View's editorial board or Bloomberg LP, its owners and investors.