One Dingell Retires, Another Headed to Congress?
Dingell is imbued with rare political intuition which made him an especially skillful legislator. 
by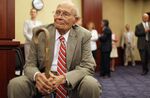 The phrase "legislative giant" is an overused cliché; not, however, when it comes to Representative John Dingell who, after more than a half-century in Congress, announced his retirement today.
The 87-year-old Michigan lawmaker is the longest-serving member in the history of Congress, representing his Detroit-area district since late 1955. That year, he won a special election to succeed his father who held the seat for 22 years until his death.
Dingell was chairman of the House Energy and Commerce Committee for 16 years, and for many of his other years in Washington he led powerful subcommittees or was an otherwise influential member of the minority. He leaves a prodigious legislative record and was a fiercely tough partisan on issues such as health care and labor unions and a zealous defender of Michigan's auto industry who also sometimes teamed up with Republicans. Dingell also had an independent streak, as a liberal who often opposed gun-control measures.
Dingell has a rare political intuition that made him an especially skillful legislator. He possessed an uncanny sense of when to hold and when to compromise.
He could be a very tough customer. A Dingell investigation sent shivers down the spines of its targets, who rarely escaped unscathed. There also is a soft, generous, side, especially apparent since he married his second wife, Deborah, more than 30 years ago.
He is a presence both in Washington's legislative corridors and on its social scene. Dingell forged close ties to top Democrats such as Presidents John F. Kennedy and Bill Clinton and he established friendships with conservative Republicans such as Representative Joe Barton of Texas and former Federal Reserve Chairman Alan Greenspan .
One relationship that didn't take for Dingell was the one he had with House Minority Leader Nancy Pelosi . In 2002, Dingell's district was redrawn along with that of another Democrat, Congresswoman Lynn Rivers . Pelosi sided with Rivers in the race for the redrawn district. But other Democrats, including former Clinton campaign manager James Carville , came to Michigan to support Dingell, who ended up defeating Rivers by almost 20 points. In 2008, Pelosi aligned herself with California Representative Henry Waxman -- who also will retire this year -- and Dingell lost the chairmanship of the House Energy and Commerce Committee. However, unlike most legislators who are sidetracked, Dingell never lost his legislative zeal or effectiveness.
He is one of only two remaining members of Congress who served in World War II -- Representative Ralph Hall of Texas is the other. Dingell's congressional district, which has been in the family for over 80 years, is a safe seat for Democrats and was carried by President Barack Obama by a 2 to 1 margin in 2012. His wife, Deborah, is expected to run.
This column does not necessarily reflect the opinion of Bloomberg View's editorial board or Bloomberg LP, its owners and investors.
To contact the author on this story:
Albert R Hunt at ahunt1@bloomberg.net
Before it's here, it's on the Bloomberg Terminal.
LEARN MORE