How Long Until Putin's Olympic Glow Fades?
Putin's Olympics were a resounding success, but how long will the buzz last?
by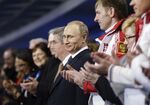 Reading all the positive foreign reactions to the Olympics, I can't help imagining how a flunky of Russian President Vladimir Putin would put together a selection of quotes to please the boss -- to make the president feel as though he had won all of Russia's world-beating 33 medals, including 13 golds.