Carl Icahn Doesn't Even Want to Dignify EBay With a Proxy Fight
Icahn doesn't even think he should have to wage a proxy fight.
by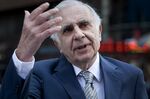 When we last checked in on Carl Icahn's efforts to get eBay Inc. to spin off PayPal Inc., a month ago, I speculated about why Icahn might be pursuing a proxy fight in such a big company. With only 0.82 percent of the shares, Icahn doesn't have a huge stake to anchor his dissident position, and has to rely solely on his persuasive abilities to get other shareholders to vote for him. But I didn't count on one factor, which is that Icahn doesn't even think he should have to wage a proxy fight:
Indeed, for the first time in our long history, we have encountered a situation where we believe we should not even have to run a proxy fight to change the board composition. Rather, we believe that in any sane business environment these directors would simply resign immediately from the eBay Board, either out of pure decency or sheer embarrassment at the public exposure of the extent of their self-serving activities.

What. What. What? Carl, it does not work that way. Does it? It would be amazing if you could win a proxy fight by just unilaterally declaring, "I shouldn't even be having this proxy fight, I am so right, you should just give me what I want right now." 1
That claim is from Icahn's open letter to eBay's stockholders, and the rest of it is just as joyfully weird. For instance, I love Icahn's insistence that he's been "diligently researching" eBay, and also the order of these sentences:
We have recently accumulated a significant position in eBay's common stock because we believe there is great long-term value in the business. However, after diligently researching this company we have discovered multiple lapses in corporate governance. These include certain material conflicts of interest, which we believe could put the future of our company in peril.

I don't know, doesn't that sound like he bought first (this stake was disclosed a month ago) and researched later? Especially since the news that he's found is not exactly new news -- eBay says he "cherry-picked old news clips and anecdotes out of context," and I guess that's not wrong?
The main thing is that two eBay directors, Marc Andreessen and Scott Cook, seem to have outside interests that compete with eBay's. Cook is the founder of Intuit Inc., which mostly makes TurboTax, but which also derives a small percentage of its revenue from a mobile payment processing service called GoPayment, which competes with PayPal. 2 Andreessen is a partner of Andreessen Horowitz, the venture capital firm, which among other things 3 (1) was part of a consortium that bought a majority of Skype from eBay in 2009 and made a quick and large profit on the deal, (2) invested in a company called Kynetic a year after eBay sold it, and (3) according to Icahn, "has made investments in and actively advised, no less than five direct competitors of eBay (four of which are competitors of PayPal), including Boku (mobile payments platform), Coinbase (Bitcoin wallet), Dwolla (secure online money management), Jumio (online and mobile credit card payments) and Fab (design e-commerce)."

Some of this is awkward stuff; the letter does a good job of emphasizing that the clubby Silicon Valley thing where all of the competitors in an industry share venture capitalists and board members and agreements not to hire each others' workers doesn't fit all that neatly with traditional notions of public-company corporate governance. 4 On the other hand, eBay is right that it's old stuff, that having venture capitalists on your board is normal for tech companies and probably has some benefits, and that there are sensible ways -- recusals, conflicts policies, etc. -- to minimize the bad consequences of those conflicts.
What is the purpose of this letter? It ends with a call for shareholders to vote for Icahn's two director nominees and for his nonbinding proposal 5 to separate PayPal from eBay, and that seems to be Icahn's goal. But the letter contains only minimal discussion of the PayPal question, and its attacks on Andreessen and Cook are a little weird in that eBay has a staggered board and Andreessen is not up for re-election this year. (Cook is, so, go ahead and vote against him if you want.) The letter is fiery enough, but it has more or less nothing to do with the actual proxy fight.
I don't know, I get the sense that Icahn isn't kidding about thinking he should not run a proxy fight. His leverage with eBay doesn't come from the traditional activist source of having a big stake that can vote against management, and frankly it doesn't seem to come from deep research and astute financial analysis. 6 It comes from being Carl Icahn, the ... let's say noisiest of the shareholder activists, and the one with the most talent for annoying companies. Annoying eBay into submission may be Icahn's best chance of winning, and it's one that doesn't depend on financial analysis, vote counts or arguments about PayPal's standalone value. All it requires is over-the-top rhetoric and lots of publicity.
To contact the author on this story:
Matthew S Levine at mlevine51@bloomberg.net
To contact the editor on this story:
Zara Kessler at zkessler@bloomberg.net
Before it's here, it's on the Bloomberg Terminal.
LEARN MORE