Friday Baseball Blogging: What Should I Be Reading?
I'm looking for some help. I'll tell you what I'm reading now and if anyone has suggestions, I'm listening!
by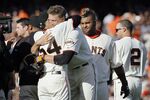 Teams are taking batting practice, spring is here, I'm entering the six weeks or so where I'm really homesick for Phoenix, and it occurs to me that I have a real baseball problem: I'm not reading enough good stuff.