Tinder Knows What You Did Last Summer
It's been a hot and cold week for Tinder. Let's evaluate. 
by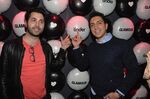 It's been a hot and cold week for Tinder, the popular hookup app that connects users by letting them swipe left to pass and right to match. In true Tinder fashion, let's evaluate the rundown.
•Researchers at Include Security say they discovered a flaw in Tinder last fall that made it possible to find users' precise locations for between 40 and 165 days. Tinder shows users approximately how close they are together, but this breach gave detailed information of mileage to 15 decimal places, data that could let a hacker pinpoint a user's location to within 100 feet. Swipe left
•Tinder fixed it! Stalking powers stopped at some point before Jan. 1, 2014. Swipe right
•It took the company 40 days from the time it was notified to respond to Include Security. Swipe left
•Side note: Olympians like random hookups, too. Apparently, Tinder "dating" has become its own sport in Sochi. Swipe right
•This isn't the first time Tinder's security has slipped. In July, the app revealed users' exact longitude and latitude for at least two weeks. In November, Web developers discovered ways for hackers to find users' e-mail addresses. Swipe left
•Users don't seem to care that they risk giving Tinder their coordinates. In November, Tinder saw about 400 million swipes and 4 million matches a day, up from 350 million swipes and 3.5 million matches in October. The app supports more than 24 languages. The millennials think it's cool. Swipe right, because why not?
•Tinder hasn't publicly addressed the most recent breach. Swipe left
•In other news, Tinder made its first Antarctica match. Says the lucky flirt who matched another researcher last December: "She was quite literally camping in Antarctica, went on Tinder, and found me. It's mind-blowing." Swipe right, even in mittens
(Kirsten Salyer is social media editor for Bloomberg View. Follow her on Twitter.)
This column does not necessarily reflect the opinion of Bloomberg View's editorial board or Bloomberg LP, its owners and investors.