Hockey Trades Black Eyes for Blackface
Canada hockey's close win over Latvia has created as much buzz over what nearly happened on the ice as what went on in the stands.
by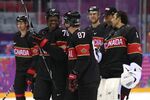 The Canadian men's hockey team narrowly escaped what would have been a stunning upset by Latvia yesterday, squeaking by with a 2-1 win to advance to the Olympic semifinals. Yet there has been as much buzz over what went on in the stands as over what nearly happened on the ice.
The New York Times' Ben Rothenberg tweeted a photo of a white Team Canada fan watching the game in full-on blackface while wearing the jersey of Jamaican-Canadian player P.K. Subban. Appropriate outrage has ensued, especially given the inexplicable resurgence of blackface in popular culture in the past year. This isn't the first time we've seen horrific displays even from fans attempting to show support for a black player; when Subban first came up with the Montreal Canadiens in 2010, some Habs fans paired "Subbanator" T-shirts with afros and shoe polish on their faces.
As cringeworthy as those outfits are, most racist gesturing by hockey fans is more pernicious. Former NHL goalie Kevin Weekes and current Philadelphia Flyer right winger Wayne Simmonds have both had banana peels thrown at them on the ice. When Simmonds played in Europe during the 2012-13 lockout, opposing fans showered him with a chant of "opice" -- the Czech word for "monkey." And it's not just fans: A couple of years ago, Phoenix Coyotes forward Raffi Torres donned blackface while dressing as Jay Z for Halloween.
That black players still have to endure such behavior by white fans and teammates speaks to the burgeoning diversity problem hockey has yet to properly confront. There are many issues at play here, not the least of which is the relative dearth of black players in the NHL. Though the first black professional hockey players laced up their skates in 1899, the number of current players of color is still a mere fraction of the league at large. Hockey is an expensive sport that requires a huge personal investment in equipment and skating lessons as well as a community investment in space for ice rinks. Cold-weather areas with an ingrained hockey culture tend to feature miniscule minority populations: Canada as a whole is only 2.9 percent black, while Minnesota, arguably the most youth-hockey-obsessed state in the U.S., is just 5.5 percent black.
Sports such as basketball and football are more financially accessible, but they are also more culturally acceptable for black athletes, both in the eyes of the white-dominated hockey establishment and among the black sports community itself. As we saw with the Jonathan Martin fiasco, black athletes can have just as hard a time gaining acceptance from white teammates as their black peers -- especially when they come from different socioeconomic backgrounds or boast atypical personality traits and interests such as hockey. Black hockey players run the risk of alienation from a white culture that might view them as inferior and a black culture that could label them as Uncle Toms.
Then there is the sport's larger diversity problem: a homogeneous fan base. A recent report by Sports Media Watch determined that of the four major sports leagues, the NHL has the least diverse audience, with blacks comprising between just 1 and 5 percent of the viewers of last year's Stanley Cup Final. It makes sense that a sport with fewer examples of success for black athletes would have trouble attracting fans from similar backgrounds. Unfortunately, despite initiatives with NHL support meant to broaden the sport's reach, such as IceHockey in Harlem, there's little impetus to change the status quo: The same report also determined that the NHL boasts the most affluent audience, which matters much more to advertisers than racial parity.
I guess it can be considered progress that white fans have embraced a black player to the point of wanting to emulate him; too bad they still can't see past the color of his skin in doing so. Subban, by the way, won the Norris Trophy last year as the league's best defensive player. He topped all defensemen in overall scoring and power play points, and was the Canadiens' second-most productive player, with a positive 12 in plus-minus. It's totally understandable he would gain a dedicated following. They just need to stick to honoring him through t-shirts and jerseys and leave the wigs and shoe polish at home.
(Kavitha A. Davidson is a Bloomberg View columnist who writes about sports. Follow her on Twitter at @kavithadavidson.)
This column does not necessarily reflect the opinion of Bloomberg View's editorial board or Bloomberg LP, its owners and investors.