Has Obama Finally Pulled Ahead of Bush?
President Obama finally may be doing better than his predecessor in the polls.
by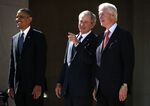 Since about April 2012, President Barack Obama 's approval rating has closely tracked where George W. Bush 's was eight years before. From Sept. 11, 2001, to the spring of 2004, Bush had been well ahead compared with Obama in their first years in office. I've writtenabout this a few times, so here's an update.
It's too soon to be certain, but Obama has probably, finally, pulled ahead, at least for now. The president's Gallup numbers have been in the low 40s for a while; he spiked today to 44 percent, but that's probably a bit higher than his true Gallup score. For a more careful look, the place to go is the HuffPollster trend line, which has Obama at 42.5 percent, or 44 percent using the "less smoothing" option, which is more sensitive to changing polls and also shows a two-month rally (while the "regular" smoothing option shows a flat line since mid-November).
Bush, meanwhile, fell below 40 in February 2006. Gallup still had him at a 42 percent approval rating in its Feb. 6-9 sounding, but by the next look, Feb. 9-12, he was down to 39 percent, and he would fall further during the spring. Bush only exceeded 40 percent during August 2006 and again in mid-September of that year before falling below 40 percent for good. He eventually fell as low as 25 percent, for a Gallup second-term average of 36 percent approval.
Obama, then, appears to be maybe three or four points ahead of his predecessor right now. The difference is that Obama is either holding steady or moving up, while Bush was on his way down at this point in his presidency.
Of course, there's no way to know whether Obama's recent trend will continue (and the "more smoothing" option, which pays little attention to recent changes, still has him continuing his yearlong slump). And changes can happen quickly. Bill Clinton and Ronald Reagan , both of whom retained the post-election bumps that neither Obama or Bush could hold, both moved out of long periods of relative calm very rapidly: Clinton with a 10-point surge in January 1998, Reagan with a 12-point collapse in November 1986. So Obama could sink lower than Bush. Or he could move solidly above the 50 percent mark.
No larger point here. I've said this before: Of the six presidents in the polling era who served full terms and were then re-elected, Bush and Obama entered their second terms as the least popular. By now, both of them have passed Richard Nixon , whose standing collapsed in 1973. So it's possible that Obama could be moving up to sole possession of fourth place, by this way of looking at it. Which is hardly anything to brag about.
This column does not necessarily reflect the opinion of Bloomberg View's editorial board or Bloomberg LP, its owners and investors.