Under Armour's Sochi Problem
Shani Davis' disappointing, eighth-place finish in Wednesday's 1,000-meter speedskating finals has been explained away by age and injury, but a new potential culprit has emerged: his uniform.
by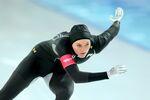 Heading into the Sochi Games, Shani Davis was the favorite to win gold in the men's 1,000-meter speedskate. The victory would have made him the only American to win gold in the same event in three straight Winter Games. His disappointing, eighth-place finish in Wednesday's finals has been explained away by his age, possible injury and even faulty blades. But a new potential culprit has emerged: his uniform.
The Wall Street Journal's Joshua Robinson and Sara Germano report that sources close to Team USA think the suits designed by team sponsor Under Armour could be slowing down skaters like Davis and Heather Richardson, who also missed the podium in the women's 1,000-meter with a seventh-place finish. Richardson had medaled in all four World Cup competitions in the event this season, winning three of them. Thus the unexpected and puzzling nature of the U.S. drought in speedskating so far into the Olympics.
Robinson and Germano explain the potential flaw in the suits:
Vents on back of the suit, designed to allow heat to escape, are also allowing air to enter and create drag that keeps skaters from staying in the low position they need to achieve maximum speed, these people said. One skater said team members felt they were fighting the suit to maintain correct form.
Kevin Haley, the senior vice president of innovation for Under Armour, which has sponsored the U.S. team since 2011, said he was confident the suits were fast, but, in the absence of medal-winning performances, "we'll move heaven and earth to make them better."
That's a far cry from the original billing of the Mach 39 uniform, which Under Armour said was "the fastest speedskating suit in the world" and meant to give a competitive advantage with its aerodynamic design. It would also be an incredible misstep for a company whose business is built around its apparel's performance and could find no greater ad space than the backs of Olympic athletes. Recall the 2008 Summer Olympics in Beijing, where swimmers broke world records at an unprecedented pace. After those games, the full-body, high-performance swimsuits like the Speedo LZR, made famous by Michael Phelps, were banned for giving athletes too great an advantage. What better publicity could a company hope for than to have a sport's international governing body declare that your apparel works too well?
Under Armour's sponsorship of the Sochi Games -- its largest foray into the Olympics yet -- was highly anticipated for its potential to expand brand awareness. Under Armour doesn't disclose the specifics of its deals, but it reportedly spends close to 11 percent of its $198 million annual revenue on marketing. For all their money spent, Team USA officials and athletes are mostly keeping quiet about the company's role and the speedskating suits' effect on performance. A competitor like Shani Davis isn't going to make excuses for his time on the track, but if Under Armour had anything to do with preventing him from making history, the public relations nightmare has probably just begun. The level of embarrassment on the world's biggest stage is huge if the suits violate the company's own mission to "make all athletes better." The question is whether this will ultimately be just a case of missed marketing opportunity or a larger problem of damage to the Under Armour brand and reputation.
(Kavitha A. Davidson is a Bloomberg View columnist who writes about sports. Follow her on Twitter at @kavithadavidson.)
This column does not necessarily reflect the opinion of Bloomberg View's editorial board or Bloomberg LP, its owners and investors.