Ritholtz's 10 Friday Reads: Being a Better Valentine
What a week. It's almost over so pack the SPF 50, one day until vacation!
by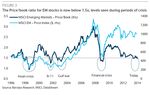 What a week. It's almost over so pack the SPF 50, one day until vacation!
• How to Be a Better Valentine, Through Economics (Economix)
• 77 Reasons You're Awful at Managing Money (Motley Fool) see also Warren Buffett is laughing at you for selling (MarketWatch)
• Robots won't make you rich (for long) (FT Alphaville)
• Excluding Cash, Google Is Now More Valuable Than Apple (Ashraf Eassa) but see Apple Took 87 Percent of Mobile Phone Profits Last Quarter (IBD)
• Pandora Suit May Upend Century-Old Royalty Plan (NY Times)
• The permanent scars of economic pessimism (Antonio Fatas on the Global Economy) see also What Does "Keynesian" Mean? (Uneasy Money)
• Jason Furman is the biggest nerd in the White House. And a juggler. And Matt Damon's former roommate. (Washington Post)
• The New Late-Night Landscape (WSJ) see also 32 Famous People Rejected by Saturday Night Live (Mental Floss)
• Where an oyster comes from really affects the way it looks and tastes, says Jeremy Sewall of Boston's Row 34 (WSJ)
• The Good Ship Galleon (Turney Duff)
What's up for the three day (or longer) weekend?
Emerging Markets Are Cheap But They Could Get Cheaper

This column does not necessarily reflect the opinion of Bloomberg View's editorial board or Bloomberg LP, its owners and investors.
(Barry Ritholtz writes about finance, the economy and the business world for Bloomberg View. Follow him on Twitter @Ritholtz.)
To contact the author on this story:
Barry L Ritholtz at britholtz3@bloomberg.net
Before it's here, it's on the Bloomberg Terminal.
LEARN MORE