Against Presidents Day
George Washington deserves his day. James Buchanan?
by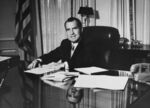 (My regular, rerun post for the holiday)
Presidents Day is a terrible idea for a holiday. Just awful. In this republic, there's absolutely no good reason to take a day to honor our presidents.

On the other hand, Washington's Birthday is a perfectly good idea. If we're going to honor great Americans, and we should, I'm not going to argue with those who put George Washington first. In fact, the official federal holiday is Washington's Birthday, but lots of states have renamed it Presidents Day or something similar.

The consensus Three Greatest Presidents are Washington, Lincoln, and (Franklin) Roosevelt, and I wouldn't argue with any celebration of those three. The other two Greatest Men Who Were Presidents are Thomas Jefferson and the sadly undercommemorated James Madison, and I'm also on board with honoring them (I'm not a huge Jefferson fan, but I don't really object to his status as a great American. Want to argue Adams? Ike? Take it to comments). On the other hand, I'm also pretty comfortable with Washington and King being the only two Americans honored with national holidays.

So, Happy Washington's Birthday, even if it isn't actually Washington's birthday, and even if most of what you're seeing are references to Presidents Day, President's Day, or Presidents' Day. Any way you spell it, it's a really bad idea. Which reminds me -- if you happen to think of James Buchanan, Franklin Pierce or Richard Nixon today, I think what you're supposed to do is spit twice over your left shoulder to avoid bad luck.

This column does not necessarily reflect the opinion of Bloomberg View's editorial board or Bloomberg LP, its owners and investors.