Why Hillary Clinton Shouldn't Listen to Journalists
 All presidential candidates should be thinking about just one thing right now: the nomination. Not the election. 
by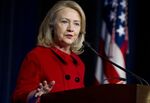 Politico offers advice for Hillary Clinton today that's practically a greatest-hits list of How Not to Run for President. About the only useful takeaway is that if she does follow Politico's advice, Democrats should probably start wondering if they might want another candidate.