view
Good McMorning, Vietnam
The first McDonald's in Vietnam opened Saturday, featuring the local McPork burger and bringing in 40,000 customers during its first two days of business.
by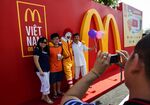 American-Vietnamese fusion cuisine for the common man has reached Ho Chi Minh City, and it came by way of the Golden Arches. The first McDonald's in Vietnam opened Saturday, bringing in 40,000 customers during its first two days of business.
And the 24-hour drive-through (the first in Vietnam, according to the company!) promises to be distinctly Vietnamese. "On the menu front, in addition to McDonald's iconic choices such as the Big Mac and world-famous French fries, the first restaurant in Vietnam will launch the McPork line of burgers, which was especially created to reflect local Vietnamese tastes," explaineda news release.
With operations in 119 countries worldwide (according to the company FAQ), McDonald's understands perhaps better than anyone that everyone likes McDonald's -- especially if it tastes just a bit like something other than McDonald's.
Welcome to the vanguard of global fusion cuisine: fast food. Sure, hotshot chefs with Michelin ratings are what come to mind when most foodies think of "fusion." But those chefs will rarely touch the hearts or stomachs of Asia's emerging middle-class consumers, many of whom look upon even a $6 value meal not as a cheap and fast convenience, but rather as a splurge to be savored only occasionally (especially when feeding a family that requires several meals).
Thus, an upwardly mobile vegetarian family in Delhi can go to McDonald's and order a BigSpicy Paneer Wrap, delighting in the chewy Indian cheese. Those in Thailandcan enjoy a Chicken Ham Pie -- which looks like the classic McDonald's Baked Apple Pie, right down to the flaky crust. A Malaysian family hoping to get out for a night during the 15-day Chinese New Year might be tempted by a limited-time-only holiday-themed Double Prosperity Burger, two rectangular beef or chicken patties served with raw onions and a fabulous black pepper sauce (yes, I had two last week) -- perhaps supplemented by a Bubur Ayam McD, a porridge stocked with chicken strips and garnished with ginger (popular enough that Malaysians post recipes for making it).
These dishes are not authentic -- if authenticity means a true American hamburger or Chinese-style beef in black pepper sauce that you'd be served at a local spot. But in this globalized age what could be more authentic than the fusion of what amounts to American street food and a signature broad stroke of Asian flavor, made available to Asia's middle classes, and not just to the well-heeled customers?
To be sure, there's much to disdain health-wise in a McDonald's meal, whether in Delhi, Kuala Lumpur or Minneapolis. The calories and the cholesterol can be ruinous. But I'd wager that the calories in street food staples such as Malaysian Nasi Lemak -- coconut rice and curry -- or a bowl of Shanghai fried dumplings easily rival the caloric mega-tonnage in a Big Mac. Indeed, when dealing with Asian street food -- as when dealing with American fast-food -- the question isn't whether it's healthy, but how often and how much one is willing to indulge.
McDonald's is surely working on recipes designed to make Vietnamese want to indulge a lot, but that's no reason to think that local Vietnamese food is threatened much less maligned by its new association with mass produced American burgers. Rather, just as colonial French baguettes once inspired Banh mi -- Vietnam's much beloved warm stuffed sandwiches -- it's possible that something new and wonderful might emerge from the inevitable intersection between the kitchens of McDonald's and this most flavorful of Southeast Asian cuisines.
(Adam Minter is a regular contributor to Bloomberg View based in the Shanghai and the author of "Junkyard Planet," a book on the global recycling industry. Follow him on Twitter at @AdamMinter.)
To contact the author on this story:
Adam Minter at aminter@bloomberg.net
To contact the editor on this story:
Zara Kessler at zkessler@bloomberg.net
Before it's here, it's on the Bloomberg Terminal.
LEARN MORE