Buffett Sets Off Headline Battle
Warren Buffett mighjt sell his shares in Graham Holdings, the company that once owned the Washington Post. Or he might buy some mroe shares. Or he might do something else. 
by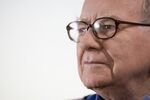 Few things in journalism are more amusing than dueling headlines from competing news organizations on a big breaking financial news story. And we have some doozies to enjoy thanks to a disclosure yesterday by Berkshire Hathaway Inc. and Graham Holdings Co., former publisher of the Washington Post.
Here's the headline from Bloomberg News: "Buffett in Talks to Exit Stake in Graham Holdings."
And here's a headline from an Associated Press article: "Buffett's Firm May Buy Part of Graham Holdings."
Fortune managed to get in both thoughts. Its headline said: "Post-Bezos, Buffett looking to exit Washington Post's former owner." The subheadline on the same article said: "Berkshire Hathaway may swap its shares in Graham Holdings for a piece of the company."
Meanwhile, the Financial Times muddled through with this: "Buffett looks to recast Graham ties."
What's going on here? Actually, none of those statements is off the mark. It's a matter of choosing which fact to emphasize; hence, the confusion.
Buffett's company owns 1.73 million shares, or 28 percent, of Graham, which used to be called Washington Post Co. before it sold the newspaper last year to Amazon.com Inc. Chief Executive Officer Jeff Bezos. Berkshire has owned its stake for more than four decades. It's now valued at about $1.1 billion. There's cross-ownership, too. Graham's pension plan held about $229 million of Berkshire stock as of Sept. 30.
Here's the deal, as Ross Perot used to say. Berkshire and Graham are in talks to do any number of things that may come to fruition or not. One possibility is that Graham would form a new subsidiary and put one of its businesses or maybe some other assets inside it. Then Berkshire would buy the unit, using the Graham stock it owns as currency. The unit's assets might include Berkshire stock that Graham owns. If they did such a transaction it would be structured as a tax-free spinoff. But again, nothing has been decided.
Or another possibility, if that doesn't happen, is that Berkshire would buy more Graham stock. Or it may decide to sell some or all of its Graham stock. Anything could happen, folks. It's all spelled out in a regulatory filing.
And so that's how anyone who went to Google today and typed in the search terms "Buffett Graham Holdings" could come up with a bunch of clashing headlines. They weren't in conflict. It just looked that way. Each described a portion of the possibilities, and there is only so much information one can squeeze into a headline anyway.
A similar thing used to happen all the time when Alan Greenspan would testify to Congress during his days as Federal Reserve chairman. The difference was that he would deliberately speak in gobbledygook to ensure that nobody could understand what he said. So one newspaper would say he hinted rates might go up, or that the economy was looking up. Others would say the opposite. Then later there would be more stories on TV and in the papers about how everybody's headlines were different and the news media looked foolish. This pleased Greenspan immensely. It was always a spectacle to watch.
On this occasion, Berkshire wasn't trying to confuse anyone. It's just that the subject matter is confusing.
Another story that comes to mind: Buffett gave an interview to Sarah Ellison for an article in the April 2012 edition of Vanity Fair about the Washington Post and its parent company. (This was before it sold the newspaper to Bezos and changed its name.) She asked him if he would ever sell Berkshire's shares in the company, where he had been a director until 2011. "The answer is I wouldn't. I can afford to be sentimental," Buffett replied, according to the article.
Things change. Or maybe they won't. You can bet on it.
(Jonathan Weil is a Bloomberg View columnist. Follow him on Twitter.)
This column does not necessarily reflect the opinion of Bloomberg View's editorial board or Bloomberg LP, its owners and investors.