Memo to White House: Colbert Isn't French
TV host's persona gets coveted invitation to a state dinner. 
by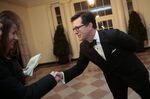 Coveted White House invitations can be all about how you pronounce your name.
At the elegant state dinner for President Francois Hollande of France last night, guests included late-night comedian Stephen Colbert , whose on-air persona pronounces his name "Cole-Bear," with a silent T. Sounds French. For the White House, which likes to invite Americans who have a connection to the guest of honor's country, that made him a natural for the Hollande event.
Except Colbert isn't French; the real pronunciation of his name is "Cole-Bertt."
In the late 70s, President Jimmy Carter held a state dinner for the Japanese prime minister, but failed to invite Norman Mineta , the Japanese-American congressman. White House aides later said they had thought Mineta was Italian-American. To this day, Mineta, who later became secretary of transportation, tells the story, shaking his hand with a mock Italian expression.
Shaquille O'Neal should keep close watch on his mailbox if the administration announces a state dinner for the Irish president.
(Albert R. Hunt is a Bloomberg View columnist. Follow him on Twitter @AlHuntDC.)
This column does not necessarily reflect the opinion of Bloomberg View's editorial board or Bloomberg LP, its owners and investors.