Buffett's Pal Munger Heads a Very Weird Company
A small newspaper publishing company where Warren Buffett's buddy Charles Munger is chairman keeps missing deadlines for filing its public disclosures.
by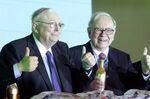 Charles Munger is the chairman of Daily Journal Corp., a small California newspaper publisher. He also is Warren Buffett's longtime business partner and Berkshire Hathaway Inc.'s vice chairman. So it's understandable why many investors would be curious to know what stocks Daily Journal owns.