The Unlikely Place an American Won a Medal Today
An American not named Shaun White managed to make Winter Olympic history today, in an event probably missing from the radar of most U.S. viewers.
by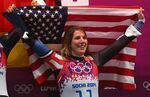 An American not named Shaun White managed to make Winter Olympic history today, in an event under the radar for most of the country.
Fifty years after luge joined the Olympic program, Erin Hamlin became the first American to win a medal in a singles competition, grabbing the bronze in 3 minutes, 21.145 seconds. Germany's Natalie Geisenberger continued her (and her country's) domination in the sport, capturing gold in 3 minutes, 19.768 seconds, while her teammate Tatjana Huefner took the silver.
Since luge entered the program in the 1964 Innsbruck Games, 81 medals have been awarded in singles events. Entering today's competition, 54 of those had gone to German athletes. Although the U.S. had won four medals in the sport, they all came in the doubles competition.
If you were to poll experts about which member of Team USA would make history today, Hamlin's name would probably reside at the base of the mountain. At the top would have been Shaun White, whose quest to become the first American man to win three straight Olympic golds ended after a disappointing, fourth-place finish in the men's halfpipe. Somewhere in the middle might have been the women competing in the inaugural Olympic ski-jumping event.

After drawing the first slot, Sarah Hendrickson had the fleeting honor of being the first woman to ski jump at the Olympics. But hampered by injury that forced her to jump from a lower gate, she fell well short of her golden goal, finishing in 21st place. Teammates Jessica Jerome and Lindsey Van, a ski-jumping pioneer who was instrumental to gaining Olympic inclusion for the sport, didn't fare much better, placing 10th and 15th, respectively. Overall, the event defied most expectations: Germany's Carina Vogt took home the gold, while Japan's Sara Takanashi, the heavy favorite entering competition, finished outside of medal contention in fourth place.
Of course, there's another event making its Olympic debut this week in Sochi: the luge team relay, giving Hamlin a chance to build on her already historic run.
(Kavitha A. Davidson is a Bloomberg View columnist who writes about sports. Follow her on Twitter at @kavithadavidson.)

This column does not necessarily reflect the opinion of Bloomberg View's editorial board or Bloomberg LP, its owners and investors.