Men's Wearhouse May Have Told Someone Something
Will Men's Wearhouse merge with Jos. A. Bank? Where will their bankers buy their suits? Etc.
by
I want to talk about a weird hostile M&A situation but first let's take a minute to enjoy this, from JPMorgan vice-chairman and all-around quotable deal guy Jimmy Lee:

"When you're advising clients, the 24/7, mobile -- all of that -- suddenly plays into the mix," he said, adding that the Dell deal "aged me a lot."
That's in the context of complaining about how Carl Icahn tweeted a lot about the Dell deal, as he does about the various meals he shares with Tim Cook. Time was, you chatted with investors about your plans and they had the decency to keep it to themselves and maybe trade on it a bit. Now there's the Twitter, the 24/7, the mobile, the whole mix.
This Men's Wearhouse situation partakes of a bit of that whole 24/7 mix, which is weird because, y'know, Men's Wearhouse. The story is basically that, in September, Jos. A. Bank offered to buy Men's Wearhouse. In October, MW announced that it had received the offer, rejected it for the usual reasons (undervalues the company, strategic plan working, lotta upside, etc.), and adopted a poison pill. It gave an investor update explaining all of that in late October.
Over the course of October and November, Eminence Capital bought a lot of MW shares. Last week, Eminence filed a 13D announcing it has 9.8 percent of MW -- making it the largest shareholder -- and that it wants a deal.. Since then, it's had the occasional chat with MW, as one does with one's shareholders.
One such chat seems to have occurred yesterday. When, according to Eminence anyway, MW CEO Doug Ewert told Eminence "that the Board of Directors of The Men's Wearhouse, Inc. (MW) takes its fiduciary duties seriously and that you [Ewert] instructed your financial advisors to review for the Board all strategic options available to the company, including a significant return of capital to shareholders and a merger with Jos. A. Bank Clothiers, Inc. (JOSB)."
Is that a big deal? It's sort of perfectly poised between news and non-news: Saying "we will fulfill our duties and think about all that needs thinking about" doesn't mean all that much. But on the other hand "we will think about this merger" is an upgrade from previous statements like "it is not in the best interest of the Company's shareholders to provide Jos. A. Bank with access to nonpublic information concerning Men's Wearhouse" because it "previously evaluated and rejected an unsolicited, highly-conditional and non-binding proposal from Jos. A. Bank."
Now, obviously, Eminence wants you to think it's a big deal, since they went and wrote Ewert the letter I just quoted, then released it publicly, then told CNBC about it. Presumably the purpose in releasing the letter was to get everyone's hopes up and put some pressure on the board to actually do the merger. As they go on to say, "We also fully expect you and the board, given the explicit commitment to explore all options, to actively engage with JOSB before their deadline of November 14." Now of course, if you talk to someone on the phone and send them a follow-up letter saying that they made an "explicit commitment" it's probably because they weren't all that explicit, but let's leave that aside.
Meanwhile, "A representative for Men's Wearhouse wasn't immediately available for comment." But obviously Men's Wearhouse doesn't want you to think it's a big deal. Because one they're fighting off a hostile deal so saying "oh yeah we're considering it seriously" isn't a great look. But two why did they tell Eminence, and nobody else, about this yesterday? One thing that you're not supposed to do as a public company is tell one big shareholder important market-moving strategic news two days before you tell everyone else. 1
Does the market think this is big news? Ehh: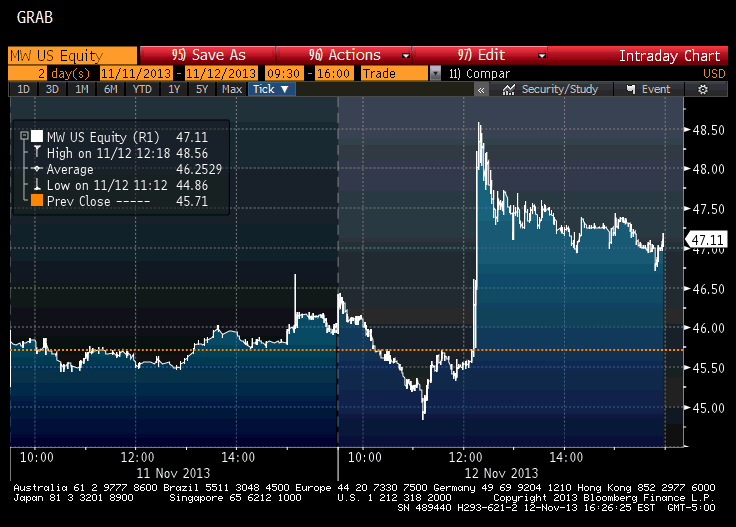 I dunno, +2.4 percent in a somewhat down market, with the big spike right when Eminence's letter came out, I'll stick with "poised between news and non-news." Certainly more news content than zero!

This is sort of awkward for Men's Wearhouse is it not? You can get in trouble for telling some shareholders material news before you disclose it publicly. And in the context of a merger or potential merger, where you will be sued for anything that you do or don't do no matter what, this seems like risky business.
I suppose it's less risky if they keep saying no to Jos. A. Bank's offer though? The argument that Men's Wearhouse told Eminence important news before it told anyone else goes away if there was no important news: if MW was just blowing smoke about how it was taking its fiduciary duties seriously but obviously it wasn't going to engage with Jos. A. Bank. This almost seems like a misstep by Eminence: Their letter puts some fulfill-your-fiduciary-duties pressure on Men's Wearhouse to actually get to a deal, but it puts even more pressure on them to avoid a deal and what would look in hindsight like a pretty egregious, market-moving, not-entirely-kosher leak to Eminence.
It's hard to get this right, though. You gotta talk to shareholders: You work for them, for one thing, and before this is over you may well need to round up votes to get a deal or deal alternative (buyback, etc.) done or not done. So keeping your 9.8 percent shareholder engaged and happy is important. And your conversation can't consist entirely of meaningless platitudes. I mean! This was pretty close, and it still managed to move the market. Imagine what would happen if they'd actually told Eminence anything.
There is a rule to this effect and it is Regulation FD.

To contact the author on this story:
Matthew S Levine at mlevine51@bloomberg.net
Before it's here, it's on the Bloomberg Terminal.
LEARN MORE