Turkey straddles Europe and Asia with a political identity that's likewise divided. The father of modern Turkey, Mustafa Kemal Ataturk, dreamed of achieving the "highest level of civilization" as a Western-looking secular state. President Recep Tayyip Erdogan has instead emphasized Turkey's historical role as an Islamic-world power since his party was first elected in 2002. That's the backdrop for Turkey's current political dramas, including Erdogan's accumulation of sweeping new powers after a failed coup in July 2016 by army officers who said he was undermining democracy. With a tighter grip on the media and the courts, Erdogan has stifled debate and cracked down on opponents. That's polarized the nation and rattled investors. It's also dimmed chances that Turkey — with more than 78 million people, almost all Muslims — can find a model that reconciles democratic secular government with Islam and join the European Union.
The Situation
In continued fallout from the failed coup, the U.S. and Turkey suspended visa services for each other's citizens in October after the arrest of a U.S. consular employee in Turkey on charges of involvement in the insurrection, which left more than 250 people dead. In the months that followed the military revolt, nearly 150,000 soldiers, judges, academics and other officials were detained or suspended in a roundup of suspected sympathizers. Erdogan accelerated a years-long bid to assert full control over the institutions of state. The political influence of the military — a traditional defender of the country's secularist principles and the source of at least three takeovers since 1960 — was curbed. In April, Turkish voters narrowly approved constitutional amendments that formally switch Erdogan's once-ceremonial post of president into the center of power. It was the most radical political overhaul since the republic was founded. Erdogan says Turkey needs a firm hand at the helm to revive a slowing economy and to strengthen security after a wave of terrorist attacks and intensified fighting with separatists from the country's largest ethnic minority, the Kurds. Turkey is embroiled in the war in neighboring Syria and hosts more refugees than any other country; It agreed to stem the flow of asylum-seekers passing through Turkey to Europe in a 2016 deal with the EU. Erdogan has not been shy about his ambitions: He's built a presidential palace four times the size of Versailles.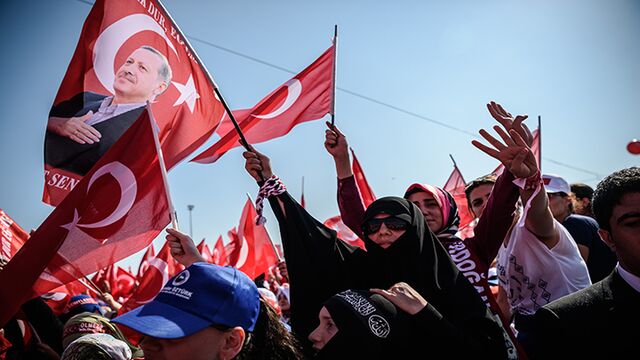 The Background
By giving a voice to an underclass of Islamic conservatives, Erdogan has rolled back Ataturk's secular legacy in favor of what he's called a "pious generation." He lifted curbs on religious expression, such as the wearing of headscarves, put in place when the army dominated politics. In 2013, anti-government protests began to reveal cracks in his popularity and he battled to defend his inner circle from corruption allegations. Erdogan has accused opponents of being followers of Fethullah Gulen, an Islamic cleric and government critic in self-imposed exile in the U.S. The government has widened oversight of the internet and blocked access to Twitter and YouTube at times, drawing criticism from the U.S. and the EU. Turkey's relations with Europe have been antagonistic at various points in history. The armies of Suleyman the Magnificent laid siege to Vienna in 1529. The Ottomans did so again in 1683, and occupied much of the Balkans until the end of World War I. Western influences were strong from the 18th century onward, leading to Ataturk's reforms in the 1920s — which included forsaking a Perso-Arabic script used for 1,000 years and the adoption of the Latin alphabet. Turkey, part of NATO since 1952, became an associate member of the EU in the 1960s, though efforts to make it a full member have floundered. 

The Argument
Opposition groups have denounced Erdogan as an autocrat intent on one-man rule. The constitutional changes mean he could potentially hold the reins until 2029, a decade longer than Ataturk was in power. His clampdown is a setback for the kind of civil liberties that are a prerequisite to joining the EU. Erdogan has also put pressure on the central bank to keep interest rates low, raising questions about its independence. Yet his party's 14-year rule has been the longest period of political stability since the nation adopted a multiparty system in 1946, and he remains popular among poorer Turks whose living standards have risen. The country's annual economic growth has averaged 5 percent during Erdogan's control, with foreign investors pouring more than $50 billion into Turkish stocks and government bonds since 2006. 
The Reference Shelf
First published Jan. 28, 2014
To contact the editor responsible for this QuickTake:
Leah Harrison at lharrison@bloomberg.net
Before it's here, it's on the Bloomberg Terminal.
LEARN MORE