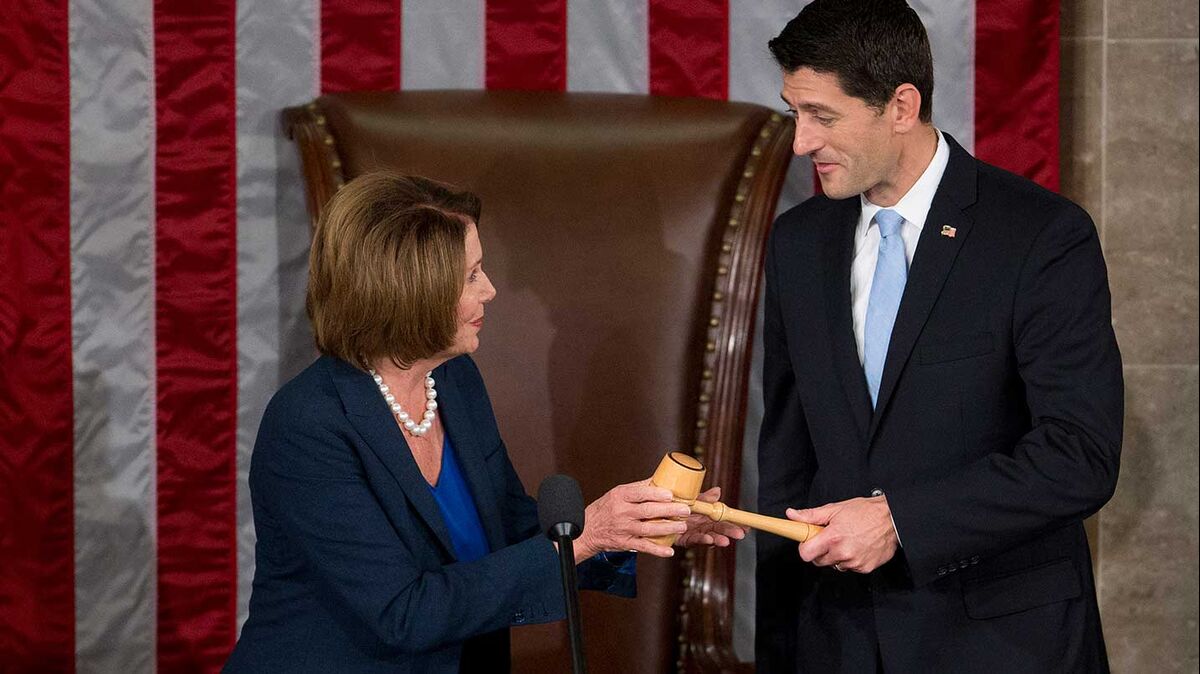 Speaker of the House
By
|
Updated Jan 20, 2017 5:09 PM UTC
The majesty of the office of speaker of the House of Representatives is sanctified by the U.S. Constitution, where it's the first position named, even before the presidency. The speaker is second in line to the White House, after the vice president. Historical giants have occupied the chair, including some who have been both revered and resented as dictators. In recent years, the speaker's been neither exalted nor feared nor able to command his own party. First, Speaker John A. Boehner resigned from Congress in October 2015, after he was unable to control the conservative wing of his House Republican caucus. His successor, Paul Ryan, has also faced grumbling in the ranks. Now that Donald Trump's victory put the House, Senate and presidency all in Republican hands, will Ryan be able to make the speaker's office a potent force again?
The Situation
Speaker Ryan infuriated many fellow Republicans by not supporting Trump after he clinched the nomination; some questioned the speaker's party loyalty. A few restive House Republicans had even talked of supporting someone else for speaker. Yet after Trump won the presidential election, he and Ryan met Nov. 10 in a show of unity. This was enough to tamp down talk of rebellion; on Nov. 15, Ryan was unanimously re-nominated for the speaker position by his party and was formally re-elected by the full House in January. Ryan, the former House Ways and Means Chairman and former vice presidential candidate, was originally elected as the 54th House speaker in October 2015. A Wisconsin Republican, Ryan only agreed to run for the job after getting support from some right-wing conservatives. Many of those same conservatives had rejected an earlier bid by House Majority Leader Kevin McCarthy, saying he was too much like Boehner.
The Background
Speakers were unimportant figures until Henry Clay of Kentucky used the post to lay out a national agenda, raising the stature of the office and the House. As the party system strengthened, the speaker took on an ever-larger role. It reached a peak under Joseph Cannon of Illinois, known to friends as "Uncle Joe" and to others as "Czar Cannon," whose authoritarian rule prompted a bipartisan revolt in 1910. The longest-serving speaker was Sam Rayburn, a Texas Democrat who described himself as relying on "persuasion and kindness," but who also had plenty of pork to hand out — or withhold. The House voted in 2010 to swear off such earmarks, as they were known. Boehner, an Ohio Republican, encouraged the move as the Tea Party surged before the 2010 elections, and became speaker with the support of the House's hard-line new members. But with so many of the office's traditional tools gone, even his effort to rebuke some obstreperous members by bouncing them from choice committee assignments backfired, leading to an embarrassing effort to block his re-election as speaker in January 2013. While Boehner managed to win a third term, he broke with his caucus on some deals. He won passage of a budget agreement in 2013 that hard-liners thought had too much spending. Then he agreed to an increase in the federal debt ceiling in 2014, passed almost entirely with Democratic votes. Facing threats from conservatives who were discussing a no-confidence vote on his leadership, Boehner told his fellow Republicans he would resign in September 2015.
The Argument
For years there's been a struggle between "establishment" Republicans, who've made a career of politics and believe compromise is needed to get things done, and hard-liners, like members of the Freedom Caucus, who've been angry that the Republican leadership hadn't done more to repeal Obamacare and slash federal spending. President Trump may not be much help there: He's proposed $550 billion in spending on infrastructure and building a wall along the Mexican border that could cost $10 billion. He's also vowed to protect entitlement programs like Social Security and Medicare. If the members arguing for reducing the deficit stick to a no-compromise stance, it will make life difficult for Ryan as he tries to cobble together a majority vote for a budget. 
The Reference Shelf
First published Dec. 6, 2013
To contact the writer of this QuickTake:
Roxana Tiron in Washington at rtiron@bloomberg.net
To contact the editor responsible for this QuickTake:
Anne Cronin at acronin14@bloomberg.net