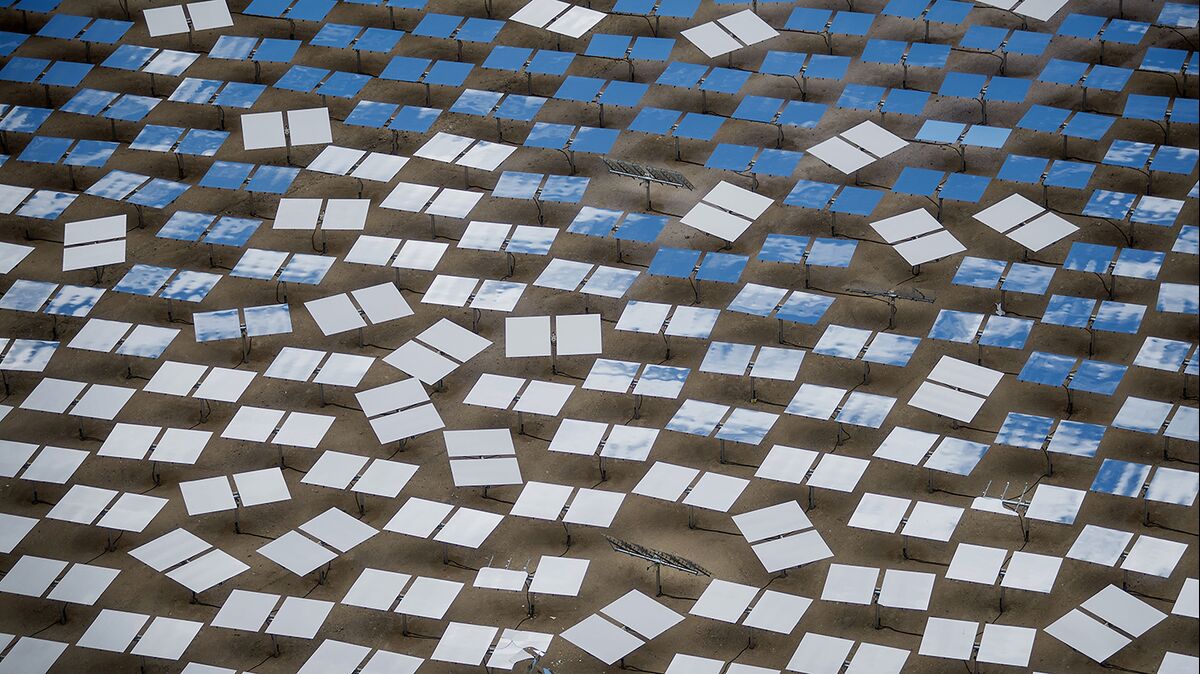 Solar Energy
By
|
Updated June 1, 2017 6:04 PM UTC
Something's changed about solar power, only in the last year or two. It's not just environmentalists who think solar will soon be everywhere. Sober utility economists are now looking at cost projections and reaching conclusions that might have been regarded as nutty just a few years ago. The price just keeps plunging. Solar power is now cheaper than coal in many places and in less than a decade is likely to fall below wind and natural gas to be the lowest-cost option almost everywhere. But it's not just the price that's tipping the balance. Innovations like solar panels that double as roof tiles and progress in the battery technology needed to even out the power flow on nights and cloudy days are offsetting fading solar subsidies and a U.S. president who's a cheerleader for fossil fuels.
The Situation
Worldwide, installations are highest in China, followed by Japan. India has ambitions for $160 billion in solar-power projects. Some big businesses have made splashy announcements, including Apple Inc.'s plan to spend $850 million on solar power. Also eye-catching were the textured-glass roof tiles Elon Musk's Tesla Inc. began selling in May. The tiles, which resemble terracotta or slate and lie atop a standard solar cell, could combine with the home battery packs Tesla is selling as part of Musk's push to make solar part of everyday life. And utilities — once resistant to solar power — now want to build and own farms themselves, because it allows them to boost revenue while passing construction costs to rate-payers. Overall, installed capacity in the U.S. grew 50 percent in 2016 to more than 41 gigawatts, even as investment in solar projects fell 17.4 percent — a reflection of how much more each dollar bought as prices fell.
The Background
The U.S. invented solar cells, but other countries made more of the breakthroughs in commercializing them. Bell Labs in New Jersey made the first photovoltaic cell in 1953. For decades, solar only made economic sense in satellites. Oil companies invested in the photovoltaic cells that convert sunlight into electricity following the oil crisis in 1973, then backed out when the price of crude crashed in the 1980s. Japan kept the industry alive through the 1990s, when Sharp, Kyocera and Sanyo were producing the majority of the world's cells. In 2004, Germany introduced an expanded system of feed-in tariffs, fixed-price contracts that require utilities to pay for excess electricity generated by consumers with a renewable power source that feeds into the energy grid. The revenue the tariffs offered led to a sharp increase in solar installations, and for several years Germany led the world in solar-panel manufacturing. The tariff model was copied in other countries, and so many new solar-panel makers sprouted up that a price war followed. That led to the crash in the price of panels — and the concentration of the industry in China, where companies led by Suntech Power Holdings Co. built giant panel factories with loans from the government and cash from foreign investors — support that allowed them to survive a winnowing that shut many manufacturers elsewhere. Still, rising numbers of installers brought the total for workers in solar energy in the U.S. to 373,000, twice as many as coal.
The Argument
Greenpeace, the environmental group, has long argued that solar could meet the world's energy demands many times over. Bloomberg New Energy Finance projects that solar will account for 29 percent of the world's electric capacity in 2040, up from 4 percent in 2015. Fossil-fuel backers say photovoltaic power will never be a practical source because it can't work when the sun doesn't shine. Proponents of solar and wind say that the storage technology needed to deal with fluctuating production is not far behind. And utilities and regulators make decisions on the basis of decades-long projections. In the minds of many in the electricity industry, rising political will to act on climate change means that energy sources that don't emit carbon will grow in importance, even without a price advantage. The debate over solar in many places has gone from whether it should be nurtured through subsidies — they're being phased out almost everywhere — to questions that had once seemed peripheral, like how much solar users should contribute to the cost of maintaining the grid. One development seemed to convey the sense of a tipping point: the April announcement by a Kentucky coal company that it would seek to convert an abandoned strip mine into the state's largest solar farm, putting former miners back to work.
The Reference Shelf
Sustainable Energy in America 2017 Factbook from Bloomberg New Energy Finance and its New Energy Outlook. 
Solar energy page from the International Energy Agency.
Greenpeace page on solar energy.
Edison Electric Institute page on rooftop solar concerns for utilities
The University of New South Wales in Australia provides a description for science teachers of the key reaction that powers photovoltaic cells.
A Bloomberg QuickTake on wind power, the other growing clean energy source. 
First published Oct. 13, 2014
To contact the writers of this QuickTake:
Reed Landberg in London at landberg@bloomberg.net
Brian Eckhouse in New York at beckhouse@bloomberg.net
To contact the editor responsible for this QuickTake:
John O'Neil at joneil18@bloomberg.net