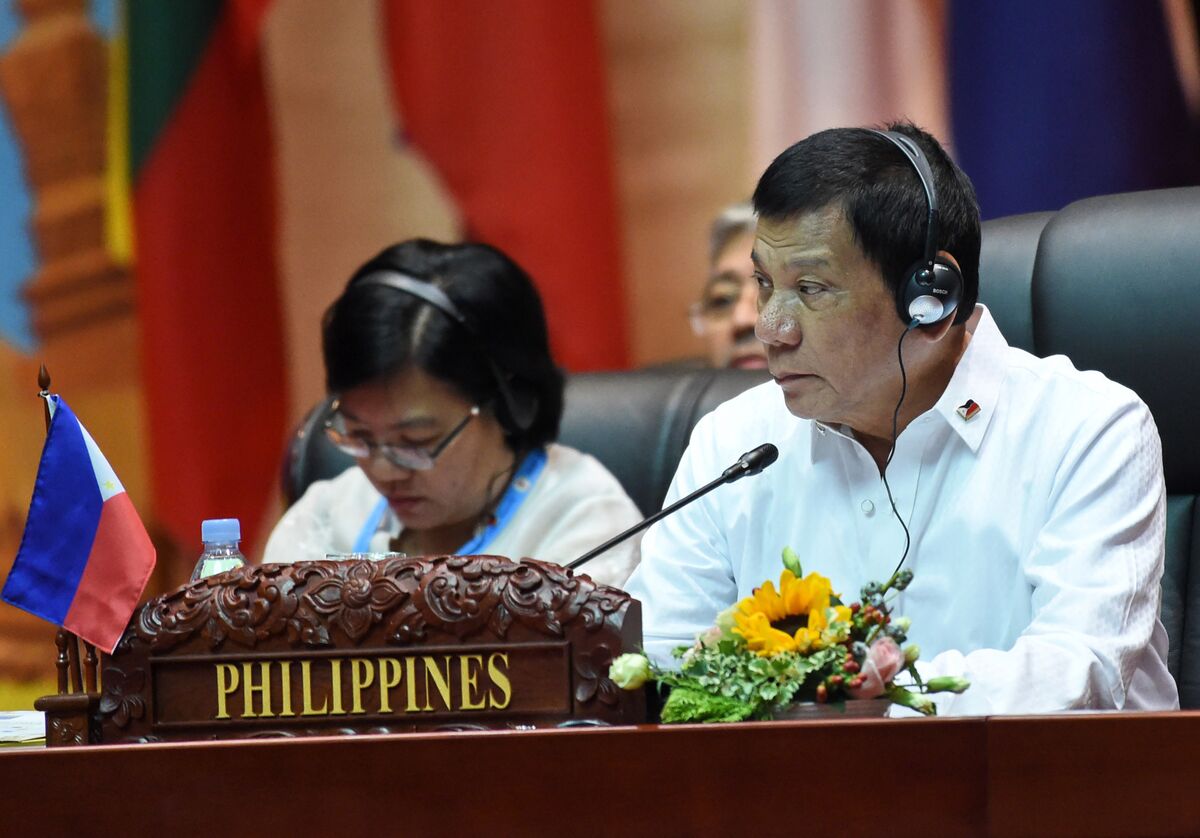 Philippines' Firebrand
Duterte's War on Drugs and Threats of Martial Rule
By
|
Updated May 25, 2017 1:57 AM UTC
Take 7,100 islands, add 100 million people, throw in a twist of corruption, an unhealthy slug of poverty and a dab of dynastic politics, and what do you get? A recipe for disaster, you might think. And yet the Philippines has been simmering nicely enough as a developing democracy since the overthrow of the dictator Ferdinand Marcos in 1986. Recent years have been marked by relative stability and economic growth that's outpaced most of Southeast Asia. But the Philippines has veered onto another course after dissatisfied voters turned to a fiery new president, a populist who has waged a deadly war on drugs and, in a chilling throwback to the Marcos era, threatened to impose martial law on the country.
The Situation
A year after his landslide election victory in 2016, Rodrigo Duterte has lived up to a tough-man image, and some. In May, the Philippine president put the southern island of Mindanao under martial law after clashes between government troops and militants linked to Islamic State. He threatened to extend military rule to the entire country if the violence spread, while adding that he wouldn't let law enforcers abuse their powers. Duterte's anti-drug campaign has, according to critics, claimed more than 7,000 lives — many by vigilantes — and resulted in human rights abuses. Duterte does not take kindly to criticism, issuing expletive-laden ripostes to the Pope, the European Union and former U.S. President Barack Obama, while threatening to withdraw the Philippines from the United Nations. Duterte has shifted his nation closer to China and Russia and away from the U.S., its major military ally since the 1950s, though in Donald Trump he has found a more supportive U.S. president than Obama. While Duterte, 72, has so far maintained strong public approval, according to polls, his anti-drugs campaign is more popular than his methods. His harshest critic, Senator Leila de Lima, was jailed this year in what she said was a politically motivated move. One of a growing number of populists garnering support globally, Duterte was elected following an anti-establishment campaign that tapped into middle-class frustrations over crime, the state of public services and corruption.
The Background
After centuries of Spanish and U.S. rule, the Philippines finally got to determine its own fate as the conclusion of World War II ended Japanese occupation. Its democracy has become splintered, with multiple parties competing in a political climate focused on personalities and dominated by powerful dynasties. Benigno Aquino, Duterte's predecessor, is the son of former President Corazon Aquino, whose People Power Revolution ended Marcos's 21-year rule. The Marcos era was marked by brutality — an estimated 3,000 people were killed and 35,000 tortured — and by extravagance epitomized by his wife Imelda's shoe collection and a $25 million stash of artwork. It also left a legacy of widespread corruption. By boosting spending on agriculture, infrastructure and education, Aquino landed big punches with the economy. Soaring growth that's averaged 6.2 percent over six years through 2015 led the World Bank to praise the country as Asia's "rising tiger." The Philippines earned its first-ever investment-grade credit rating and Aquino proclaimed an end to its "sick man of Asia" tag. Aquino was prevented from seeking reelection by a one-term limit on presidents imposed after Marcos's reign. A quarter of the population remains in poverty, partly because of regular natural disasters including the devastating Typhoon Haiyan in 2013. Duterte has vowed to continue Aquino's economic policies.
The Argument
Duterte's critics see him as possibly the biggest menace since Ferdinand Marcos and a threat to democracy itself. On the international stage, Duterte has upended his country's strategic alliance with the U.S., saying it was "time to say goodbye" to America and that foreign policy now "veers towards" China.  He even agreed to hold talks with China over territorial claims in the South China Sea — an approach that contrasts with Aquino's move to take the case to an international tribunal. After the Philippines won that case in July 2016, Duterte called for "restraint and sobriety." He has also courted the military after opponents warned of discontent in an army with deep-rooted links to the U.S. The presidency of Trump may open the way for warmer ties with the U.S. than under Obama, whom Duterte once told to "go to hell." Other challenges for the president include Manila's gridlocked traffic, underemployment that puts one-fifth of workers with advanced degrees in low-skill jobs and the migration of educated Filipinos overseas.
The Reference Shelf
First published May 5, 2016
To contact the writer of this QuickTake:
Norman P Aquino in Makati at naquino1@bloomberg.net
To contact the editor responsible for this QuickTake:
Grant Clark at gclark@bloomberg.net