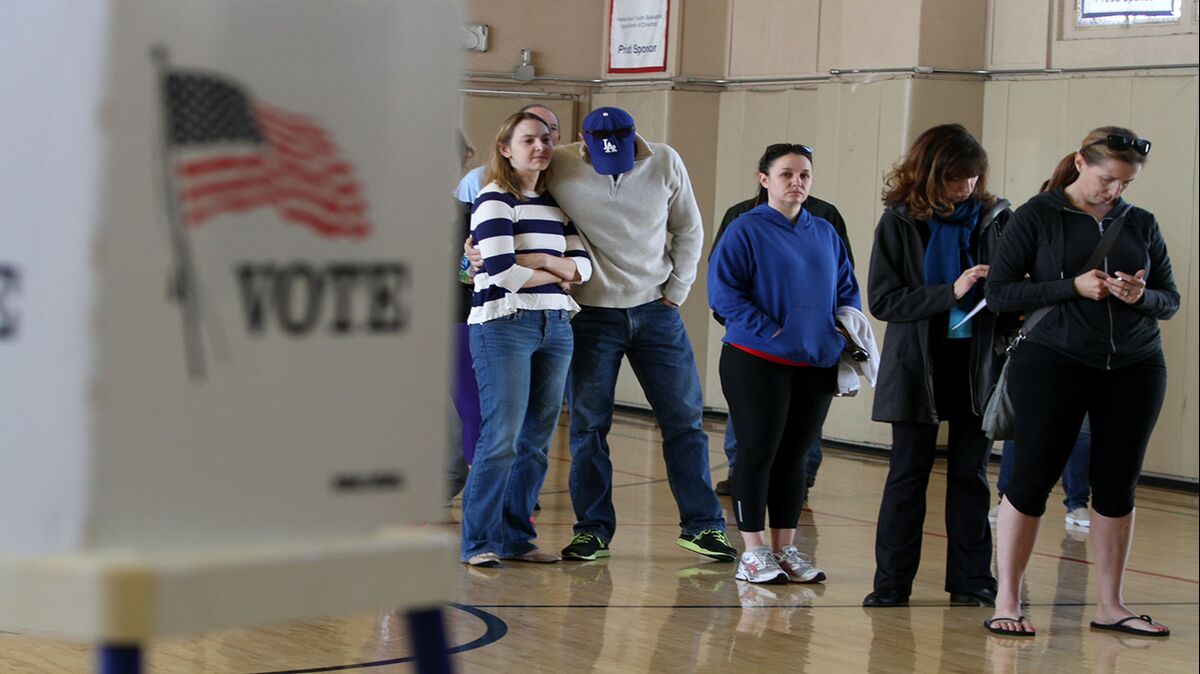 Gender Gap
When Women and Men Vote Differently
By
|
Updated Nov 11, 2016 10:20 PM UTC
New Zealand became the first nation to grant voting rights to all women, in 1893. Fast-forward to this century and women's votes are among the most coveted by politicians. In the U.S., more women than men have turned out to vote in national elections since 1980, and the two genders don't vote alike. More women choose Democratic candidates and more men choose Republican ones. That's created what political observers call the gender gap, the difference between the percentage of females and males voting for a candidate. It's not just in the U.S. — women around the world have become more likely to vote for candidates on the left. These gaps often affect election outcomes — but they're not always decisive. 
The Situation
In the 2016 U.S. presidential race, preliminary figures show Democratic candidate Hillary Clinton won over a majority of all women voters — 54 percent. But she still lost to her Republican opponent, Donald Trump, in part because he appears to have won the votes of a majority of white women. Clinton began the 2016 campaign with a presumptive edge among female voters after she scored an average gender gap of 8 percentage points among voters in her losing 2008 primary race against Barack Obama. She achieved that even while playing down her gender during that race, something her advisers concluded was a missed opportunity to maximize female support. Yet despite the fact that an appeal to women voters was a centerpiece of Clinton's 2016 campaign, and 70 percent of voters said that Trump's treatment of women bothered them, she still fell short. 
The Background
The gender gap is relatively new. Research shows women in the U.S. and Britain generally voted the same way men did in the early decades of the last century, and were focused on protecting families and promoting a moral society. As more women joined the workforce and put off marriage in the 1960s and 1970s, voting preferences also began to shift in industrial nations. The first documented gender gap was in the 1980 U.S. presidential election, when Republican Ronald Reagan opposed the Supreme Court's ruling upholding abortion rights and made it a campaign issue. While men backed Reagan by a wide margin, the female vote was evenly divided between him and Democratic President Jimmy Carter, creating a gender gap of 8 percentage points. In the 1980's, women also began to lean toward left-wing candidates in the Netherlands, and a gender gap began to emerge in the 1990s in Canada, Britain and Germany. In Israel, the first signs of a gender split in voting were detected in the 2009 elections. Labour Party leaders in Britain made direct appeals to female voters in Parliament's 2015 general election, focusing on child care, domestic violence and other social programs. Labour lost to the Conservatives, but women did win a record number of seats thanks to the Scottish National Party, which increased its female MPs to 20 from one in 2010. 
The Argument
Some women's rights advocates in the U.S. say the gender gap forces politicians to focus on issues important to female voters. Others say that it's wrong to assume all women share one agenda. In practice, the gender gap has proved an imperfect formula for winning elections. (Just ask Hillary Clinton.) In Britain, political observers have raised alarms about a significant decline in the number of women voting, which would take the punch out of any gender gap.
The Reference Shelf
Kate Sheppard wrote an 1888 pamphlet laying out 10 reasons New Zealand women should support the right to vote.
The National Women's History Museum timeline of women's suffrage in the U.S.
International Political Science Review paper on gender gaps worldwide.
The Center for American Women and Politics has a collection of papers on the gender gap.
The World Economic Forum tracks other gender gaps — in health, education and the workplace — in annual reports.
Bloomberg graphic: "Hillary Clinton's Debt to Feminism."
Jeanne Cummings contributed to the original version of this article. 
First published April 6, 2015
To contact the writer of this QuickTake:
Elizabeth Titus in New York at etitus2@bloomberg.net
To contact the editor responsible for this QuickTake:
Anne Cronin at acronin14@bloomberg.net