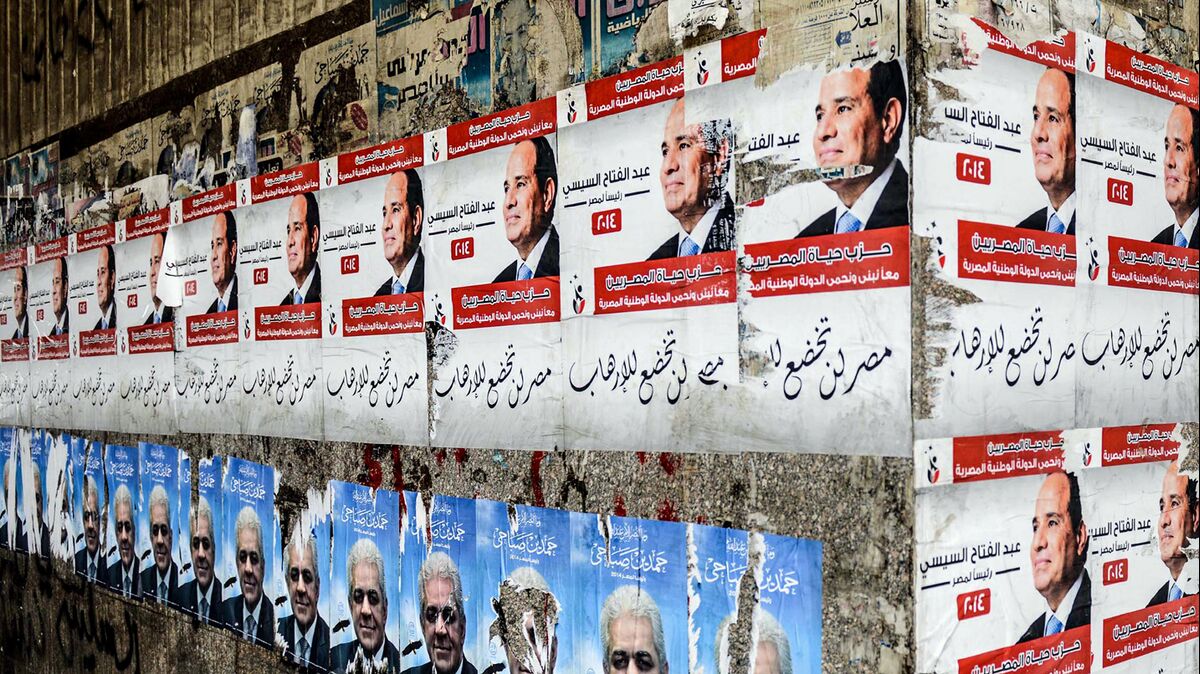 Egypt's Revolution
By
|
Updated Aug 11, 2016 1:54 PM UTC
It was the poster child for the Arab Spring. Egypt looked in 2011 like the model for a revitalized Middle East, as young demonstrators jamming a Cairo square swept away half a century of military dictatorship. The euphoria soon faded. Egypt's first freely elected civilian president was removed by the army in his first year after provoking further protests by citizens who accused him of hoarding power for his Islamist party. With stability overtaking democracy as the public's bigger concern, Egyptians elected another military strongman their leader in 2014. Focused on restoring order and reviving the economy, President Abdel-Fattah El-Sisi, a former army chief, has returned to the repressive measures of the past. Egypt's revolution has come full circle.
The Situation
Unrest resurfaced in 2016, fueled by anger at police violence and umbrage over El-Sisi's move to cede two islands to Saudi Arabia. Officials responded severely to protests, in keeping with a crackdown on opposition that began with the 2013 ouster of El-Sisi's predecessor, Mohamed Mursi, in a military-backed popular uprising. Thousands of Egyptians have died in political violence. At least 20,000, mostly members or supporters of Mursi's Muslim Brotherhood, have been arrested and hundreds have been sentenced to death in mass trials. The Brotherhood, which won every regional and national election between 2011 and El-Sisi's ascent, has been labeled terrorist and banned. Mursi himself was condemned to death in May in connection with a prison break, in which he escaped confinement, during the 2011 uprising. An uptick in attacks by militants, including some allied with Islamic State, contributed to a halving of tourist arrivals from October to April. A slump in foreign reserves and a dearth of foreign investment plague the economy. Egypt has been kept afloat by aid from Gulf Arab states, which also see the Brotherhood as a threat. The drop in global oil prices has made that aid more tenuous, however, and prompted Egypt to ask the International Monetary Fund for a $12 billion loan. 
The Background
Military leaders have shaped Egypt's history for more than 3,000 years. The army commander Horemheb quelled strife after the child-pharaoh Tutankhamen died in 1322 BC with no successor; a military junta then ruled for 13 generations. Slave soldiers known as Mamluks arrived in the early 1250s and created political, social and economic networks over a 500-year rule. Egypt stagnated under British rule. After independence, President Gamal Abdel Nasser, a general, sought to re-establish the country's eminence, nationalizing the Suez Canal and leading Arabs in wars against Israel. As Egypt's ruling general in 1978, Anwar Sadat signed a U.S.-brokered peace treaty with Israel. His successor, Hosni Mubarak, an air force commander, survived an Islamist insurgency in the 1990s, though his regime became ossified and wealth failed to trickle down to ordinary citizens. Egypt is the Arab world's most populous nation, and half its 85 million people are under the age of 25. The military controls large segments of the economy — with commercial interests from food manufacturing to real estate.
The Argument
El-Sisi's supporters say he rescued Egypt from Islamists more interested in promoting their interests than the national good. They point to the deadly turmoil in nearby Libya, Syria, Iraq and Yemen as evidence of what otherwise might have happened in Egypt. Critics say El-Sisi has returned Egypt to the police state it was under Mubarak and quashed the country's shot at democracy. They argue that by conflating moderate Islamists with violent extremists, his regime's indiscriminate crackdown only radicalizes the former. While many of Egypt's allies — including Saudi Arabia, the U.A.E., Israel and Russia — have embraced the regime's position that its actions are necessary for stability, some are conflicted. The U.S. in 2013 began suspending some of its military assistance,  which averages $1.3 billion annually, in an effort to prod the country toward democracy. In 2015, the U.S. agreed to make good on its full commitments but stipulated that in the future Egypt could no longer buy U.S. military equipment on credit.
The Reference Shelf
"The Rise and Fall of Ancient Egypt," a 2010 book by Toby Wilkinson.
A March 2014 Carnegie Endowment Organization report, "Egypt's Unprecedented Instability by the Numbers."
Congressional Research Service report on U.S.-Egyptian relations.
First published May 22, 2014
To contact the writers of this QuickTake:
Caroline Alexander in London at calexander1@bloomberg.net
Tarek El-Tablawy in Cairo at teltablawy@bloomberg.net
To contact the editor responsible for this QuickTake:
Lisa Beyer at lbeyer3@bloomberg.net