quicktake
China's World Bank
By
Since the end of World War II, the U.S., Western Europe and Japan have controlled much of the business of loaning money to poor countries to help them build public works and strengthen weak economies. These loans, made through the World Bank, International Monetary Fund and Asian Development Bank, often came with demands for strict economic, ethical and environmental behavior. Now there's a new player: China. It's created the Asian Infrastructure Investment Bank — the first major multilateral development bank in a generation — to offer loans for transportation, energy and communications projects. The U.S. tried to talk its friends out of joining the AIIB, questioning its governance and concern for the environment and human rights. The U.K. ignored Washington's pleas and signed up, followed by Germany, Italy, France, Israel and other allies that decided to join forces with China.
The Situation
With $100 billion of pledged capital, the Asian Infrastructure Investment Bank has so far backed 16 projects in nine countries, ranging from a slum upgrade in Indonesia to a new pipeline linking gas fields in Azerbaijan to Southern Europe. The bank has lent $2.5 billion, with most of the projects proposed and co-financed with existing lenders, including the World Bank, ADB and European Bank for Reconstruction and Development. The AIIB was announced in October 2013, when 57 countries were accepted by China as founding members; 20 others have since joined. About 30 countries were waiting to join in January, AIIB President Jin Liqun said then. Member countries want to boost links with China and to do deals in its once-protected currency, the yuan. China, the world's second-largest economy, has long been frustrated that it has only a small say in decisions by global financial institutions. The AIIB had its formal inauguration in January 2016 and is expected to invest in rebuilding the centuries-old Silk Road routes that linked China to Europe with highways, rail lines and port facilities. The ADB estimates the region will require $8 trillion in new infrastructure by 2020. The World Bank has $223 billion in available funds but only 15 percent of its lending is directed toward Asia. Canada's decision to join the AIIB left the U.S. and Japan as the only Group of Seven holdouts.




The Background
A summit at Bretton Woods, New Hampshire, in 1944 led to the creation of the IMF and International Bank for Reconstruction and Development, which later became the World Bank, as part of an effort to rebuild Europe after World War II. The World Bank lends to promote economic development; the IMF oversees monetary and exchange-rate policies and provides emergency loans to nations. Europeans have always picked IMF heads as part of an understanding that gives the U.S. control over the top World Bank post. Japan has held the presidency of the Asian Development Bank since it was founded in 1966. The U.S. Congress has refused to approve changes the IMF proposed in 2010 to give emerging powers such as India and China more control over its governance; the IMF is considering ways around this impasse. Frustrated lending nations have created a series of smaller development banks, including one by the BRIC nations announced in 2014.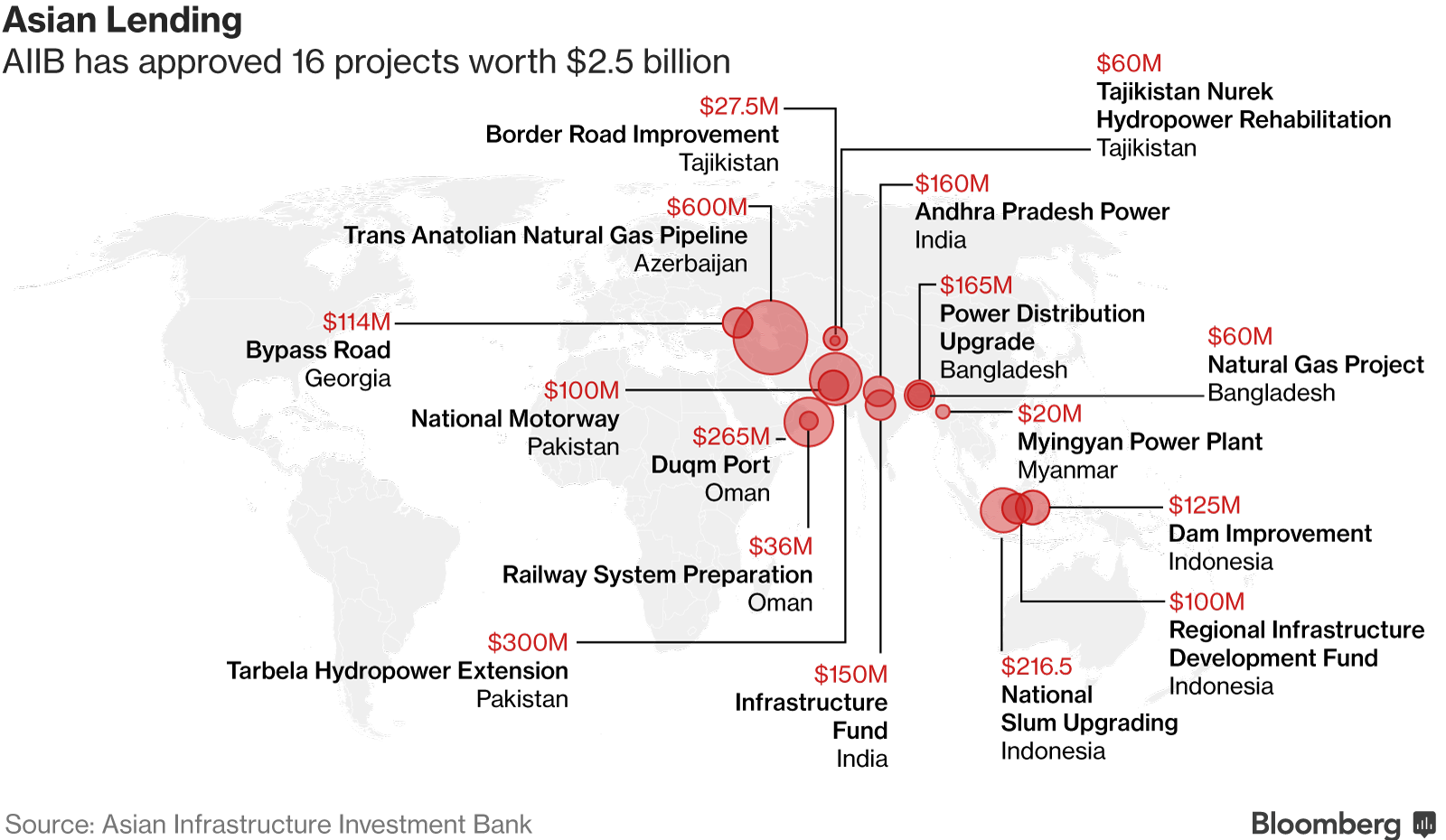 The Argument
China has not been picky with the sorts of governments it lends to, causing Human Rights Watch and environmentalists to raise concerns that the AIIB will not help pressure corrupt and polluting nations to reform. The AIIB says projects will be guided by nine directors from Asia, three non-regional directors and its president, Jin Liqun, who said the bank will also have a special compliance and integrity unit. China will have 26.06 percent of the voting rights and could block major decisions that require three-quarters approval. By channeling funds through the AIIB, China's government hopes it will win more influence among its neighbors. The U.S. fears that AIIB cash could cause recipients to turn blind eyes to China's military moves in the region. Larry Summers, former U.S. Treasury Secretary, wrote that the U.S.'s inability to keep its allies out of the AIIB was a "failure of strategy and tactics" and it marked the end of the U.S.'s role as the chief underwriter for the world. For the time being, China seems to be working to directly dispel concerns that it can't, or won't, adhere to international norms when it comes to governance of projects abroad. 
The Reference Shelf
First published April 17, 2015
To contact the writer of this QuickTake:
Enda Curran in Hong Kong at ecurran8@bloomberg.net
To contact the editor responsible for this QuickTake:
Grant Clark at gclark@bloomberg.net
Before it's here, it's on the Bloomberg Terminal.
LEARN MORE