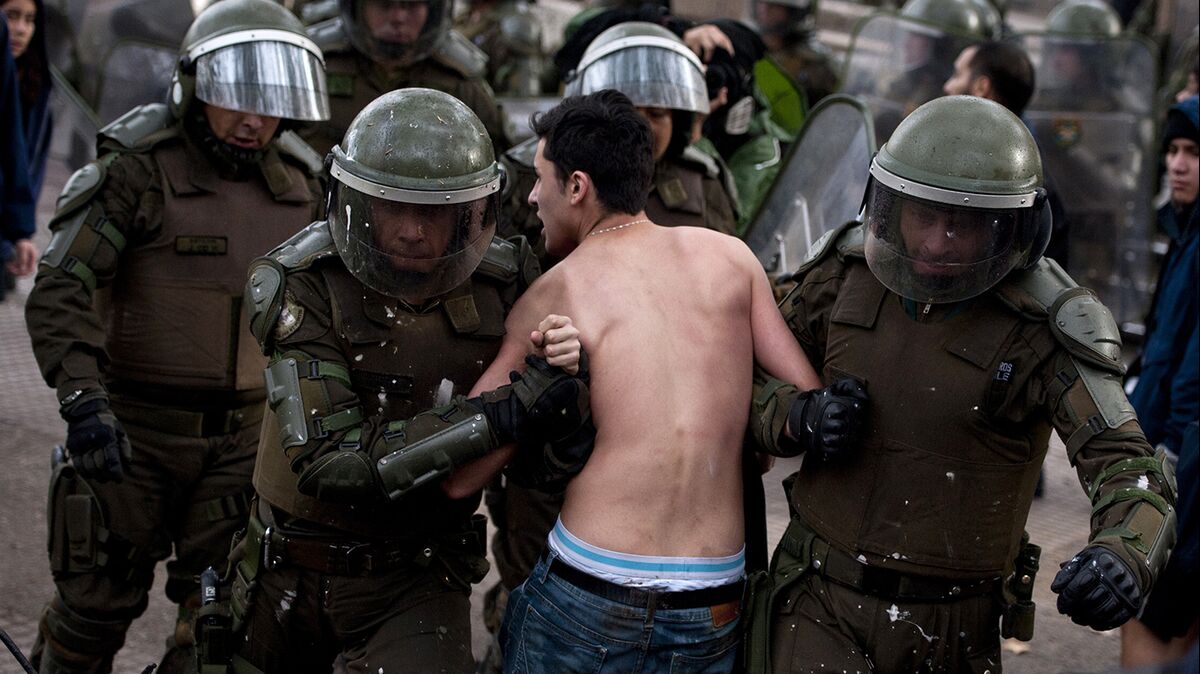 Chile's Funk
Angst Jars a Confident Nation
By
|
Updated Sep 23, 2015 10:18 PM UTC
The Situation
A snowballing tax-fraud probe exposed a national architecture of illegal campaign donations and fake consultancy services enriching politicians of all parties. Several congressmen and politicians are under investigation. So is the president's son, who is accused of using political connections to obtain loans for real estate deals. Finance Minister Rodrigo Valdes says the scandals have undermined business confidence, cut private investment and depressed growth. He also takes aim at government spending, saying the state can't keep propping up the economy. As a budget gap widens and politicians lose credibility, students are taking to the streets to insist the government fulfill a pledge to provide free higher education. Teachers went on strike for seven weeks for better work conditions. Marches typically end in running battles with the police. President Michelle Bachelet, a political prisoner under Augusto Pinochet, won a second term in 2014 with 62 percent of the vote. By August 2015, her popularity has fallen to a record low, with only 24 percent of Chileans saying she was doing a good job.
The Background
Chile won independence from Spain in 1818. Insulated from South America's 19th-century civil wars and coups by the Andes mountains and the world's driest desert, it has enjoyed unusual political stability. Its democratic traditions came to a bloody end in 1973, when Pinochet seized power from socialist Salvador Allende. Pinochet purged thousands of political opponents, introduced free-market policies, slashed welfare expenses and privatized major companies — except for copper miner Codelco. An economic collapse in 1981 was followed by three decades of economic growth and mounting inequality. Human rights abuses led to international and domestic resistance that forced Pinochet to cede power after a referendum in 1989. A series of democratic governments maintained his economic policies while tentatively investigating the country's fractured past. Three decades after his departure, Pinochet's constitution, labor laws and tax system remain in place.
The Argument
Business leaders blame the economic downturn on Bachelet-era tax increases and government initiatives to expand labor rights. They say these measures undermine Chile's free market and want the government to water them down. The government cites falling commodity prices — Chile is the world's largest copper producer — along with the prospect of higher U.S. interest rates and the graft scandals. Finance Minister Valdes says business people should stop seeing "ghosts" of socialism. Pro-government legislators want to do away with the current constitution, which enshrines private ownership of natural resources and places limits on democratic representation in the national legislature. Opponents interpret this effort as an attempt to undermine private property rights. After years of seeing itself as a good house in a bad neighborhood, Chile has been shaken by the corruption scandals. International investors appear less tormented. Chile bucked the trend in Latin America last year with an increase in foreign direct investment, attracting almost as much as Mexico, a country with seven times more people than Chile's 17 million. Attracted by Chile's expanding middle and upper classes, Lamborghini opened its first Chilean showroom in 2014, Christie's opened its first Chilean fine art auction room and Wendy's started selling Baconator burgers in the capital, Santiago.
The Reference Shelf
First published June 22, 2015
To contact the writer of this QuickTake:
Eduardo Thomson in Santiago at ethomson1@bloomberg.net
To contact the editor responsible for this QuickTake:
Philip Sanders at psanders@bloomberg.net