Photographer: Dado Galdieri/Bloomberg
It's 2009 and Brazil's beloved President Luiz Inacio Lula da Silva proclaims the nation's biggest oil discovery its "passport to the future." Rio de Janeiro is awarded the 2016 Olympics on top of the 2014 World Cup, and Brazilians see both as belated recognition of their rising international standing. The global financial crisis is a hiccup for effervescent Brazil as a commodity boom surges. Fast forward to today and unemployment remains in the double digits as the economy emerges from its worst recession on record. An investigation into corruption that started at the state-run oil colossus Petrobras, dubbed Carwash, has expanded and ensnared members of the business and political elite. Prosecutors even won a conviction of Lula, one of the most popular presidents in Brazilian history, on graft and money-laundering charges in 2017. His protege and successor, Dilma Rousseff, was removed from office after being impeached for bypassing Congress to finance government spending. And the current president, Michel Temer, the former vice president, has survived a massive corruption scandal himself, at least for the time being. What went wrong? Can Brazil get its magic back?
The Situation
A Brazilian court rejected Lula's appeal of his conviction Jan. 24, threatening his campaign to become president again in an October election. A Brazilian law states that a criminal conviction upheld in an appellate court bars anyone from becoming a candidate, though it's unclear whether Lula could still run if he continues to appeal his case to higher courts. He has led in opinion polls, promising to undo many of the market-friendly policies adopted by President Temer. Temer's allies last year defeated two motions in the lower house of Congress that would have put the president on trial for corruption and illegal campaign financing. The votes paved the way for him to turn his attention to economic reforms. He's already attained overhaul of labor laws and a constitutional amendment to limit public spending and help put public finances in order, and he's set his sights on pension reform, a plan welcomed by investors. Still, the International Monetary Fund estimates that Latin America's largest economy will grow 1.9 percent in 2018, a far cry from the pace during the commodities boom.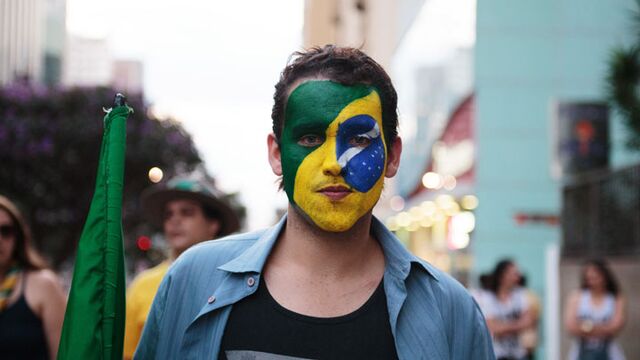 The Background
Brazil has suffered boom-and-bust cycles and political instability since independence from Portugal in 1822. Almost half its 2017 exports were raw products, so its prosperity is sensitive to the vagaries of the commodities markets. On paper, Brazil looks like a powerhouse. It's the fifth-largest country in the world, by land mass and population. Its offshore oil reserves include the Western Hemisphere's biggest discovery since 1976. It has the second-largest iron ore reserves, is the second-largest producer of soybeans and third-largest of corn. On the other hand, its wealth distribution remains among the most unequal. Good times did provide cash to beef up the Bolsa Familia social-welfare program that became an international model for the eradication of poverty. The new middle class went shopping, boosting growth. Now, with commodity prices at lower levels and industry sputtering, that model appears to have run its course. In 2017, the economy recorded its first growth in two years. Investment, which the government hopes will become the economy's new engine, rose in the third quarter after 15 straight declines. But as a percentage of gross domestic product, it remains about one-third that of China.

The Argument
Is Temer putting Brazil back on a solid footing? His plan began with changing the constitution to limit public expenses for up to 20 years. Now he wants to repair the overburdened social-security system and continue to create a more business-friendly environment. But the distraction of the corruption allegations has significantly diminished Temer's odds of accomplishing pension reform, and legislators are increasingly hesitant to pass unpopular measures as Brazil draws closer to October elections. Temer can implement some micro-economic reforms by presidential decree but requires congressional approval for major budget measures. Both Congress and the Temer administration have approval ratings below 10 percent. And there's no reason to think investigators have unearthed the full scope of high-level corruption in Brazil. Carwash has not only produced scores of defendants, it has exposed a system of institutionalized corruption connecting Brazil's largest companies and political parties.
The Reference Shelf
First published March 27, 2014
To contact the editor responsible for this QuickTake:
Paula Dwyer at pdwyer11@bloomberg.net
Walter Brandimarte
Before it's here, it's on the Bloomberg Terminal.
LEARN MORE