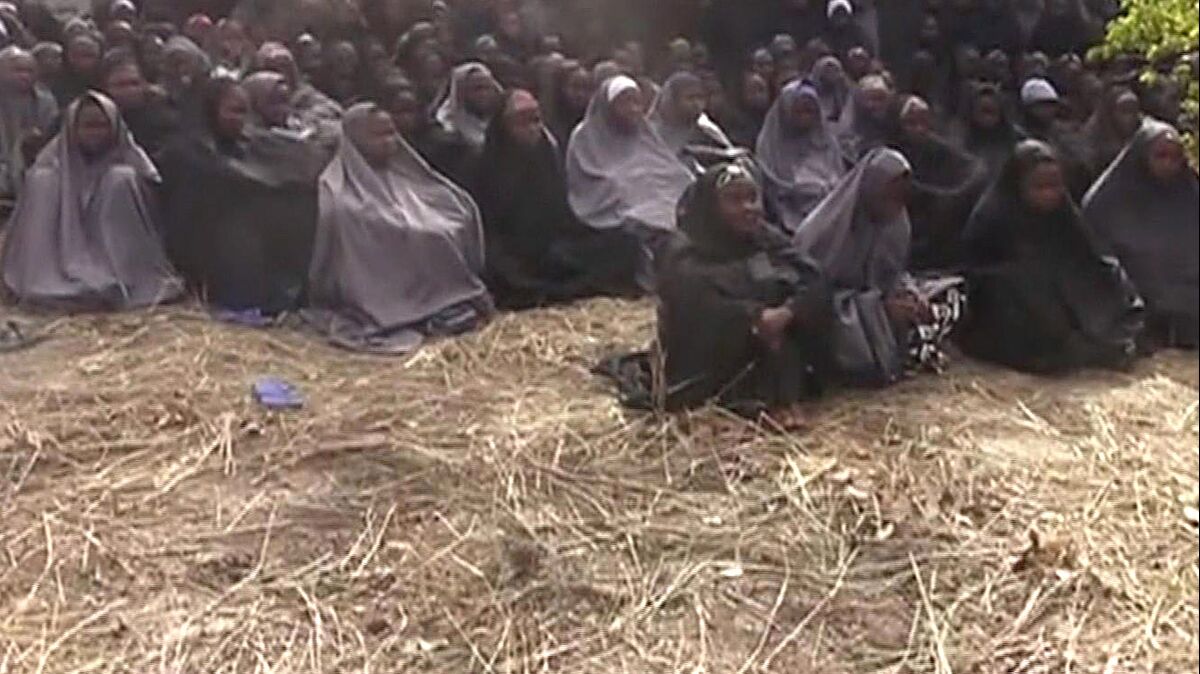 Boko Haram
Nigeria's Latest Jihad
By
|
Updated Feb 14, 2017 4:44 PM UTC
Al Qaeda killed almost 3,000 people on Sept. 11, 2001, triggering two wars and a decade of global strife. Another Islamic terrorist group has killed more than 20,000 people in just seven years yet drew scant notice outside its base of operations. Then a hashtag called attention to its outrage after the kidnapping of 276 teenage girls. It is Boko Haram, dedicated to imposing its own version of Islamic law on Nigeria, Africa's most populous country. The name means "western education is a sin" and it has brought jihad to another poor, ethnically divided region and provoked a global discussion of what the world should do about it. The debate is complicated by the group's declared allegiance to Islamic State and accusations of human rights abuses by Nigeria's security forces. 
The Situation
In 2016, Boko Haram was driven from much of its stronghold in the northeast, the poorest part of the country. It was victory for President Muhammadu Buhari, a retired general who was elected in 2015 in the country's first democratic transfer of power since the end of colonial rule. There are still periodic attacks — including suicide bombings by children — and a deepening humanitarian crisis. With the fighting spilling over into neighboring Niger, Chad and Cameroon, more than 2 million people have fled their homes and 5 million may need food aid, according to the United Nations. On Feb. 13, Buhari spoke with U.S. President Donald Trump about the need for more equipment to fight terrorism. Abubakar Shekau, Boko Haram's leader, has continued to publish threatening videos, including one in December disputing the government's claim that the group had been defeated. The schoolgirls were abducted from a dormitory in the predominantly Christian town of Chibok in 2014, and after almost two years more than 200 remained missing. Their plight unleashed a viral social media campaign using the Twitter hashtag #bringbackourgirls.
The Background
Islam has been practiced for more than 1,000 years in what is now northern Nigeria and adjacent countries. In 1804, pastoral ethnic Fulani converts waged a jihad against the Hausa kingdoms to purify the faith. They went on to build the Sokoto Caliphate, one of the largest pre-colonial states in Africa. Fulani princes, wary about having their subjects swayed by new ideas, agreed to pledge loyalty to British colonists in exchange for a promise that they wouldn't bring western education to the region. The north began to lag behind the south, which embraced Christian missionaries and produced skilled professionals. Petrodollars flowed as an independent Nigeria became Africa's biggest oil producer in the 1970s, spawning corruption. While a handful of well-connected northerners became billionaires, poverty in the north climbed to more than 70 percent — double that in the south. Farmers remained stuck in subsistence methods, helpless to resist the steady advance of the Sahara desert. Boko Haram emerged around 2002 and preached against misrule and oppression, focusing attention on the excesses of the elite. It took up arms against the symbols of the state, attacking police stations and government buildings, then switched to ruthless killings and kidnappings of civilian targets. The group's founder, Mohammed Yusuf, was killed by police in July 2009 along with 800 followers.
The Argument
Nigeria's government has been criticized for sometimes doing too little to rein in Boko Haram, and sometimes too much. At times, the Nigerian security forces have matched the rebels in their brutality. Amnesty International accused them of "uncontrolled reprisals," including extrajudicial executions, and called for investigations into possible war crimes. The allegations make it complicated for outsiders to get more involved in what could become a human-rights quagmire. There have been pledges of support from the U.S., U.K. and France since Buhari came to power, though the U.S. has been reluctant to provide lethal weapons.
The Reference Shelf
International Crisis Group report on Boko Haram.
National Geographic article from November 2013 on Boko Haram, and a Q&A on what it is and what it wants.
Council on Foreign Relations overview of "Nigeria: Dancing on the Brink," a 2010 book by John Campbell, a former U.S. ambassador to Nigeria.
First published May 16, 2014
To contact the writer of this QuickTake:
Dulue Mbachu in Abuja at dmbachu@bloomberg.net
To contact the editor responsible for this QuickTake:
Leah Harrison at lharrison@bloomberg.net