It's a hashtag that has grown into a social movement. Black Lives Matter lacks formal leadership and organization, yet it's become one of America's most visible and contentious generators of protest. It's fueled by fatal shootings by the police of African-Americans. But its growth and influence have also reflected the ubiquity of smartphone videos that have not only drawn attention to incidents that might have otherwise gone unnoticed, but legitimized long-held fears that black communities disproportionately bear the burden of police misconduct. BLM, as the movement is known, has inserted itself into the presidential election campaign and provoked a backlash from some who see it as anti-police.
The Situation
Shootings by the police of black men in Tulsa, Oklahoma and Charlotte, North Carolina led to renewed protests in late September. They came almost three months after five white police officers were killed by a black army veteran during a peaceful BLM march in Dallas, and the killing of three police officers in Baton Rouge. The Dallas protest was one of many held across the nation after two black men were shot and killed by the police on consecutive days in Louisiana and Minnesota in incidents publicized through mobile phone videos. Dallas police said the gunman was not affiliated with BLM but told authorities that he was upset about the two shootings and wanted to kill "white officers." President Barack Obama and his predecessor, George W. Bush, appeared at a memorial ceremony for the officers; both cautioned against divisiveness. So initially did the leading presidential candidates, Republican Donald Trump and Democrat Hillary Clinton, though Trump went on to call the Black Lives Matter name "a very divisive term." One specific demand of BLM protesters has been for changes in the legal system to address data showing that police are rarely prosecuted and almost never convicted on charges stemming from shootings of blacks. In New York, Governor Andrew Cuomo announced in 2015 that the state's attorney general would begin serving as a special prosecutor leading investigations into fatal police shootings. Other states said they would consider a similar response.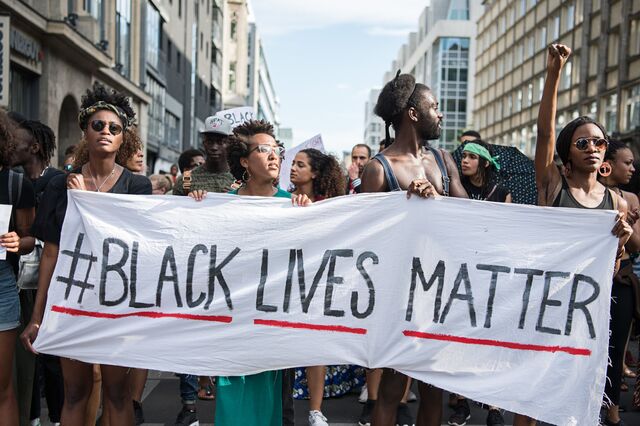 The Background
For decades after the end of slavery, most black Americans had limited rights, including those related to law enforcement. In the 1960s, riots were triggered in Detroit, Newark, New Jersey and elsewhere by violent clashes between predominantly white police forces and African-American residents. In 1992, it was the acquittal of Los Angeles police officers in the beating of Rodney King, an unarmed motorist, that set off six days of riots. The 2013 acquittal of a neighborhood-watch volunteer in Florida who shot and killed an unarmed black 17-year-old, Trayvon Martin, led to the creation of BLM. A year later, smartphone images of the deaths of Michael Brown in Ferguson, Missouri, and Eric Garner in New York City, also black men killed by the police, galvanized the movement. They were followed by protests over deaths caused by the police in Cleveland, Baltimore, Chicago, Cincinnati and other cities. The U.S. Justice Department launched civil rights investigations in Chicago and Baltimore, and imposed operational changes and increased training on police departments in Ferguson and elsewhere.
The Argument
Many critics of BLM have charged that it's seeking special treatment for blacks — a complaint voiced through the hashtag #AllLivesMatter — or that it overlooks the danger police face while making arrests — expressed as #BlueLivesMatter. (One new white nationalist group named itself White Lives Matter.) Others say BLM should focus more on violence done to blacks by other blacks. In a town hall-style meeting in Dallas, Obama responded, "We shouldn't get too caught up in this notion that people who are asking for fair treatment are somehow automatically anti-police or are trying to only look out for black lives compared with others."  Some law enforcement officials blame BLM for what they call a "Ferguson effect," saying that crime had jumped in poor neighborhoods because of an increased reluctance on the part of police to take aggressive actions. Supporters point to falling murder rates elsewhere, including New York City, and say the evidence for a Ferguson effect is weak.  
The Reference Shelf 
First published July 18, 2016
To contact the writers of this QuickTake:
Tim Jones in Chicago at tjones58@bloomberg.net
Molly Smith in New York at msmith604@bloomberg.net
Lisa Du in Washington at ldu31@bloomberg.net
To contact the editor responsible for this QuickTake:
John O'Neil at joneil18@bloomberg.net
Quotes from this Article
Before it's here, it's on the Bloomberg Terminal.
LEARN MORE