Bloomberg Intelligence January 25, 2017
This analysis is by Bloomberg Intelligence analysts Nathan Dean, Caitlin Weber, Bryan Rye, Rob Barnett and Matthew Schettenhelm. It appeared first on the Bloomberg Terminal.
Ambitious 100-day agenda will face calendar crunch
Donald Trump's first 100 days in the White House, the time in which most presidents spend their political capital, will be spent pushing an agenda that may be too ambitious for such a short time. Proposals that Trump could accomplish without Congress — including labeling China a currency manipulator and reopening Nafta — might dominate his attention. Outside of Obamacare, agenda items that require an act of Congress — such as passing an infrastructure bill — could be pushed into 2H or beyond.
Upheaval of trade policy a major part of first 100 days
President Donald Trump's agenda over his first 100 days leans heavily on executive trade actions. Trump has pledged to renegotiate the North American Free Trade Agreement, withdraw from the Trans-Pacific Partnership, label China a currency manipulator and begin prosecuting what he sees as unfair foreign trade practices. With the exception of the TPP  withdrawal and China currency, the administration's efforts on trade will stretch beyond the first 100 days and some, like rewriting or exiting Nafta, could take years.
Early immigration actions may curb labor supply
President Donald Trump has vowed early action to boost enforcement of U.S. immigration laws affecting lower- and higher-skilled migrant workers. Trump said he would direct the labor secretary to investigate employment visa abuses as a priority, raising the specter of probes and fines for companies that rely on H-1B and H-2B visas for low- and highly-skilled employees, respectively. Limits are also likely for migrant workers from regions the administration determines can't "safely" vet against terror risks.
Trump, Congressional Republicans prioritize Obamacare repeal
Republicans, who campaigned fervently against the Affordable Care Act (Obamacare) since its 2010 enactment, aim to quickly act on their pledge to replace it. They lack the 60 Senate votes necessary to repeal it entirely but can use the budget reconciliation process to kill key parts of the act, including Medicaid expansion, taxes imposed by the law and penalties linked to the individual and employer mandates. Weakened mandates could lead to near-term business disruption for hospital operators and health insurers.
Policies that Republicans will use to replace any repealed ACA provisions are less certain, as is the transition's timing. In particular, a push to keep popular parts of the law, such as protections for those with pre-existing conditions, may prove difficult without the less-liked mandates.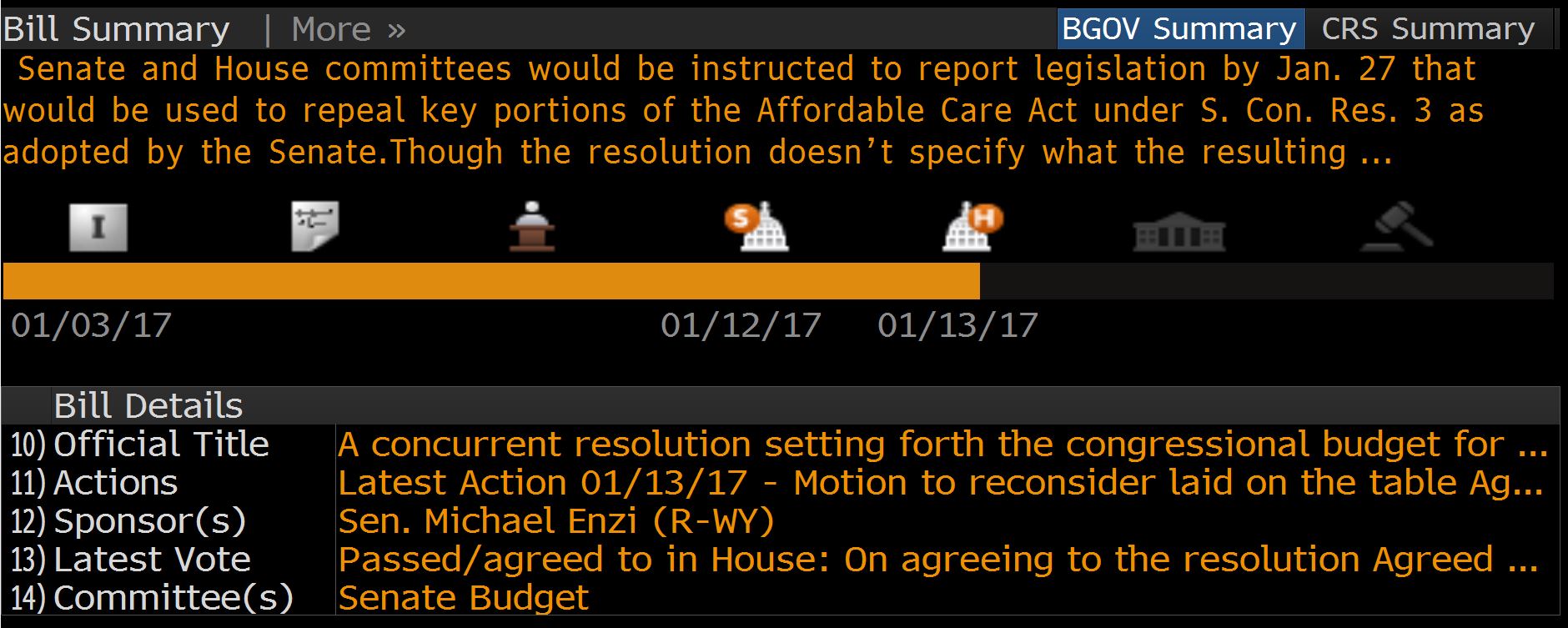 Dodd-Frank unlikely to play key role in first 100 days
Dodd-Frank probably won't play much of a role in the first 100 days of Donald Trump's presidency. The key Republican plan to replace Dodd-Frank, the Financial Choice Act, may be proposed, but serious debate isn't expected until 2H. House Financial Services Chairman Jeb Hensarling said he expects Dodd-Frank reform to happen in the first year, but it isn't a top priority. A probable scenario is that Hensarling may release his legislation and hold hearings in 1H, but significant action waits until 2H.
At the core of the Financial Choice Act is whether big banks would want to increase capital requirements to opt out of Dodd-Frank.
Executive order may not clear all obstacles from Keystone path
President Donald Trump may issue an U.S. Monthly Oil Imports From Canada executive order that aims to green-light TransCanada's Keystone, yet legislation is probably the quickest way to clear all legal hurdles in the way of the pipeline's construction. An approval bill likely won't make Congress' priorities list, given Obamacare reform and a potential Supreme Court nomination probably will be focuses in the first 100 days of Trump's administration. Congress passed a bill approving Keystone in January 2015, but former President Barack Obama vetoed it.
Without legislation, the pipeline would probably get tied up if the project proceeded along the State Department's traditional regulatory path.
Communications unlikely a key focus for first 100 days
Although Congress will begin work on communications legislation during the first 100 days of the Trump administration, it's unlikely to be a major focus. The most likely candidate to move is the Mobile Now bill, designed to free up wireless spectrum and facilitate siting telecommunications equipment on federal property. Elements of the act may be part of a broader infrastructure effort. On other communications issues, such as net neutrality, Congress is more likely to move slowly.