Opinion
Therese Raphael
The UK prime minister needs to deliver far more than a competent speech to win support from her party and the public.
Eduardo Porter
Shipping asylum seekers north may garner headlines for the Republican governors of Florida and Texas, but such political stunts rest on a vast misunderstanding of immigration's true costs and benefits.
Leonid Bershidsky
The fall of Lyman has prompted a level of finger-pointing among Putin's military partners that threatens his hold on power.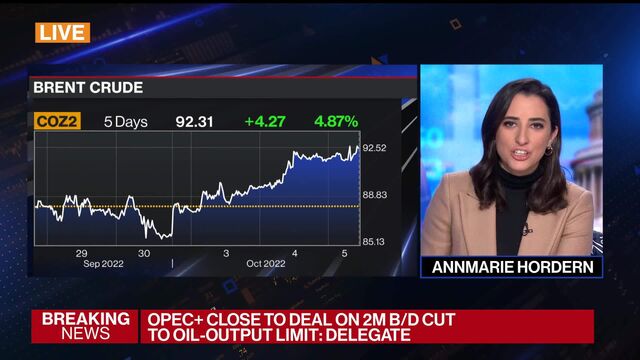 OPEC+ Agrees to Cut Output by 2 Million Barrels a Day
OPEC+ agreed to cut its collective output limit by 2 million barrels day, delegates said, as the group seeks to halt a slide in oil prices caused by the weakening global economy. It's the biggest reduction by the Organization of Petroleum Exporting Countries and its allies since 2020. Bloomberg's Julian Lee and Annmarie Hordern are on "Bloomberg The Open." (Source: Bloomberg)