Kentucky Senator Rand Paul will almost certainly fail to qualify for the primetime stage at next Tuesday's fifth Republican primary debate, according to an analysis of poll data conducted by Bloomberg. Paul has been included in all four of the main presidential debates to this point in the campaign.
To qualify for the CNN-sponsored primetime debate, candidates must average at least 3.5 percent support nationally or 4 percent in either Iowa or New Hampshire, based on major polls conducted between Oct. 29 and Dec. 13.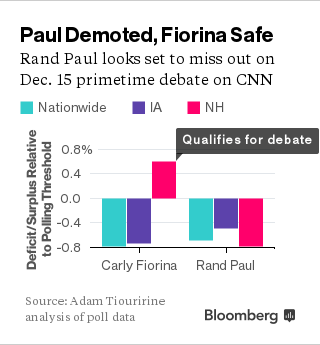 Paul falls short on all three thresholds, but comes closest in Iowa, where he currently averages 3.5 percent support. If only one additional poll is released in each category by Sunday, Paul would need a relatively ambitious 6 percent in Iowa, 8 percent in New Hampshire or 10.5 percent nationally to qualify.
Carly Fiorina has also come close to being left out of the main debate, but clears CNN's entry criteria thanks to her 4.6 percent showing in New Hampshire. Assuming one more eligible Granite State poll by the Sunday deadline, Fiorina would need to fall below 1 percent to lose her spot onstage.
Given candidates' current positions and the likely pace of new polls, the only other contender expected to cross the primetime-undercard boundary is New Jersey Governor Chris Christie, who, despite weaker national numbers than Paul, has fought his way back into the main event with a strong 6.8 percent average in recent New Hampshire polls.
— Analysis by Adam Tiouririne of Logos Consulting Group, who advises senior business leaders on high-stakes communication and researches language, leadership, and the media.