Last spring, as he was just beginning to develop a plan for Hillary Clinton's campaign in Iowa, Michael Halle asked for help from some of the people who had the clearest view of her defeat there last time. He invited Clinton's seven Iowa regional field directors, all of whom had moved on from her political orbit, on a conference call for what amounted to a highly delayed postmortem of her 2008 organization in the state. During the call, what stuck most vividly with Halle was the question he learned that Clinton organizers had put to Iowans when they had their first interactions with them over the phone or at doorsteps in 2007. Will you support Hillary? they had asked.
When volunteers went back to the voters shortly before the caucus to provide them with information on their precinct locations, those who had earlier identified as Clinton supporters were flaking at an unexpectedly high rate. Now they were not ready to declare themselves caucus-goers. When they were forced to think through the specific demands that entailed—to declare their support in public, at a scheduled time, before all their neighbors—many backed off, or responded with a flat "no."
Over seven years, a mythology has emerged about Clinton's disregard for the peculiar folkways of Iowa caucus. There were the canonical examples of Clinton's brushing off local expectation of collegial intimacy, like the vivid descriptions of her regal entourage of imperious staffers more focused on their BlackBerries than the citizens in their midst, or the Bell 222 that the campaign dubbed the "Hill-a-copter" as it shuttled her among farm towns. Then there were the almost comically indulgent expenditures, from the hundreds of snow shovels the campaign gifted to residents who had weathered many winters without any politician's munificence to the nearly $100,000 in caucus-night sandwich platters that Clinton purchased from the Hy-Vee supermarket chain, even though many counties expressly forbid food at precinct locations. (After learning about the catering order from a canvasser who visited a Hy-Vee executive, Obama campaign officials subsequently contacted every county chair and reminded them to enforce their rules.) In hindsight, Clinton's approach to Iowa was part of an institutionalized disdain for the caucus process nationwide that ultimately helped to doom her first candidacy for president.
The voters' choice of words unmasked a system failure. "Looking at how people respond to the question 'do you plan to caucus?'—the rate at which people decline, or say no—is different than the numbers we see in any general election or any other primary," Halle reflected this week. "There's a certain level of responsibility that people probably feel with voting in a general election that they don't necessarily feel in a caucus. People are just honest about the fact that they wouldn't go."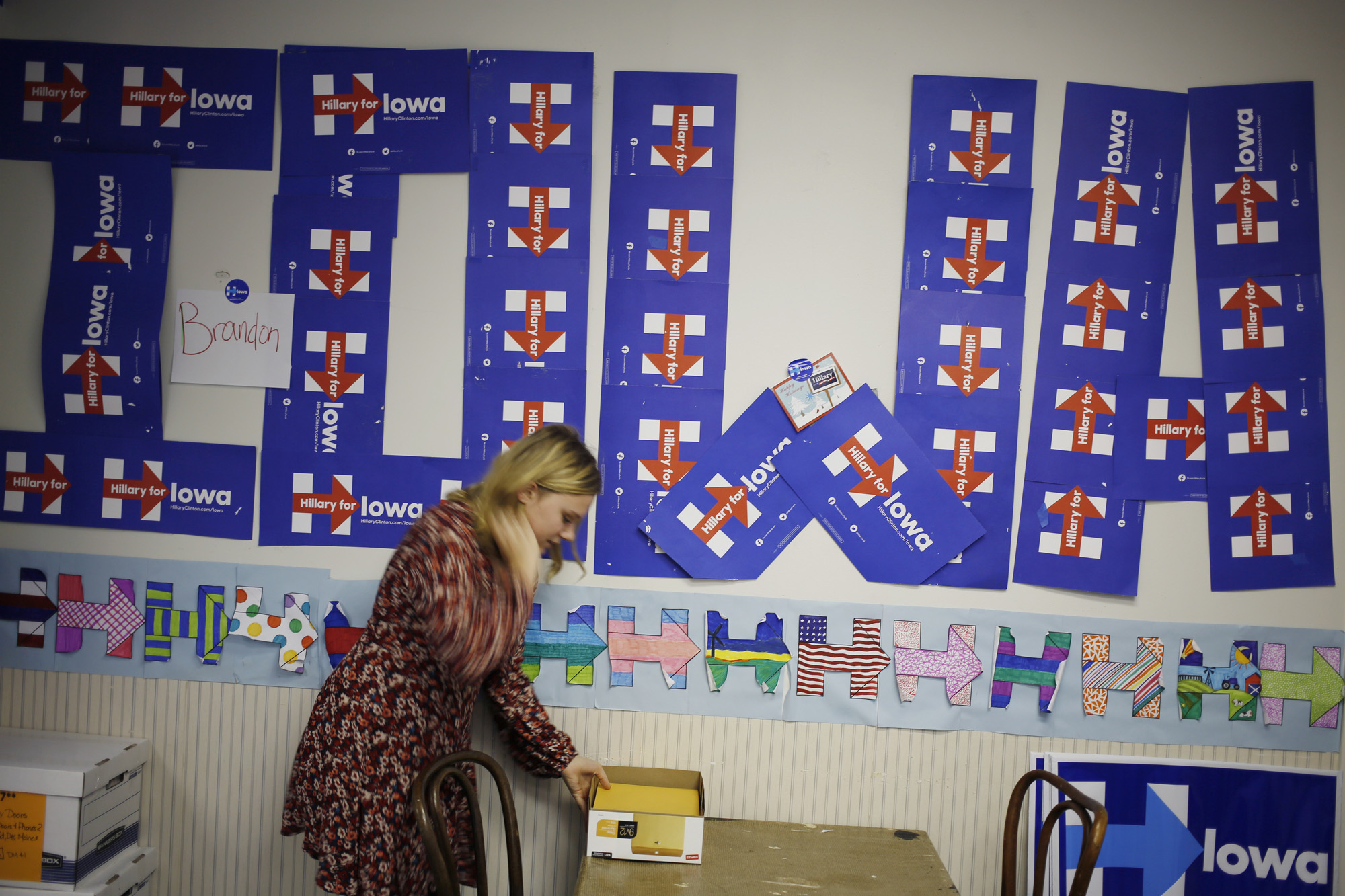 Halle sat in the campaign's Des Moines headquarters, a corner of which was being outfitted to serve as a customer-service-style call center to handle last-minute questions from across the state about caucus logistics. As Clinton's Iowa caucus director, Halle sat atop an apparatus built to do what her organization had failed at so spectacularly eight years ago: convert Hillary supporters into caucus-goers and those caucus-goers into delegates who would help her win the Democratic nomination. The assiduous commitment Clinton has made to not repeat her mistakes in Iowa is the prime reason her advisers can remain sanguine about their prospects in the face of another ascendant challenger drawing enormous crowds and small-dollar contributions from idealistic liberals. The aspect of Barack Obama's campaign from which Clinton has learned the most is not the hope and change, but the nuts and bolts—and the better one understands the Iowa Democratic caucus, one realizes that it, more than any other venue in American electoral politics, sets those two objectives at odds with one another. "This was a big input piece from activists, from former precinct captains last time," Halle remembered, in a conference room that was, like all the spaces at headquarters, named for one of the state's cities. "'One, they need to understand Iowa. Two, they need to understand the caucus,'" Halle said.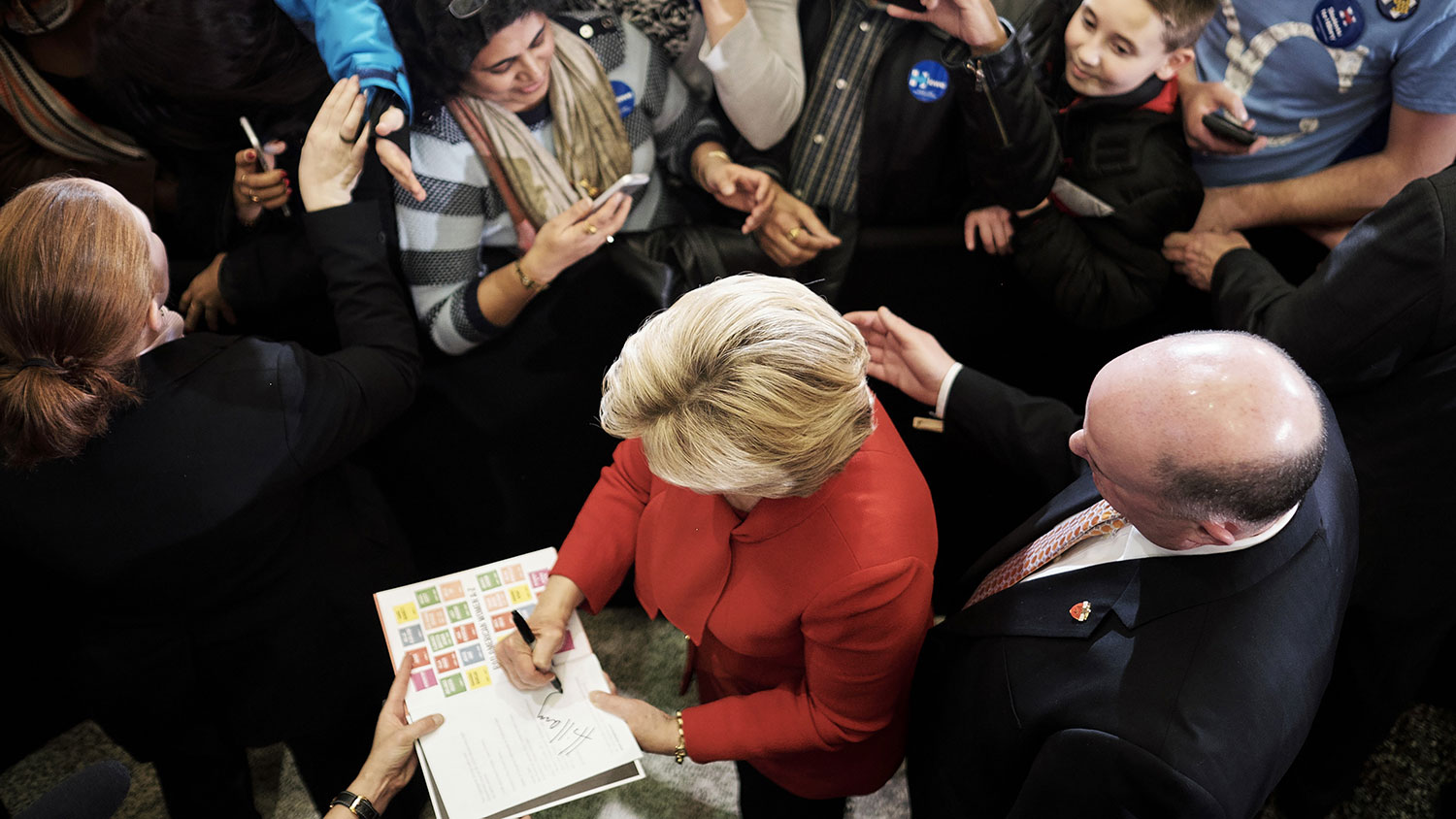 Halle had an outsider's view of Clinton's collapse in 2008. He had spent most of the previous year recruiting volunteers and identifying supporters for Obama, who, by the start of the fall of that cycle, had reoriented his entire strategy around mobilizing new caucus-goers even as opponents Clinton and John Edwards focused on winning over the relatively small, insular pool of party regulars who had turned out before. To maximize the return of delegates for Obama caucus-night turnout, Halle was responsible for ensuring that his Cedar Rapids precinct captains were all prepared to use Caucus Math, a program loaded onto laptops sent to out to each polling location. Developed by data analysts in Obama's Des Moines headquarters, the basic software program allowed a precinct leader to enter the number of each candidate's supporters present for the first round of voting. Any candidate with fewer than 15 percent of the total would be ineligible for delegates, and his or her supporters forced to reallocate to other candidates. A computer script would guide Obama's captain to direct that traffic—where to poach some stray backers of Dennis Kucinich, where to send a surplus Obama fan to keep Chris Dodd viable—all with the goal of seizing an additional delegate or denying one to his rivals. (Obama's campaign was far more focused on blocking Clinton's delegate gains than they were Edwards'.) In many cases, Obama had mobilized supporters only to give them away to other candidates to advance his broader strategic aims.
It was one of the areas where Obama had, through attentiveness and ingenuity, mastered the peculiar game of the Iowa caucuses, which can be most generously understood as an exercise in hipster nostalgia for the way we chose leaders in the 19th century—before the progressive-era reforms of the secret ballot, one-man-one-vote direct elections, and the introduction of primaries whose votes were tallied by public authorities rather than party bosses.
Clinton's chief strategist, Mark Penn, had written a best-selling book about "microtrends," but he had little interest in the granular political geography that determined how delegates to the Democratic convention are awarded. Penn's general theory of how to win the nomination, recalled one Clinton adviser, "was focused on the big picture, based on the idea that if you're winning nationally you're winning everywhere."
At her Virginia headquarters, officials diligently tallied Clinton endorsements from the elected and party officials who would attend the convention as superdelegates. But at the same time, they placed her television ads, routed her direct mail, and scheduled her time and that of her husband without any special concern for the arithmetic of delegate accumulation. It was not until the Ohio primary, more than two months after Iowa, that Clinton began targeting any mail in a way that could maximize her share of delegates rather than the popular vote. "They only focused on the delegates where the math part wasn't hard," said one member of Clinton's 2008 targeting team.
The Iowa campaign reflected that sensibility. The candidate saw caucuses as "creatures of the parties' extremes," as Clinton later described it in an e-mail to friend Sidney Blumenthal, but she behaved as though by ignoring the oddities she could will caucuses into a more familiar system. She began hiring leadership for her Iowa campaign months after Obama did, which left her less time to build the multi-level organization necessary to recruit and train the volunteers who would even make possible a concerted effort to broaden the pool of her targets. When the candidate began spending significant time in the state, her advisers were desperate to get her in front of as many people as possible; but large events, while they may have delivered maximum media impact, were not terribly helpful to her field operation. "Because of the president's background with community organizing, there was an innate relationship with precinct captains and volunteers," said Mitch Stewart, who served as Obama's Iowa state caucus director. "I'm not sure that her campaign was as sensitive to that."
Once it was time to begin mobilizing supporters, Clinton had far less intelligence on the electorate than Obama did. Her volunteers had had fewer of the phone conversations and doorstep visits that yield information on individual attitudes, including second-choice preferences, limiting the range of statistical modeling that her analysts could do to anticipate where delegates would go. Even if many local Clinton supporters were party veterans familiar with the complex machinations that took place within precinct locations, their campaign was unable to arm them with the data necessary to quickly make intelligent tactical decisions there. On caucus night, the Clinton hagiography was turned on its head: A family often described as containing one of the late 20th century's greatest political minds had proven itself tragically unsuited for the elections of the early 21st.
Clinton appears to have spent eight years learning from every detail of that defeat. Unlike in 2008, where none of her national leadership had any experience competing in a caucus, last year Clinton named a campaign manager who had made his mark in one. Robby Mook had been Clinton's state director during the Nevada caucuses, where she defeated Obama in the statewide popular vote even as his canny tactics left him with one more delegate than her and allowed him to point media attention to his growing delegate lead. Seven years later, with the candidate convinced that she had to approach the caucuses differently, Mook placed two of his most trusted deputies in Iowa; both Halle and his organizing director, Michelle Kleppe, worked under Mook on the Virginia campaign of Clinton's former campaign chairman, Terry McAuliffe, who was elected governor in 2013. (Both sit on the campaign hierarchy beneath state director Matt Paul, a former campaign manager to Senator Tom Harkin; Paul's status as the campaign's figurehead serves to placate parochial fears of outsiders who don't understand Iowa politics.)
As Clinton's caucus director, Halle has been charged, in essence, with developing Caucus Math 2.0—not just a software solution to aid precinct-level tactics but an all-encompassing system of statewide resource allocation similarly designed to ensure that the money and time that the candidate puts into Iowa this year delivers a commensurate return in delegates to the state convention. "The entire strategy focused on the backbone of delegates. Everyone at the beginning of the campaign got on board with the idea," said Halle. "A focus on data and delegate efficiency has been the driving force that everything else has latched onto."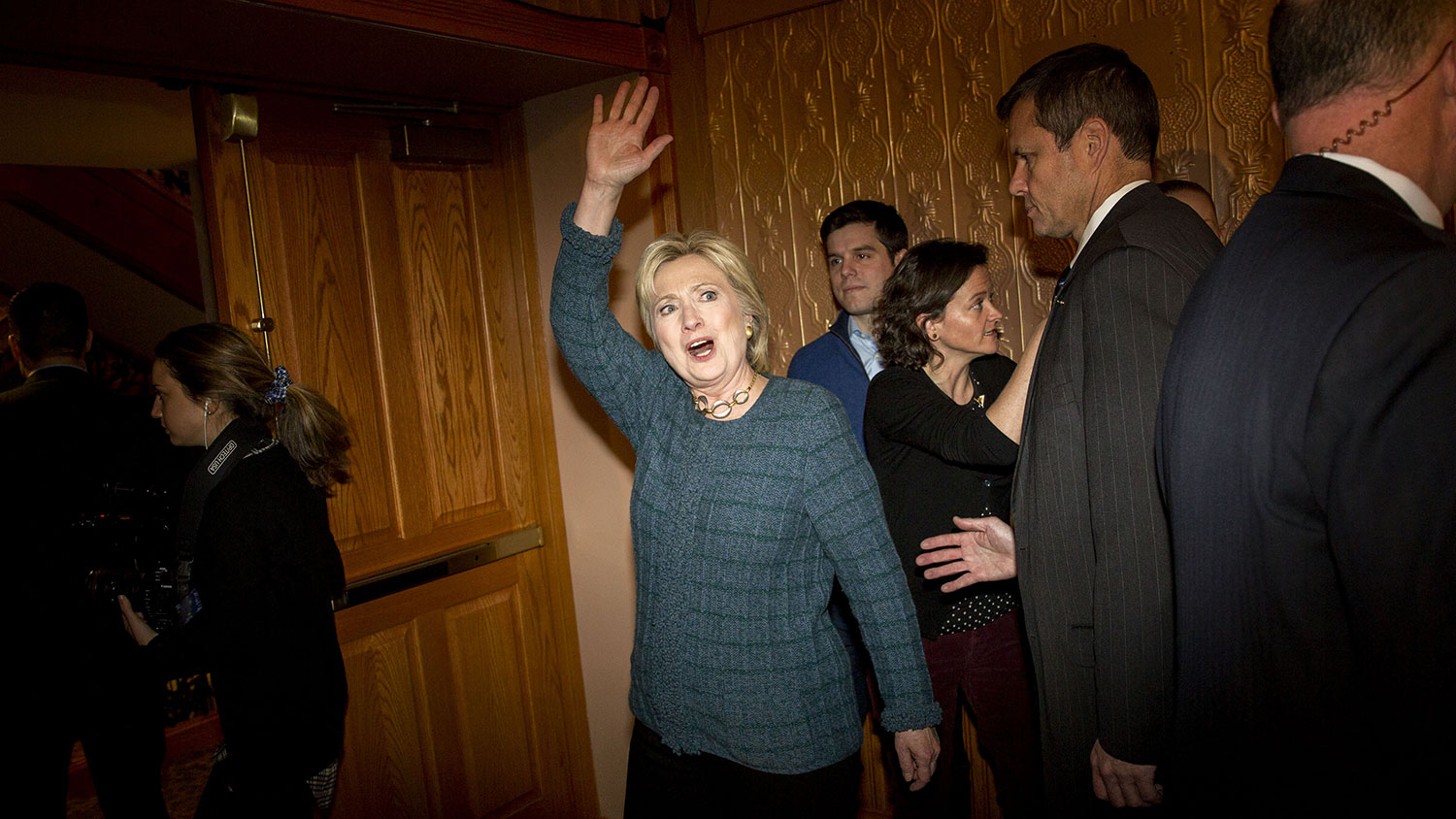 Last Sunday afternoon, following her rally with Senator Cory Booker in the cafeteria of the Vernon Middle School in Marion, Clinton headed a half-hour south to do another "Get Out the Caucus" rally, this time at Buford Garner Elementary School in North Liberty, with Planned Parenthood president Cecile Richards in tow. Two consecutive events in different Cedar Rapids suburbs—after earlier stops in the city with Booker to attend church services, and visit a local diner—would have seemed in 2008 like a scheduling miscue. All locations were covered by the same Cedar Rapids media market and served by the same daily newspaper. Spending most of the day in Linn County might have ensured front-page coverage for Clinton in the next day's Gazette and good placement on the evening news. A more far-flung and footloose schedule, even without a helicopter, would have permitted her to penetrate another media market that day, as well.
Yet within Clinton's state headquarters, the candidate's day in Linn County was seen as a scheduling triumph. Halle has been granted an unusually expansive brief to let delegate calculations inform decisions far beyond the field department and voter-contact programs where they have been historically ghettoized. Each stop in the county put her close to a precinct where the campaign had prioritized the opportunity to mobilize a new caucus-goer or persuade an existing one in a place where that marginal improvement was likely to be pivotal in winning a delegate that would not have been Clinton's otherwise. "If it doesn't fit in one of those buckets, we don't do it," said Lily Adams, Clinton's communications director in Iowa.
When Halle worked for Obama, that campaign had sorted precincts into three tiers, based on their potential delegate haul. This typically tracked roughly to the density of Democratic support: tier one precincts were usually urban areas and college towns, and tier three were mostly rural zones in the south and west of the state. Caucus rules left diminishing returns from running up the score in any of them, but there were gains to be found by surpassing seemingly arbitrary hurdles, with far more of those opportunities likely in precincts that have been allocated an odd number of delegates than even-numbered ones. "Breadth is more important than depth," said Stewart. "Having a little support everywhere is a lot more important than having deep support in some places."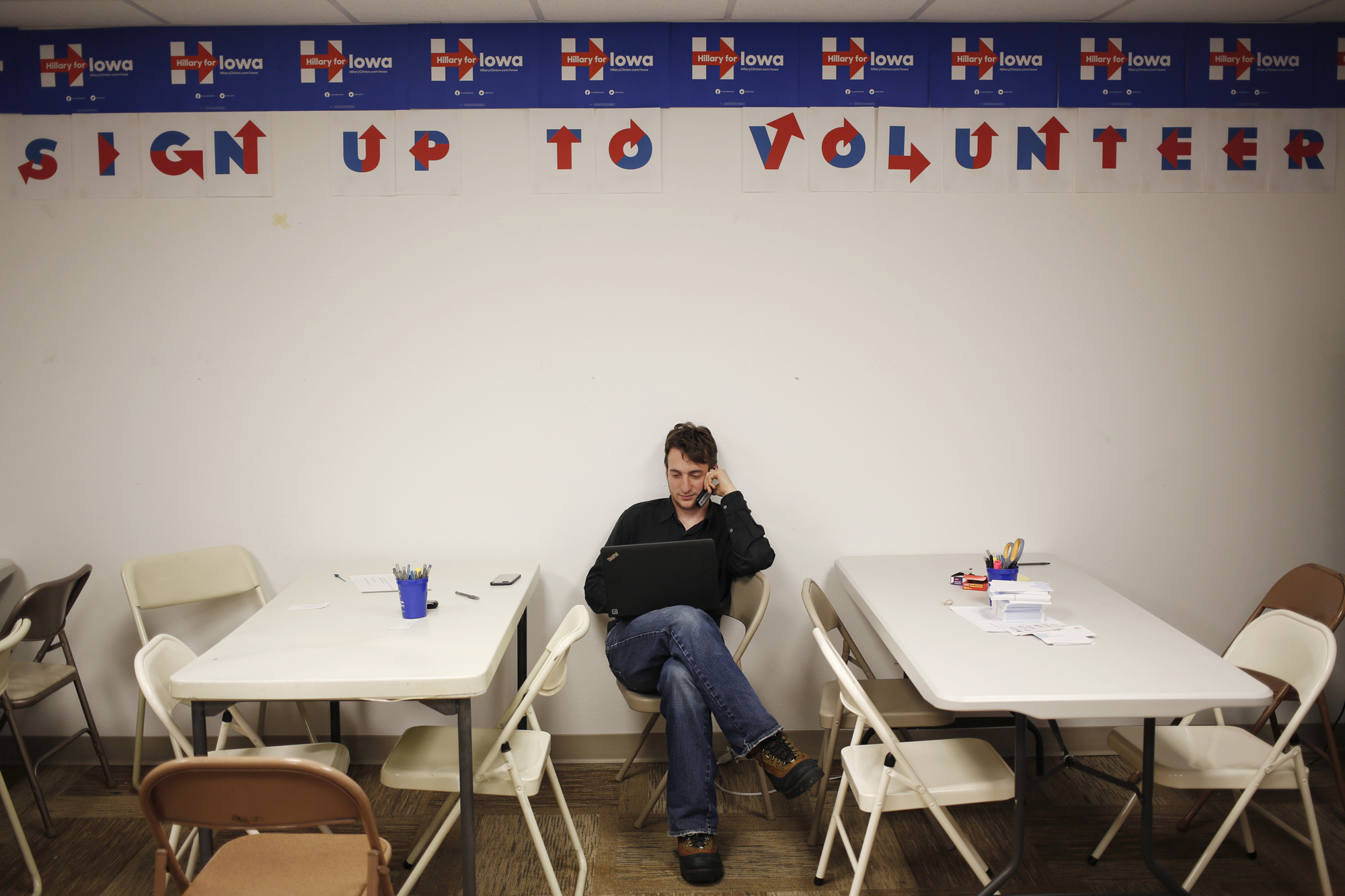 Last year, when Halle's team was devoted to enlisting local volunteers who could be elevated into precinct captains, Clinton's travel sent her to precincts where statistical models showed a high concentration of likely supporters whom she could try to meet personally. When her attention turned toward persuading undecided Democrats, the campaign directed her to precincts where volunteers had identified high concentrations of likely caucus-goers who called themselves uncommitted, and then individually invited those people to see her speak. "It's about being thoughtful about who is the entire group of people we're inviting," said Kane Miller, Clinton's regional field director for the Des Moines area, who previously worked with Halle on Obama's 2012 campaign in North Carolina. "It's about making sure we don't just pack it with the choir but with people who might join the choir."
Clinton's campaign had set individualized vote goals in each of Iowa's 1,681 precincts, effectively permitting a customized campaign plan for each. While general-election campaigns may set goals by county, because that is the unit at which votes are reported on election night, the geographical origin of each vote is fungible—a vote in Cincinnati is worth just as much as one in Cleveland or Columbus. The nature of a caucus made it far more like implementing an electoral-college strategy, where many states could be taken for granted and the remainder would be prioritized based upon their odds of delivering the pivotal 270th elector. "In places where the math is a little more firm, we're not going to have the same caucus effort," said Halle.
Obama's miniaturist tactics in 2008 were obscured by the sweep of his candidacy, and the sense of historical moment that surrounded it. Bernie Sanders has been trying to build a similar organization—but he may have learned too late that he would be able to raise the money to compete with Clinton, and has been months behind Clinton in building a precinct-level organization. Even if energy is there for him, he might have lacked the time to develop the manpower and collect the data to convert a lumpy delegation—unhelpfully dense in college towns and urban centers, painfully thin elsewhere—into delegates.
The popular image of Clinton's campaign as embarrassingly bereft of Sanders-level passion and zeal has actually been shaped partly by the way she has built a campaign to win the first state. A localized strategy was by definition likely to deem unproductive anything that could leave the impression of a broad-based movement. "All good Iowa caucus campaigns are strategically deploying resources based upon precincts where they can have the greatest impact on the overall caucus math," said Tripp Wellde, Obama's caucus director in 2008. "They're not going to telegraph it to the media and the public as to what precincts they prioritize—but where you're going at the end, where you're walking, is the tell of that."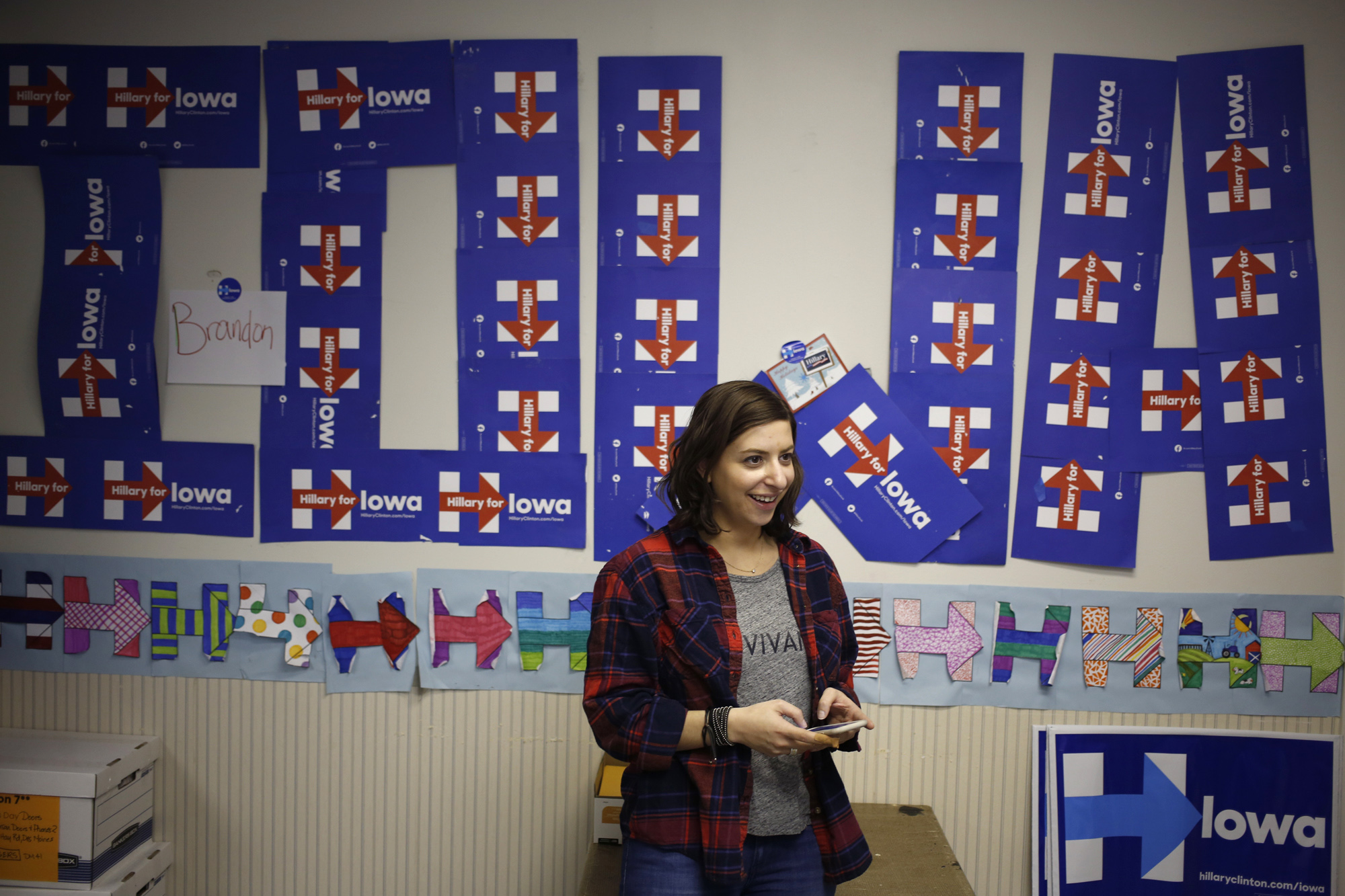 Just before noon last Saturday, Rebecca Lipson pulled her SUV off of Meredith Drive in Urbandale and rounded a helix of suburban streets she knew well enough to anticipate exactly where she was about to become lost. Residents knew the comfortably middle-class neighborhood as Meredith Park; to Lipson, a 25-year-old New Yorker who has been in Iowa since April, it was simply Urbandale's 4th precinct.
The area was barely a five-minute drive from the Merle Hay Road field office, one of several in Polk County from which Clinton's operations in the Des Moines area were staged. Lipson's desk was prominently emblazoned with her Twitter handle. In a radical shift from the usual standard—in which campaign leadership typically restricted field staff from speaking publicly upon fear of firing—Clinton's campaign encouraged them to keep a lively presence online as a way of engaging supporters in their areas. "To ignore social media wasn't really an option," said Adams. "If we have volunteer leadership and organizers, you're talking about spokespeople everywhere."
As one of 11 Clinton field organizers in the county, Lipson knew how many Clinton supporters she had to deliver on caucus night in each of the precincts for which she was responsible. She was guided at first by statistical models that would pinpoint voters most likely to back Clinton. On the office's walls was a legend to the numerical codes used to classify a voter's self-declared intentions, which have served as the common currency of Iowa caucus campaigns for decades. A "3" is a likely caucus-goer uncommitted to any candidate or merely leaning to one. A "2" is a voter who has made a verbal commitment to support the candidate, while a "1" has made a written commitment, documented on a signed commitment card.
As soon as voters said that they supported Clinton, the campaign would work to get it on paper. The existence of a paper trail gave campaigns a method of differentiating reliable 1s from shakier 2s, with the expectation that midwesterners might, out of politeness, overstate their openness when a stranger asked for their support on the phone but would not sign their name to it. In a twist informed by behavioral-psychology experiments that have demonstrated voters are more likely to deliver on promises when reminded of them, Clinton's campaign would mail voters back their own cards in the final week before the caucus: a vivid reminder of the pledge they had made and the fact that others were monitoring whether or not they followed through on it.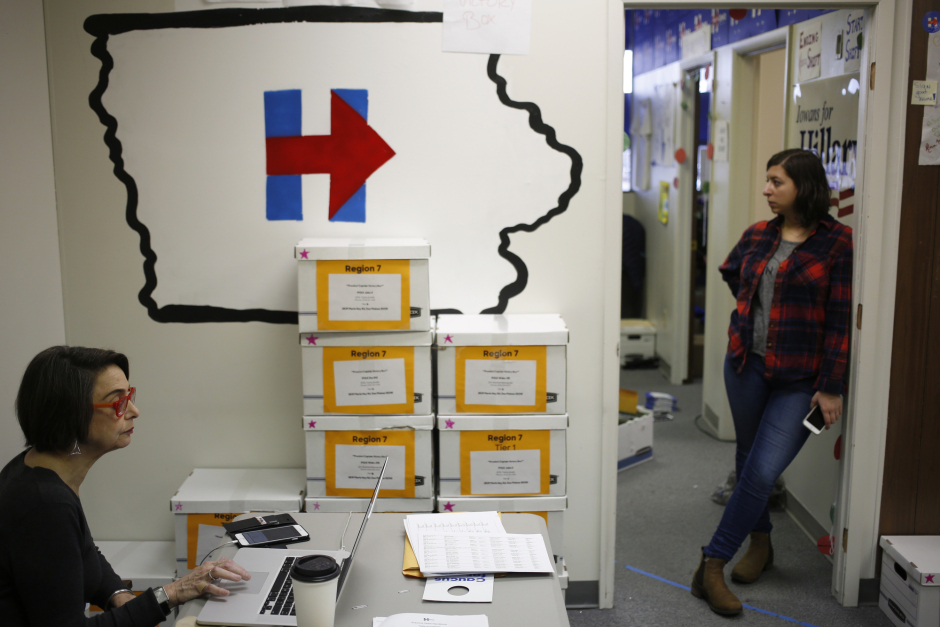 Lipson was also responsible for training her volunteers. The most competent and charismatic among them would eventually be asked to serve as precinct captains, the local faces of the campaign in their neighborhoods on caucus night. "The caucus is so public and personal," said Miller. "It's about the relationship between the people who see each other at the caucus location. We want to build up the relationship so when they arrive at the caucus location they recognize their precinct captain."
By the time she grabbed a Get Out the Caucus pack for Urbandale 4 last weekend, most of the names on the walk sheet inside belonged to residents who had already completed a commitment card. Lipson had returned to Meredith Park frequently enough throughout the year that she could remember which one had nice grandchildren, what types of dogs were inside, and recall the otherwise unremarkable house where she was once mistaken for a tardy babysitter.
Along with her walk sheet, Lipson clasped onto a clipboard a map studded with dots marking 30 households that had been identified as home to a turnout target for the campaign. At this point, Lipson would just be checking to ensure each was still with Clinton, and providing practical information about how and where to caucus. Lipson informed each of them that they should arrive at 6:30 p.m. at the Olmsted Elementary School's media center, noting helpfully that it was just another name for the library. Once there, Lipson said, Clinton supporters should look for someone in a blue "Precinct Captain" shirt; many said they already knew Dawn from her phone calls. In all but a few cases, her targets were female—including in a number of houses where a husband was present, but Lipson's walk sheet had not identified anyone else in the household as a target.
If Lipson might have felt she was on her way to adding an unexpected number towards her goal in Urbandale's 4th precinct, two blocks later she had to mentally adjust downward. She knocked on the door of a corner house and greeted a 74-year-old woman named JoAnn. The walk sheet identified JoAnn as having signed a commitment card, but she told Lipson that she was no longer behind Clinton. When asked what had changed her mind, she said "the campaign"; she liked some of what she heard from Sanders but thought he might be too old. JoAnn evinced an understandable exasperation with election-season politics, but insisted that she still planned to caucus. JoAnn was a bit of a puzzle, and when Lipson returned to her office at the Merle Hay field office, she looked up her record in VoteBuilder, the interface Democratic organizers use to access their voter file. A list of every attempt the Clinton campaign had made to reach JoAnn revealed a narrative arc: she had been first contacted in June, had completed a commitment card in October, and had last spoken with someone on Dec. 9. "We've been talking to her a lot—a lot," Lipson said.
Nonetheless, at some point over the previous six weeks, she had gone from a 1 to a 3. Lipson said she should try to ensure that JoAnn was called or visited again, "making sure that she feels heard." If she arrived at Olmsted Elementary still wavering, the precinct captain would "still be able to talk to her and try to bring her over," Lipson said.
Before then, the campaign would have to determine whether it was still worth trying to persuade her at all. "People switch between being a persuasion target and a mobilization target all the time, and it's being able to keep up with the dynamic nature of things that's important," said Halle. The decision about how to prioritize JoAnn would be made without sentimentality. Algorithms just might conclude that her support was something a winning campaign didn't really need.