More than 30 years ago, on Carly Sneed's third date with her co-worker, Frank Fiorina, he told his not-yet-30-year-old dinner companion that one day she would run AT&T, the company where he was at that point a rung ahead of her on the corporate ladder. "It was a good line; she loved it," he says. He doesn't recall much else about the evening. "I just remember making out in the car."
But Frank's view of Carly's extra-large future wasn't only a line; he meant it, and for Carly, it was a validation of her burgeoning ambition. "It was a startling thing," Carly Fiorina says, when she sits down with me a few days later to talk about her intention, barring catastrophe, to run for president in 2016. "But you know, when you're a woman growing up in a man's world, when someone takes you seriously, it's such a relief."
Even Fiorina's own father questioned Frank's reason when he retired at only 48 to support and travel with her. "I think my dad had initially sort of a typical man's reaction,'' she said. "Which is, 'How could you do this? Why would you do this?' It was so outside of his experience." He did come around, though: "As he got older and realized how important a role Frank played in my success—and my happiness, beyond that—he came to really appreciate him." When I tell her she married a mensch, she laughs and says, "Not everybody knows that word, but yes, I did; I'm very lucky."
Frank's prediction proved almost right, too: Fiorina rose quickly at AT&T, becoming senior vice president for its hardware and systems division, then helping launch its spinoff, Lucent Technologies. By 1998, she'd been named by Fortune as the most powerful woman in business and the next year was tapped as Hewlett-Packard's chief executive officer—the first woman to run a Fortune 50 company. But then came voluntary pay cuts at HP, followed by layoffs of 30,000 people. Amid a controversial merger with computer maker Compaq in 2002, HP's stock plummeted, and the big profits she'd so convincingly promised never arrived. In 2005 the board fired her, and sent her off with a $21 million severance package.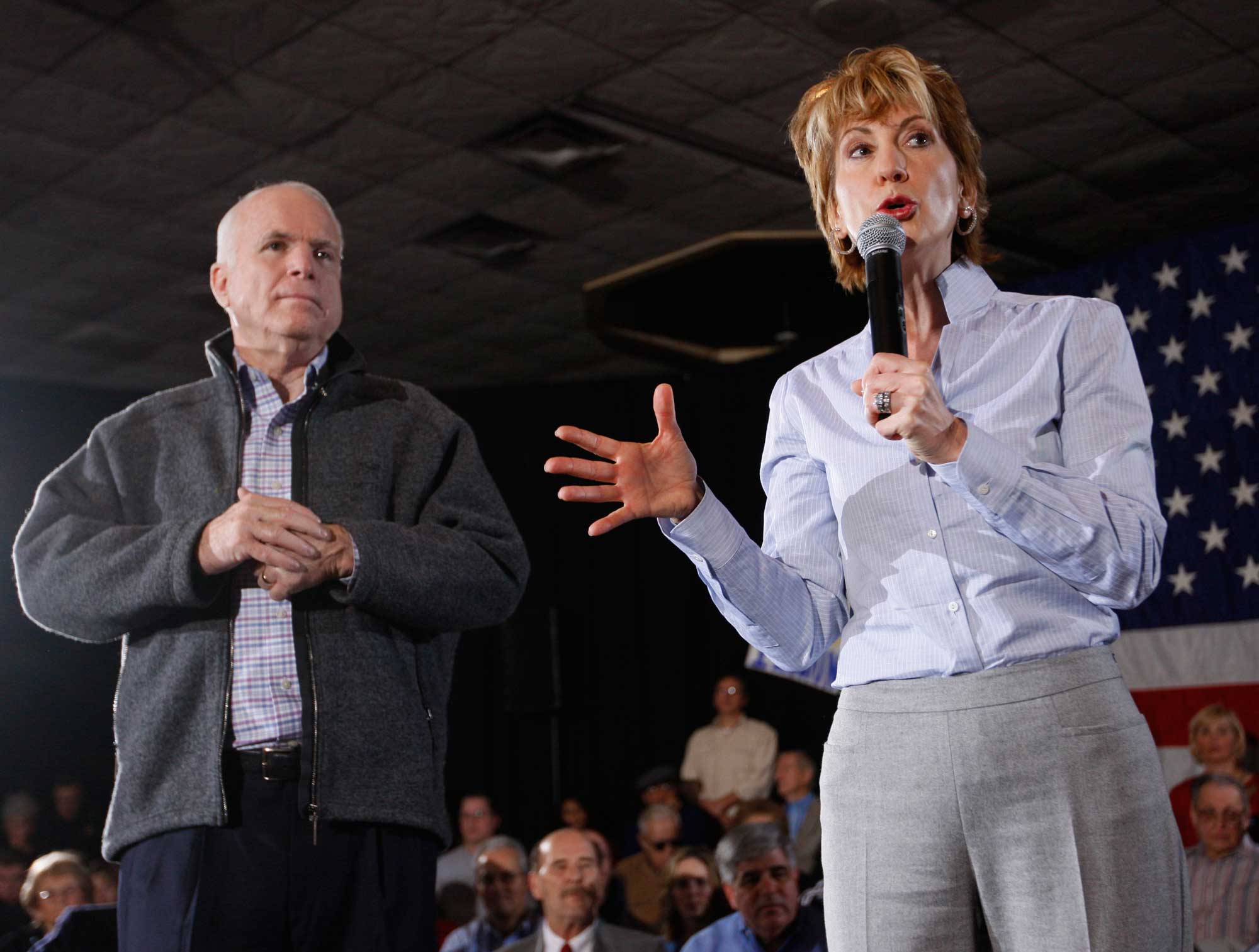 Fiorina reemerged in 2008 as an economic adviser and surrogate for John McCain, the Republican presidential nominee, but she sometimes seemed to forget she wasn't the principal—as when she noted that his running mate, Sarah Palin, wasn't qualified to run a major corporation. Then, in attempting to walk back the remark, she said that McCain himself, among others, wasn't qualified either. Afterward, CNN quoted a McCain campaign official as saying, "Carly will now disappear."
The following year her troubles became more serious. She was diagnosed with breast cancer, and lost her 35-year-old stepdaughter, Lori Ann, to, as she puts it "the demons of addiction." In 2010, immediately following chemotherapy, she ran her first political race, a bid to unseat California Senator Barbara Boxer, and lost by ten points—even though Boxer was considered beatable and 2010 was a Republican year.
Fred Davis, a friend and adviser in that campaign, wonders if Fiorina, 60, is looking for redemption with this presidential run. "She's one of the most driven people I've ever met," he says. "I'm not sure why she chose politics after HP, but her experience there was a devastating one. That was an inglorious end to a spectacular career, and maybe she's looking to have one more high-water mark."
Also on Bloomberg Politics: The Definitive Carly Fiorina Scouting Report, by Mark Halperin and John Heilemann
It would be hard to find anyone not connected to her campaign who likes her odds of actually reaching the Oval Office. But there's no mistaking her seriousness, and the campaign itself has been its own kind of success. She's impressed audiences at the Conservative Political Action Conference, the Iowa Freedom Summit, and Iowa Faith & Freedom Coalition with her unapologetic conservatism and gone after Hillary Clinton on everything from conflicts of interest to wearing her sunglasses inside that Chipotle. She's also shown an appealing gameness on the campaign trail, a looseness and willingness to play along. At HP, a common critique was that her best event was marketing herself. In running for president, that's a core skill.
"She's gotten better," says conservative writer Ed Morrissey. "I never count anybody out who's got that kind of talent on the stump. The idea that the first office you hold shouldn't be the presidency is going to kick in at some point, but she's going to impress people all the way through."
Fiorina has another advantage over the rest of the GOP field, particularly against the presumptive Democratic nominee. "Realistically," she says, "everything about me is different than anybody else running. My experience is different, my resume is different, my perspective is different, my voice is different. Oh, by the way, my gender is different."
In a hotel ballroom in downtown Tampa, about 300 people have come to hear Fiorina talk about "unlocking women's potential"—and her own, of course. Fiorina speaks so softly that women in the audience really are leaning in, just to hear her. These aren't the low tones of someone who lacks confidence, though, but of someone with plenty to spare.
Fiorina's story begins in church, and the Sunday school class she attended as a child. Her mother, the teacher, gave her a plaque that read, "What you are is a gift from God; what you become is a gift to God." That was a key insight, says the highly polished woman standing before them, for someone who "didn't feel particularly gifted as a young girl."
She perhaps undersells that girl, who was then known as Cara Carleton Sneed, dismissively describing her younger self as a "middle-child goody two-shoes, so not very exciting" kid who got into Stanford University and studied medieval history and philosophy there. The mention of those majors gets hoots from the audience. "You all laugh," Fiorina says, "because you know I was all dressed up with nowhere to go."
She went to law school but quit after a single, anxiety headache-filled semester. Then she went back to temping, as she'd done in college, and wound up typing and filing in a nine-person real estate firm. "I didn't think the job was beneath me," she says. "I was happy to have a job." Employers who saw her potential taught her their business, and it was up, up, and up from there.
"That's only possible here" in the U.S., she says—and only here that a law-school dropout with a liberal arts degree "could go on to lead a top tech company." That's because this country, she says, was built on the notion expressed on that Sunday school plaque, that we all have God-given potential and the right to maximize it. What people fear most these days, Fiorina says, is that "we're losing that sense of limitless potential."
Why? Liberals and their bad ideas, mostly: "I remember being shocked" when Karen Lewis, president of the Chicago Teachers Union, said during a 2012 strike teachers "can't be held accountable because so many students come from poor and broken homes." Lewis was arguing that what's expected of teachers in the lowest-income areas isn't either fair or realistic, given all that they are up against. But Fiorina heard it this way: "What she meant is, if you are poor, you don't have potential and you can't learn. And that, ladies and gentlemen," she says to great applause, "is not what America's about."
Women's potential is particularly underestimated, she says. "So yes, I agree with Hillary that maybe it would be a good idea to have a woman in the White House." The former secretary of state isn't the only woman in the race who knows world leaders, Fiorina says. "I have sat across a table from Vladimir Putin … I know Angela Merkel … I know Bibi."
In closing, Fiorina says that Americans should remember what Maya Angelou said—that "our deepest fear is not that we're powerless, but that we're powerful beyond measure." The quote, frequently misattributed to Nelson Mandela, actually comes from Marianne Williamson's woo-woo 1992 classic, A Return to Love: Reflections on the Principles of a Course in Miracles.
Almost everyone present rises and cheers. And none of the potential voters I approach afterward mentions Bibi or Vlad. "Most inspiring was her humble beginning," says Laura Crouch, an engineer. "From being a secretary to where she is now?" says Priya Bangarashettara, who works in financial services. "She's right that can only happen in America."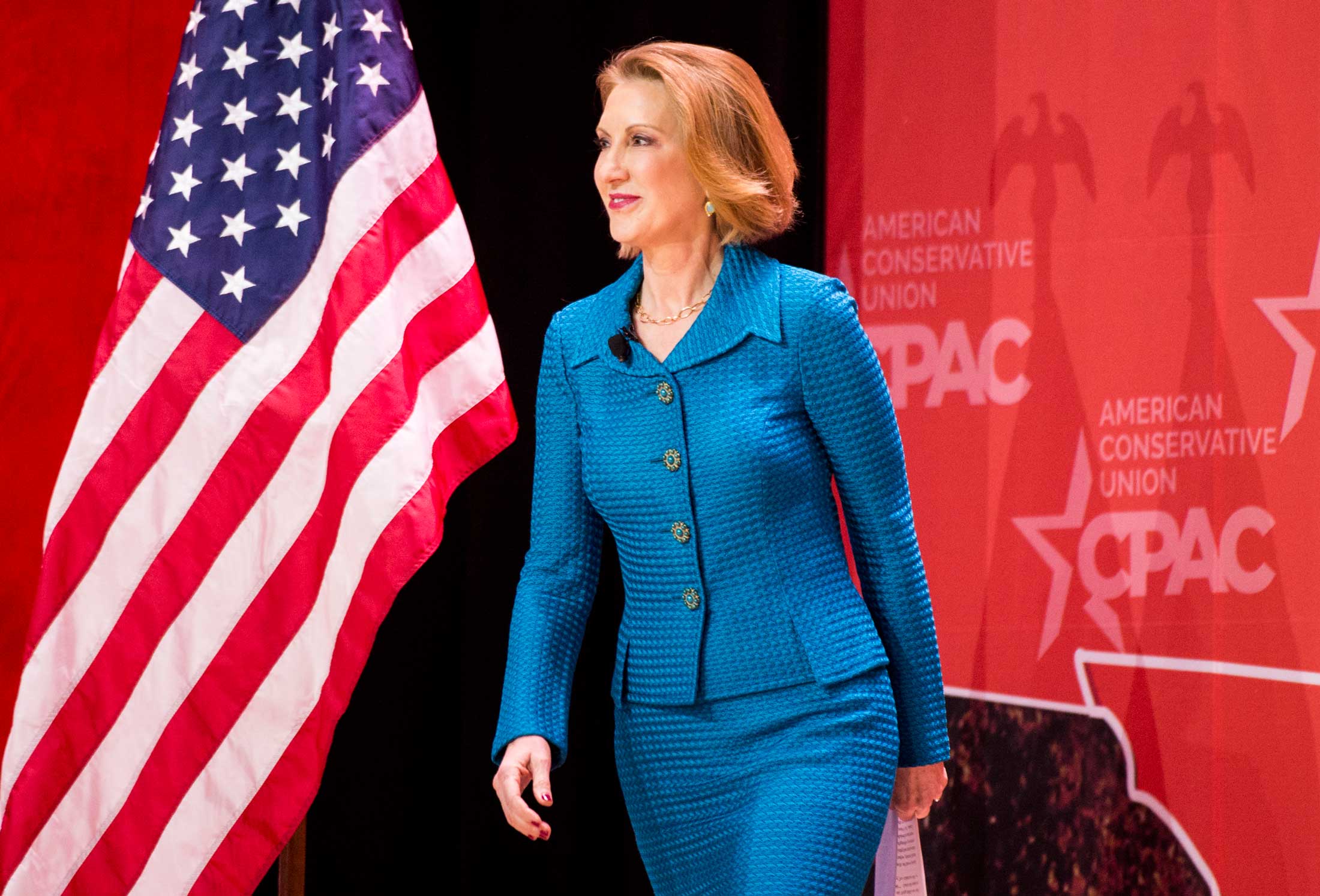 What Fiorina hadn't told her audience is that her father, Joseph Tyree Sneed III, who died in 2008, was a law professor at the University of Texas, Stanford, and Cornell, the dean of Duke Law School, a deputy attorney general under President Richard Nixon, and a longtime senior judge on the Ninth U.S. Circuit Court of Appeals in San Francisco. Nor does she mention that she worked only briefly in that real estate office before heading off to Italy for a year with her first husband, Todd Bartlem, a Stanford classmate who's told other reporters that in the years they were together, she had no political opinions and considered Dress for Success her bible. When reached by phone recently, Bartlem said only, "You're wasting your time, and I don't want you to waste mine. In the clown car that is the Republican Party, she's the ultimate clown." (Click.)
Fiorina is hardly the first seeker of high office to exaggerate the lowliness of her roots. But no one handed her the grades that would've gotten her into Stanford even without connections. Another graduate from a top school might not have taken that temp job, or worked around the clock ever since. Still, the faculty neighborhood where she grew up in Palo Alto wasn't a particularly unlikely launching pad to tech stardom.
At a recent breakfast in Washington with political reporters, Fiorina is asked why she thinks she might succeed as a former executive trying to head the executive branch when Mitt Romney didn't. She notes that Romney lost to President Obama by 62 points on the question of which candidate "cares about someone like me." Policy is important, Fiorina says, "but I also think empathy and connection are hugely important. I think that people understanding where you come from, what your story is, what your background is, is as important to any leadership role, but particularly running for the president of the United States."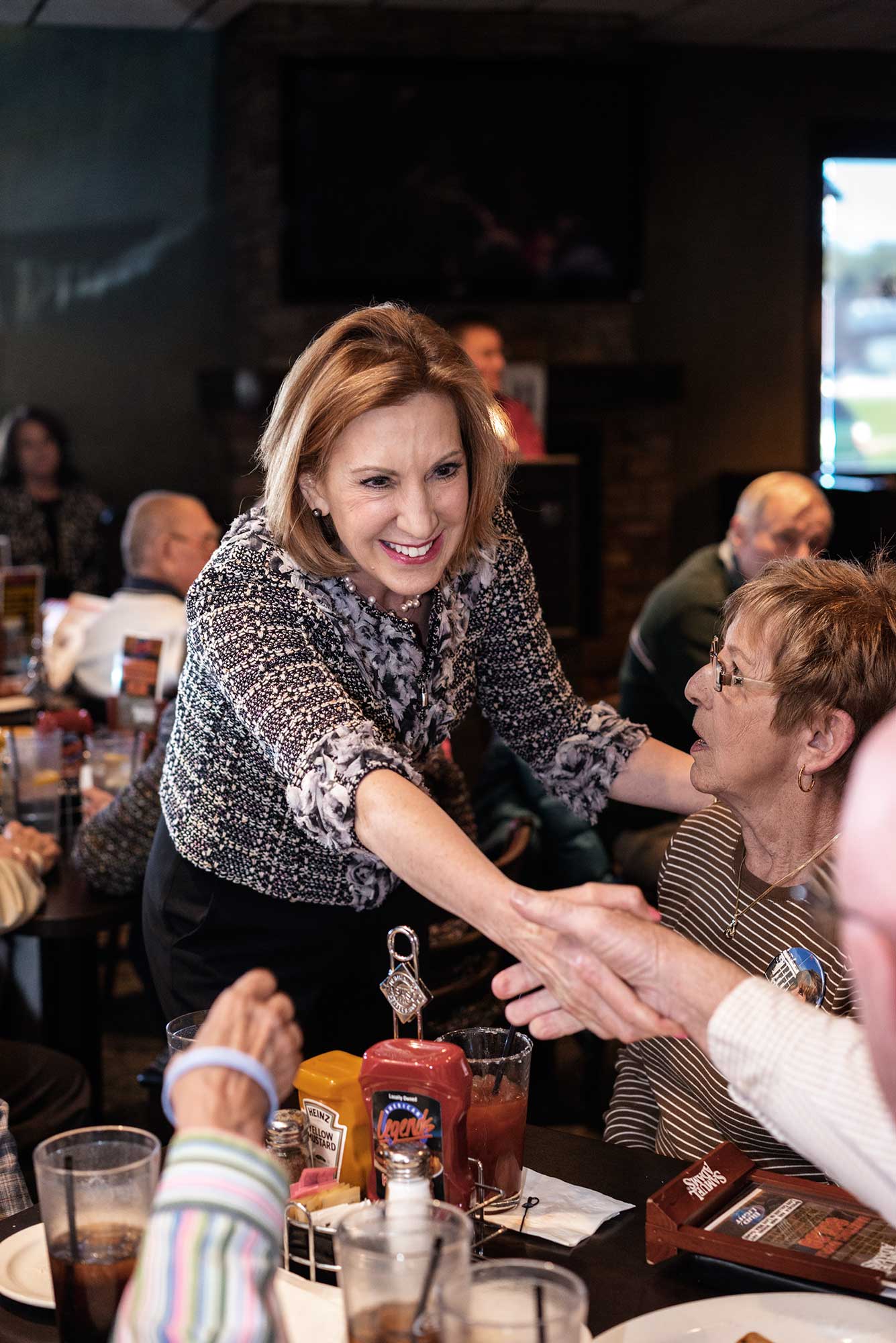 And unlike Romney, she has no trouble connecting. After the event in Tampa, after she's shaken every hand and posed for every picture, she apologizes profusely for having made me wait just a few minutes. Unlike many candidates, she's not playing terribly coy about the campaign announcement she's expected to make on May 4, just ahead of the May 5 launch of her campaign book, Rising to the Challenge: My Leadership Journey. (Her earlier memoir, Tough Choices, which looks a lot like Clinton's 2014 Hard Choices, came out in 2006.) This close to the official start of her campaign, Fiorina mocks the idea that anything would keep her out of the race: "I don't foresee some huge shock that would force me to say, 'Wow, I really miscalculated,' or 'I really haven't built the kind of infrastructure that I think it's going to take to make a real go of this.'"
As a woman running against Hillary Clinton, Fiorina will automatically avoid the optics that were so lethal to Rick Lazio, who lost to Clinton in the 2000 New York Senate race, when he appeared to charge her podium during a debate. Asked about the gender dynamic, however, Fiorina at first demurs. "What's totally fair game always, regardless of gender, is to talk about someone's accomplishments and to talk about someone's ideas, so that's all I ever do."
But again, wouldn't Fiorina be free to take Clinton on in a way men in her party simply can't? "I think what it does is it renders the Democratic 'war on women' baloney sort of neutral," Fiorina says. "It will be definitely harder for her to run against a woman. … because the political rhetoric that she talks about will be far more difficult for her to make credible."
I ask Fiorina what she's learned by watching Clinton, but she answers by saying instead what she's learned to like about her. "Look, Hillary Clinton is a very hard-working, dedicated woman who loves her country. I think she believes public service is her calling, and I take her at her word. But I fundamentally disagree with her and her points of view, so I don't think she would make a good president."
Although Fiorina's policy positions aren't a departure from the standard Republican planks, they're wrapped in more context. She tends to avoid questioning the motives of her Democratic adversaries, too.
But what's most surprising about Fiorina, given her tech CEO background, is how deeply, convincingly conservative she seems. In GOP primary season, of course, right-of-center positioning is a requirement, and there's nothing shocking about her promise to "reimagine government"—shrink it considerably, while taking a sickle to regulations that, as a former businesswoman, she abhors. Yet she's not just a Chamber of Commerce conservative, but someone who says the business community was dead wrong to pressure Indiana to amend its Religious Freedom Restoration Act. It's hard to say who might be to her right on the environment when she argues that since we can't regulate our way out of climate change, we shouldn't even try: Mitigating its effects "will take a global effort over decades costing trillions of dollars. So my question is, why would you be prepared to sacrifice people's lives and jobs for a gesture?"
Fiorina also talks more about God than some might expect, though she hasn't always been a regular churchgoer (or, for that matter, a regular voter). "I pray every day," she says. "I read Scripture every day. I honestly have been saved, from"—she pauses, looking for the right word—"sort of desperate sadness by faith, so it's just a part of my life."
Fiorina often mentions her anti-abortion views, which were anything but politically expedient in the California Senate race. When Fiorina served as emcee at a gala for the anti-abortion Susan B. Anthony List organization in Washington earlier this month, the group's president, Marjorie Dannenfelser, told the crowd that in 2010, while Fiorina was seeking their endorsement, she gave the best interview they'd ever had with any candidate.
"She's actually that conservative," says Davis, her former adviser. "I have a lot of clients, and some of them read polls and then tell you what they think. But Carly wouldn't consider changing her opposition [to abortion]. That's just not her."
On that issue, her views were formed before she knew she had them. "I was sort of raised that way without thinking about it," says Fiorina. "Then I met my husband, whose mother was told to abort him and she chose not to, and her life was utterly different because she had a son, and my life was utterly different because I have a husband, so I think about that a lot. And also when I was a young woman I accompanied a very good friend when she went to have an abortion, at her request, and I saw what that did to her—physically, emotionally, spiritually. I don't think she ever got over it, honestly."
A term increasingly in vogue on the right is "pro-life feminist," and I ask Fiorina if that's how she sees herself. "Maybe we've reclaimed" feminism, she says. "The word got captured by left-wing politics for a long time. Some of these left-leaning organizations have been hideous about women when they just didn't agree with them; I don't think that's feminism. When Hillary Clinton says it's not enough to be a woman; you have to be a woman who believes—and then she goes through the litany of liberal causes—that isn't feminism. That's 'Think like I do, otherwise we don't think you count.' "
That doesn't mean she thinks the government should get into the child care business, and to her way of thinking, the way to equal pay isn't passing new laws but abolishing seniority systems that disproportionately block women from moving up.
Meanwhile, nobody has to tell her that, as she says, "women get scrutinized differently, criticized differently, caricatured differently." At the recent Washington breakfast with reporters, Paul Bedard, of the Washington Examiner prefaces a question with: "Ma'am, I've never met a presidential candidate with pink fingernail polish on." Flashing a smile, Fiorina tells him, "There's a first time for everything."
On occasion, though, Fiorina herself has given as well as gotten that kind of treatment. During her Senate run, she was caught on an open microphone mocking Barbara Boxer's hairstyle as "so yesterday."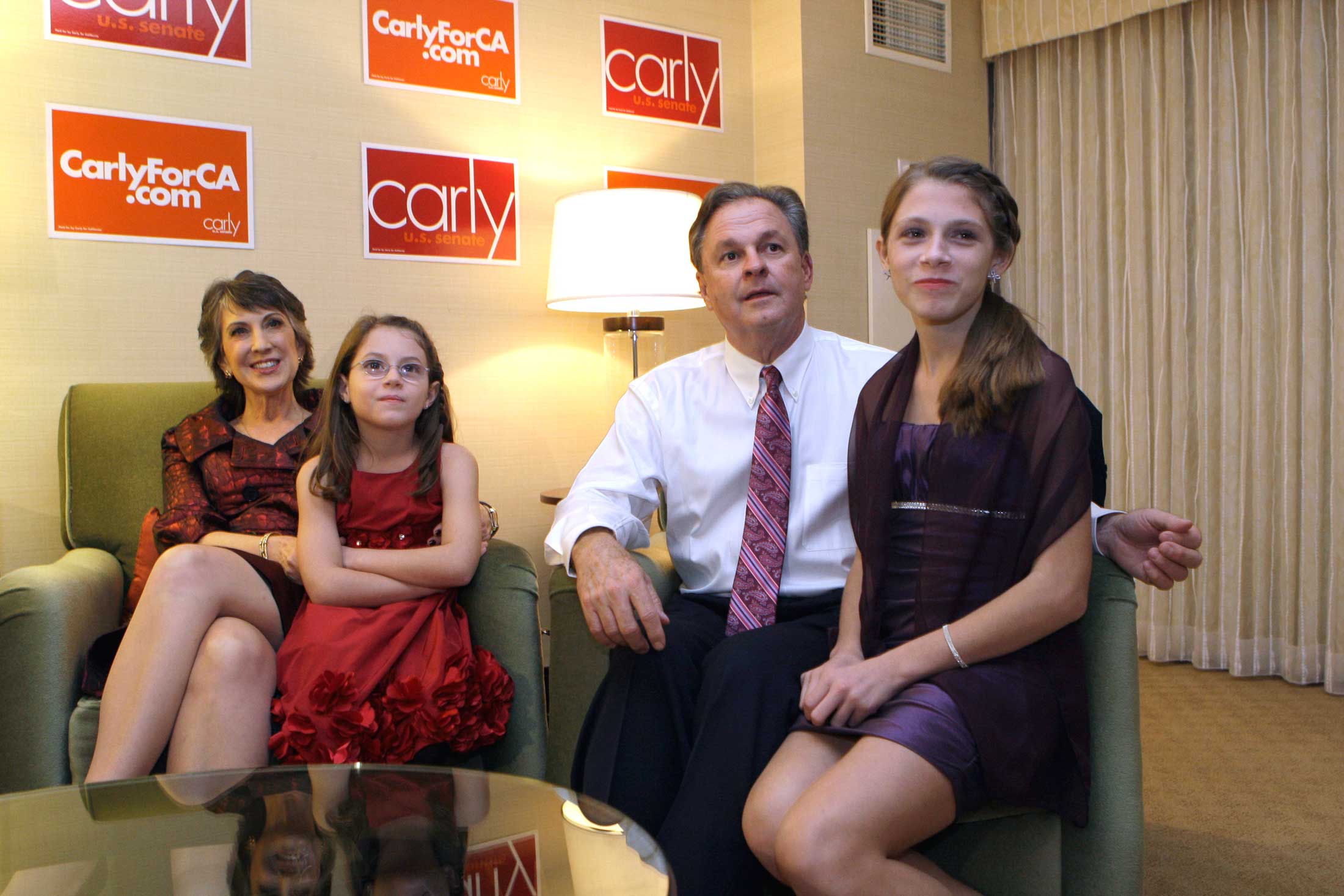 In that 2010 race, part of which she ran while bald, before her hair grew back in from chemo, she was hammered by Boxer commercials saying that even as Fiorina was laying off tens of thousands of employees, she was stocking up on and detailing corporate jets.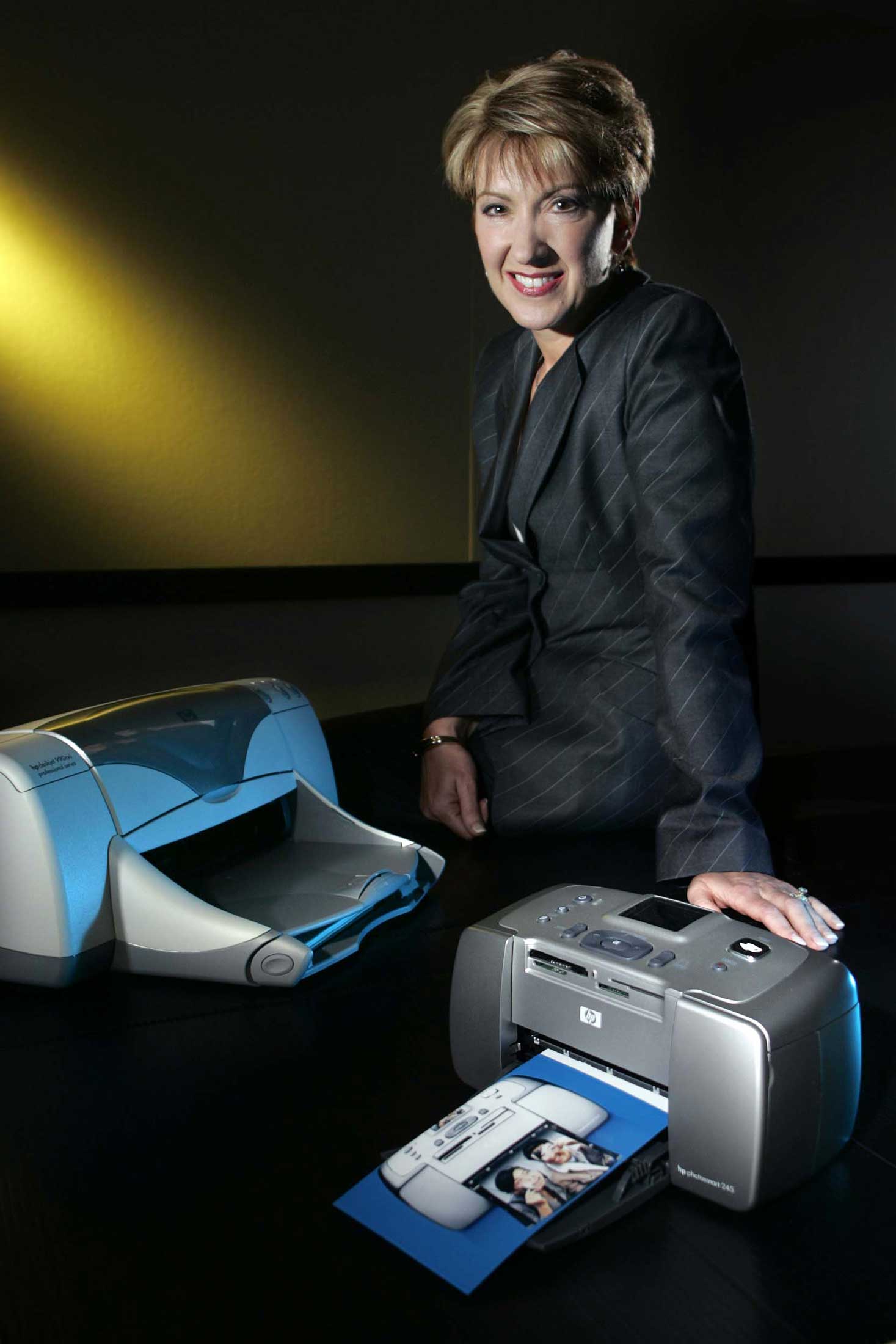 And as a candidate running on her business acumen, the major question Fiorina faces still is how she can talk about her record of accomplishment at HP when they ran her out of the job. Leaders make enemies, she says. She maintains that the company was on a good trajectory when she left. "First," she says, "the story of my firing is not the story that a lot of people tell. My firing happened in two weeks because a couple of board members decided to leak confidential information to the Wall Street Journal, and then we had a boardroom brawl and a showdown over it."
Looking back, she says, there isn't anything major she'd do differently. "The big things I got right at HP, and I think the results demonstrate that. The strategy that we undertook was to be a force for consolidation in the industry and to have a diversified portfolio. That strategy was clearly vindicated in all kinds of ways."
Clearly to her, maybe, but not to others. Jeffrey Sonnenfeld, the founder of the Chief Executive Leadership Institute and a senior associate dean at the Yale School of Management, summarizes her HP tenure as the "colossal failure" of someone who "managed to win a squeaker of a proxy war through a form of legal extortion" and then failed to learn from the mistakes she's never acknowledged making.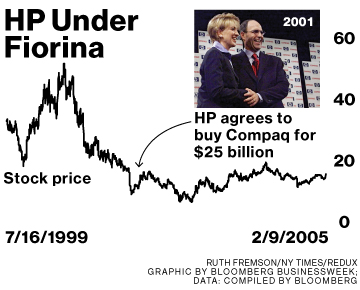 At HP, Fiorina came to seem constitutionally incapable of asking for help. Small moves that suggested a big ego offended many workers—things like hanging her portrait in the lobby and passing out noisemakers that employees were supposed to use when she took the stage at a company rally.
As Fiorina herself observed, participating in the theater of politics is a different enterprise than being the CEO of a major corporation. Despite her faux pas as a McCain surrogate, she's remembered fondly by campaign veterans. In the final months, "we kind of knew we weren't going to win," says longtime McCain adviser Mark Salter, "and it's hard to go out there for seven rallies a day, and it's hard to keep the surrogates fired up," but Fiorina "did everything we asked of her" without complaint, even if "you could tell," he adds, laughing, that "she was used to working on endeavors that were a little more efficient and practical."
A quick and determined study, she appears to have come a long way as a candidate, her first-timer's brittleness now leavened with biting humor. "I see momentum growing for her," says Carol Crain, vice chair of the GOP in Scott County, Iowa. "She came in as a no-name, but with each appearance, people like her more."
It's testament to Fiorina's toughness that the day she learned she had breast cancer, she drove straight from the doctor's office to a GOP convention, says her longtime friend Deborah Bowker, who managed her 2010 campaign. "I said, 'Let's pause; you have cancer. Let's put everything else aside," Bowker says. But ultimately, "having something to focus on was a good thing," Bowker says.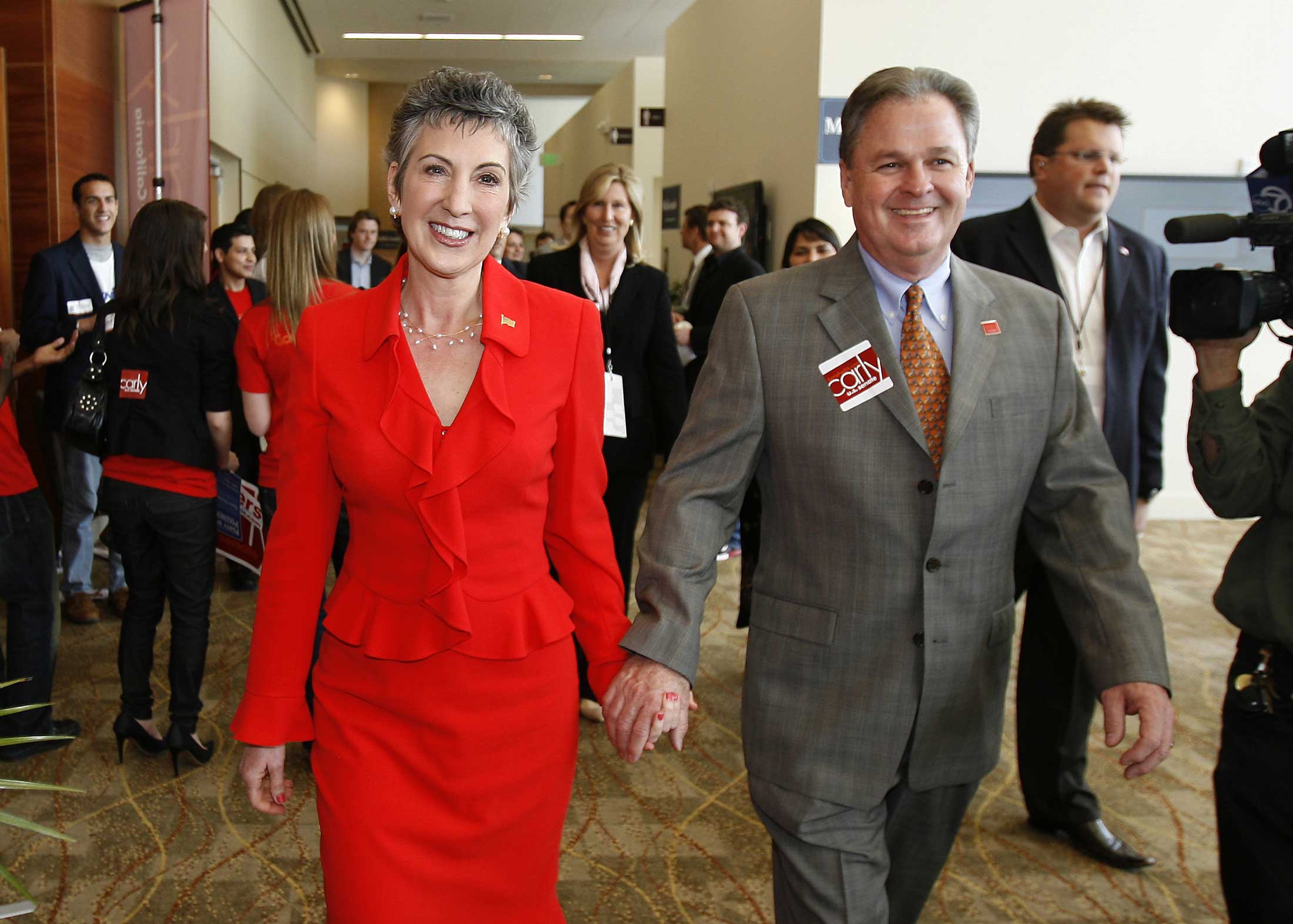 The person who believed in her first, her husband, Frank, is proud both of the career he gave up and of the one he has now, supporting her. With a license to carry, he has sometimes doubled as her bodyguard, and reminds me a bit of the he-man ballistics expert played by Gary Cole on "The Good Wife." "I started at $99 a week and made it all the way to VP" at AT&T, he says. But he never regretted walking away: "If she was gone for more than a day or two, I'd travel with her—I'd be there with the spouses, and I loved it. I'd say, 'Eat your heart out' to any guy who didn't see it that way." During the six years she ran HP, he says, cracking his knuckles, she never wanted any extra attention as a female CEO, as if somehow "she was on a ladder for women, kind of like a woman golfer that starts at a different place on the golf course."
And if he wound up in the position of First Gentleman? It turns out that Frank has given this some thought. "Like Carly, if I'm going to do something, I want to add value." But he doesn't want to say anything more than that. "Long way between here and there." In the meantime, "I'm gonna do whatever they tell me to, including meeting you," he says, grinning. Although he expects the campaign ahead to be punishing, "I'd never tell her not to do something she wanted to do."