Ten days before Kendall Bentsen's job would disappear, she was in the midst of the final push to provide Hillary Clinton's campaign with what may become one of the most valuable assets of its opening stages.
"Free posters! They are free! They are posters! They are free Hillary posters!" Bentsen, wearing a neon green "Ready" t-shirt, hollered to the students walking by her table outside the University of Maryland's student union in between classes.
Tucked in between a Relay for Life sign-up table and a few people giving away free tea, Bentsen delivers a pitch to passing students that is more or less on a loop, though she did pause to dish out a few compliments. ("Love your hair—totally killing it," she offered to a woman with pink highlights.) After every sign-up, the refrain was the same: "Can you text five of your friends and tell them I'll be here until 2:30?" Over they came, two or three at a time, drawn by Clinton, Bentsen (who clearly learned a thing or two from her grandfather, Lloyd Bentsen, a former senator and vice presidential candidate), or maybe just the idea of anything being free.
But there was one catch. While it's true that the students who grabbed posters a little more than a week before Clinton's April 12 campaign launch didn't have to shell out any cash for the enlarged and hashtagged version of the now famous (or infamous, depending on your view of the former secretary of state's e-mail habits) photo of Clinton e-mailing aboard a government C-17, they did have to sign their name. And give their e-mail address. And their cell phone number. And check a box indicating their ethnicity and sexual orientation. And provide a few other tidbits of information that, to a college kid who almost certainly would sign up for 10 new credit cards to get a free T-shirt, probably seemed fairly innocuous.
Bentsen and two colleagues ended up netting 227 names in a couple of hours. (Though one guy did appear to be particularly attuned to what was going on. "Last time I did that, a bunch of campaigns wouldn't stop calling me," he said, refusing to give his info.) For Bentsen, 23, and Ready for Hillary, the pre-campaign super PAC, it was all about building the list.
Also on Bloomberg Politics: Meet the 21st-Century Political Alchemist Who's Been Data-Mining for Hillary for the Past Two Years
In political parlance, a list is a compilation of data on potential supporters—think a database of names, e-mails, and other personal information that a campaign can use to rally volunteers and raise money. It's far from a new tool, but data—and the ability to leverage it to target, persuade, and turn out voters—is now at the core of the modern campaign, partly thanks to its central role in President Barack Obama's 2008 and 2012 operations. And so a good list has become ever more golden.
"The point of this experiment, the point of this whole innovation that is Ready for Hillary is to have available for the candidate the most fresh, enormous, complete, and colorful list of supporters to be at her disposal," says Tracy Sefl, a senior adviser to the group who has close ties to Clinton.
Started by two volunteers in 2013, Ready for Hillary (or Ready PAC, as it became officially known the day Clinton announced) existed to gather data and, eventually, figure out a way to turn it over to Clinton's campaign. All told, it pulled in more than 4 million names, and information on 135,000 individual donors. But it's the depth of what the data reveals about those names that holds the most value for Clinton's team.
"I don't know of any prior occasion in which so much money was invested to custom-build a list for a specific individual candidate," says Paul S. Ryan, senior counsel at the Campaign Legal Center. "It's fair to say it's unprecedented."
At the group's Rosslyn, Virginia headquarters, staffers joked that between the media and Republicans, there has been an unending amount of skepticism about what, exactly, the group was really doing. It can't just be building a list, right? That can't be the reason the group raised $13 million by the end of 2014 and another $2 million in the months since, can it? There has to be more. But that undersells the value of a fresh list—and the cost of building one.
Indeed, scrolling through the group's Federal Election Commission filings brings out a who's who of top-tier Democratic digital, data, and grassroots strategy firms—and the sometimes-six-figure sums they charged for their work—brought in to work with the team. "We're cash in, cash out to find more names," Sefl says matter-of-factly.
The group deployed a multi-pronged effort to bring in those names, one driven on the ground by grassroots events and meetings, and online through digital targeting, non-stop e-mails, merchandise sales, and close tracking of how supporters interacted within their social networks.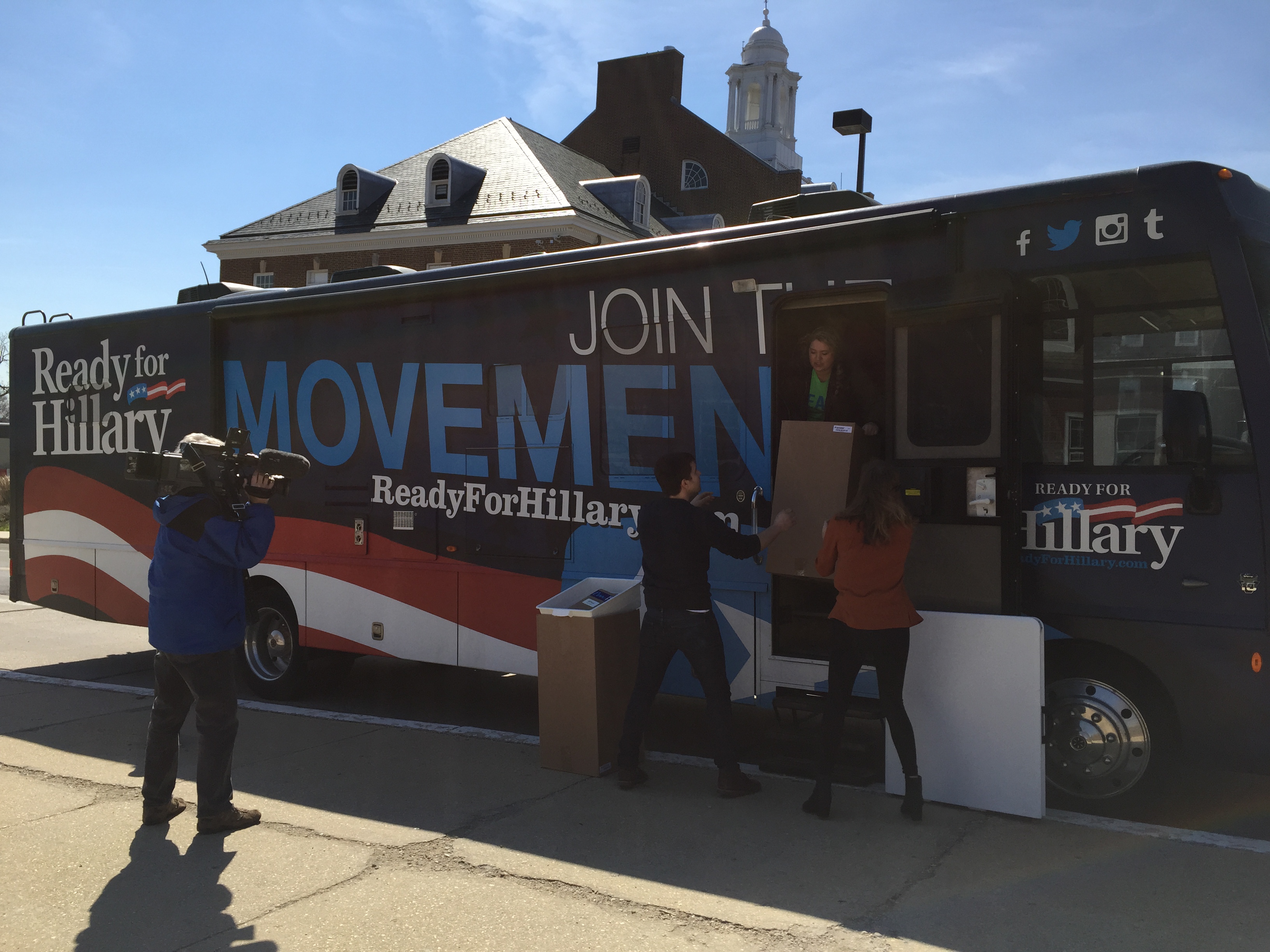 Steven Palmer, a member of the University of Maryland's college Democrats, said the group figured out a way to get itself into campus life. There were events (including a big push when Clinton herself came to the school in 2014), and a regular presence on campus. "It's hard to get students really motivated politically, especially this far ahead of an actual election." Still, he says, Ready for Hillary managed to get its bumper stickers and shirts all over campus.
In all, there were more than 1,300 grassroots and small-dollar donor events where participants filled out detailed information sheets to be logged by the group. The group offered free "Ready for Hillary" bumper stickers to anyone who provided their e-mail and mailing addressto the group; more than 1.2 million stickers were mailed out. Merchandise sales were all done online. Each order provided address information, and, given that many of the items were tied to a specific issue, (a la LGBT or women's rights), provided insight into subjects or issues that motivated people to buy.
Digital targeting was deployed on major social and search platforms. In an effort to pull in Hispanic supporters, the group deployed web ads based on the default language settings on an individual's Google homepage or browser. If the settings were set to Spanish, Ready for Hillary would lay ads onto sites across the Internet for that user, leading to a page asking for an e-mail address.
There was also the basic political blocking and tackling of swapping, renting, and buying lists from other political campaigns and organizations—the act of getting access to say, Clinton's 2008 list, overlaying it with Ready for Hillary's list, and identifying individuals who were missing. The group then sent e-mails to those Clinton supporters, offering a free bumper sticker, and gathered more details on anyone who responded. The group swapped lists with 14 campaigns or state parties in the lead-up to the 2014 midterm elections. Campaigns or organizations in Iowa and New Hampshire were a high priority, giving Ready for Hillary valuable access to active Democrats in the two early primary states. It also purchased the Iowa Democratic Party's 2008 caucus data.
Yet the group considered the names they brought in on their own the most valuable of all—those names helped the group track each step of the process, from the very beginning. At each step, the goal was to push each individual to do more, whether that meant making a donation, hosting or participating in a grassroots event, or recruiting friends to join the group.
The ability to lock in millions of names and e-mails has become a prerequisite for presidential campaigns. What Ready for Hillary was attempting to do was to use the data to assess relationships—to figure out how connections between supporters and their networks could be used to gather more information. From the issues that they clicked on, to the platform that brought them to Ready for Hillary in the first place, every bit of information was logged. Getting a "like" on the group's Facebook page was the opening move, not the endgame.Each piece of content shared opened up new windows into their social network.
Clinton's Twitter activity has been fertile ground. Each time she tweeted about an issue—say, the House Republican budget, or criminal justice reform—Ready for Hillary would follow a short time later with a blast petition to its list of supporters. Take the time to sign the petition in support of Clinton's tweet? Now Ready for Hillary knows it's an issue you likely care about.
https://twitter.com/HillaryClinton/status/581267449523343360
As Clinton moved closer to her announcement, the group started ratcheting back its efforts. The event schedule slowed to a halt. Tools for organizing grassroots events, volunteering to host issue, race, or gender-specific gatherings, and using social networks to recommend the group and recruit friends to sign up were pulled off the website. By the day Clinton launched her campaign, the website simply thanked supporters, and directed them to Clinton's campaign site to sign on in support. Papers were filed with the FEC to change the name to Ready PAC. (Outside groups can't use a declared federal candidate's name in their title.) As for the group's 29 full-time staffers, some have already signed on to Clinton's campaign, with more expected in the weeks ahead.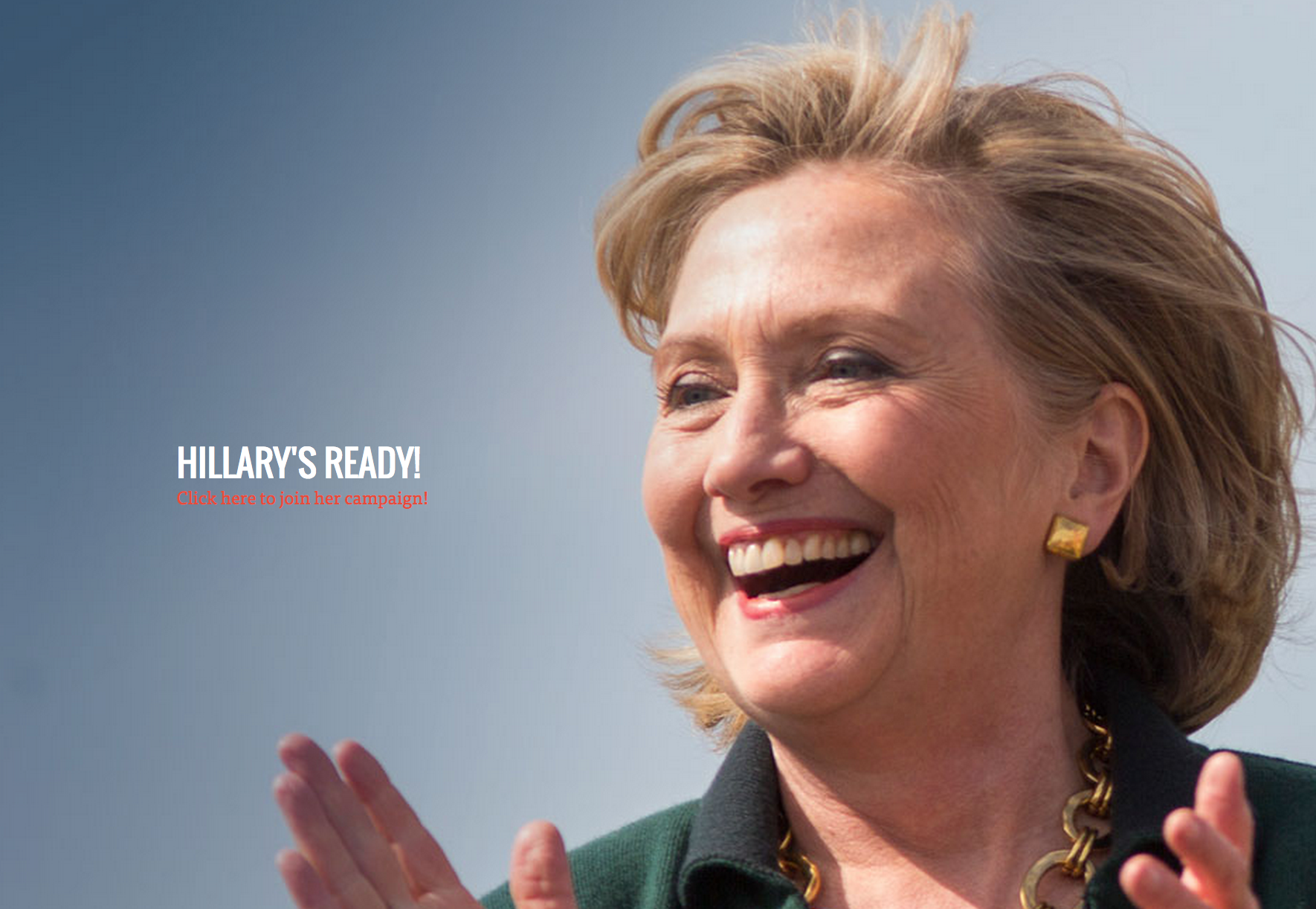 The last remaining question for the group is how exactly Clinton's campaign can access Ready for Hillary's list. Lawyers are in the midst of working through those details now. In the meantime, the group is directing as many supporters as possible straight to Clinton's site through blast e-mails, but some kind of financial transaction or swap is expected in the near future so the Clinton campaign can take full possession. The unsold T-shirts are now being sent to homeless shelters. The name has officially changed. Ready for Hillary is almost gone—but the list lives on.