ROCHESTER, N.H.—Eight questions into his meet-and-greet at the Pink Cadillac Diner Kentucky, Senator Rand Paul made his first accidental policy. One of the Stafford County Republicans who'd shown up for breakfast asked Paul about the heart-rending crises in the Veterans Affairs administration. Was it time, she asked, to "overhaul the VA and let it go to the private sector?"
"Yes," said Paul. Three dozen Republicans put down their coffee and applauded. Then the senator explained himself. "In Kentucky, we're building an $800 million new VA hospital," he said. "That would buy a lot of insurance just to go to the doctor, any doctor… I think the care is for the most part good, but the distribution's bad. When you think VA, think single payer system."
That seemed clear enough. Ninety minutes later, after another Q&A, in Exeter, I asked Paul if he'd thought more about what privatizing the VA would look like.
"No, I don't really have a big plan or anything," he said. "I'm not even sure I'd use the word privatize." He did want vouchers—a policy endorsed by Concerned Veterans for America, which is connected to the libertarian Koch network—but he was not ready to throw the whole system into the Hayekian laboratory. "I'm not for eliminating the VA, or getting rid of the VA hospitals. In fact, a lot of veterans like the VA hospitals even better than the other hospitals. I'd tend more toward getting insurance vouchers to go to the community."
In two and a half weeks, Paul is expected to launch a presidential campaign. Texas Senator Ted Cruz beat him to the starting line with a Monday morning speech at Liberty University; the two men will speak within an hour of each other in Monday night Fox News interviews. Paul's network is all but ready for him, and the Republicans who attended many of his events this past weekend were given flyers advertising a "Stand with Rand rally" in New Hampshire on April 8.
Yet "Standing With Rand" doesn't mean nodding your head along with his stump speech. There is no stump speech. In its place is a Lego set of issue stances, literary references, stories from newspaper articles, and attacks on Hillary Clinton. Where Cruz delivers microphone-melting calls for "the grassroots" to "abolish the IRS" and "repeal every blasted word of Obamacare," Paul goes where his audience takes him, asking them over the course of 15 or 20 minutes if they've heard of this Benghazi detail, or that civil forfeiture outrage.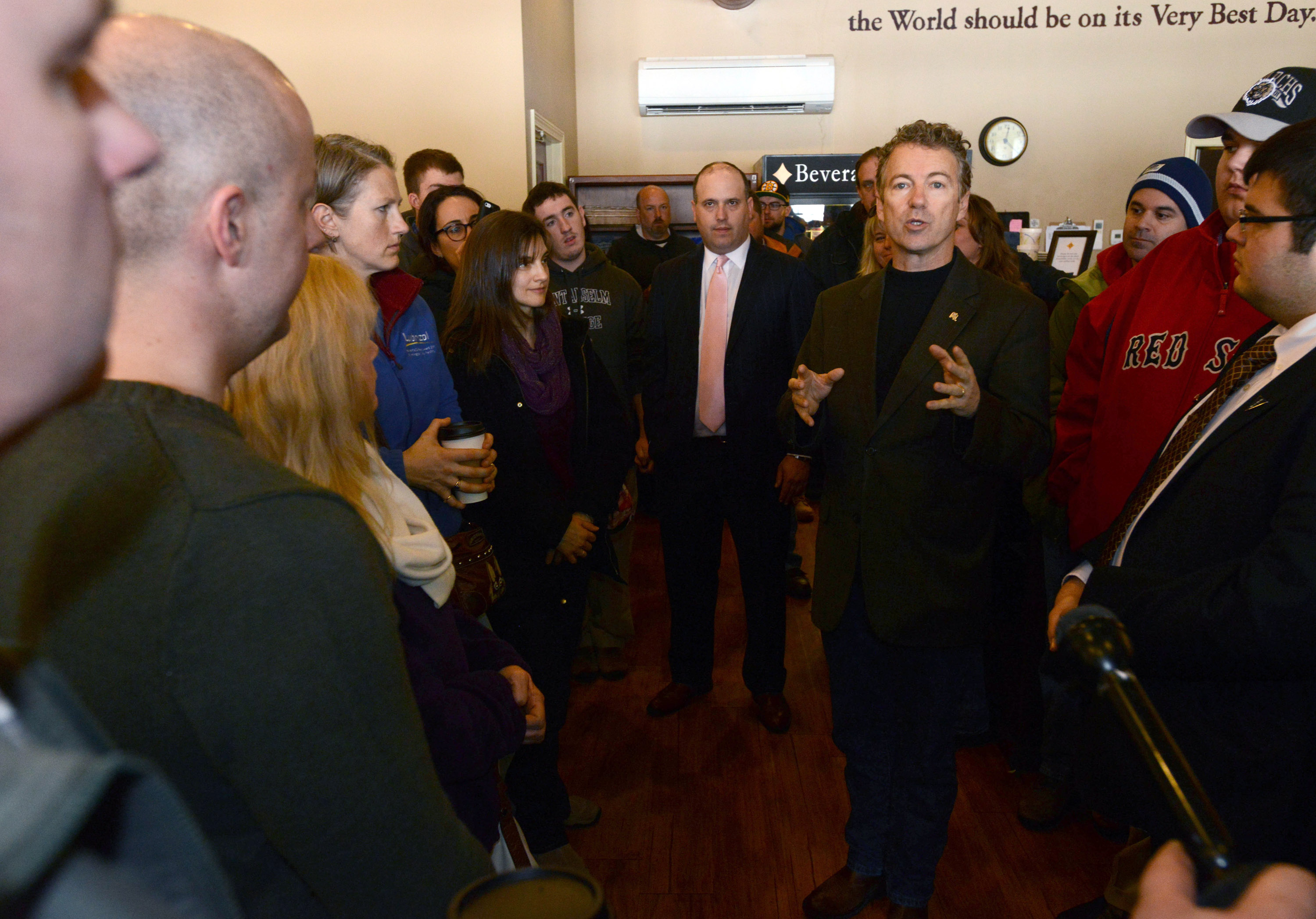 Paul's latest Granite State trip began with a visit to Dyn, a Manchester-based cloud computing company, which gathered around 20 employees for a town hall meeting. "Was anybody down at South by Southwest last week?" Paul asked. When four hands went up, he remarked on how he'd shocked the media by flying to Austin when Cruz and others were in New Hampshire. "What I like about being in the tech community is that they don't wait to fix the problem. They go out and fix the problem."
There were no questions about technology, however. One disappointed Dyn voter asked Paul to explain why he'd signed Arkansas Senator Tom Cotton's letter to Iran. Another asked about medical marijuana, which gave Paul a chance to promote the bill he'd just introduced, allowing states to pursue their own pot laws without federal interference.
"Chief of staff of mine—his father-in-law has MS," said Paul. "He's confined to a wheelchair. He prefers medical marijuana to narcotics. It seems kind of crazy that your doctor can prescribe you oxycontin but he can't prescribe you marijuana."
When the speech ended, Paul sat down for a murder board of interviews with local media—the Union Leader, NH1, WMUR, the Boston Herald, Fox News. In every interview he led with the attack he planned to levy against Hillary Clinton later that day, in North Conway, as the dinner speaker at a Lincoln Day fundraiser. "She will be one of the first women that has a chance at the White House and wants to run as a champion of women's rights," he told one reporter, "yet she's accepted money from countries that are some of the worst abusers of women's rights in the world."
The story landed exactly like Paul wanted it. By mid-afternoon, the Drudge Report was linking to a Politico preview of his speech, the only appearance of his trip where he'd refer to some notes. At the dinner, after Paul had signed moose antlers and a red tie to benefit White Mountains Republicans, he saved the Clinton attack for the 26th minute of a 30-minute speech.
Before getting there, he urged activists to read Milan Kundera's The Book of Laughter and Forgetting ("It talks about how under a Communist society, there was sort of a forgetting, sort of an erasure of history"), run through the history of the Fourth, Ninth, and Tenth amendments, and talked about how cell phone privacy was the valentine that would win over young voters.
"Who cares about the Fourth Amendment? Every teenager in the country," Paul said. "Kids have been voting in the last couple cycles 3 to 1 for the Democrats. If we can be the party that defends privacy and the bill of rights, they'll come back our way."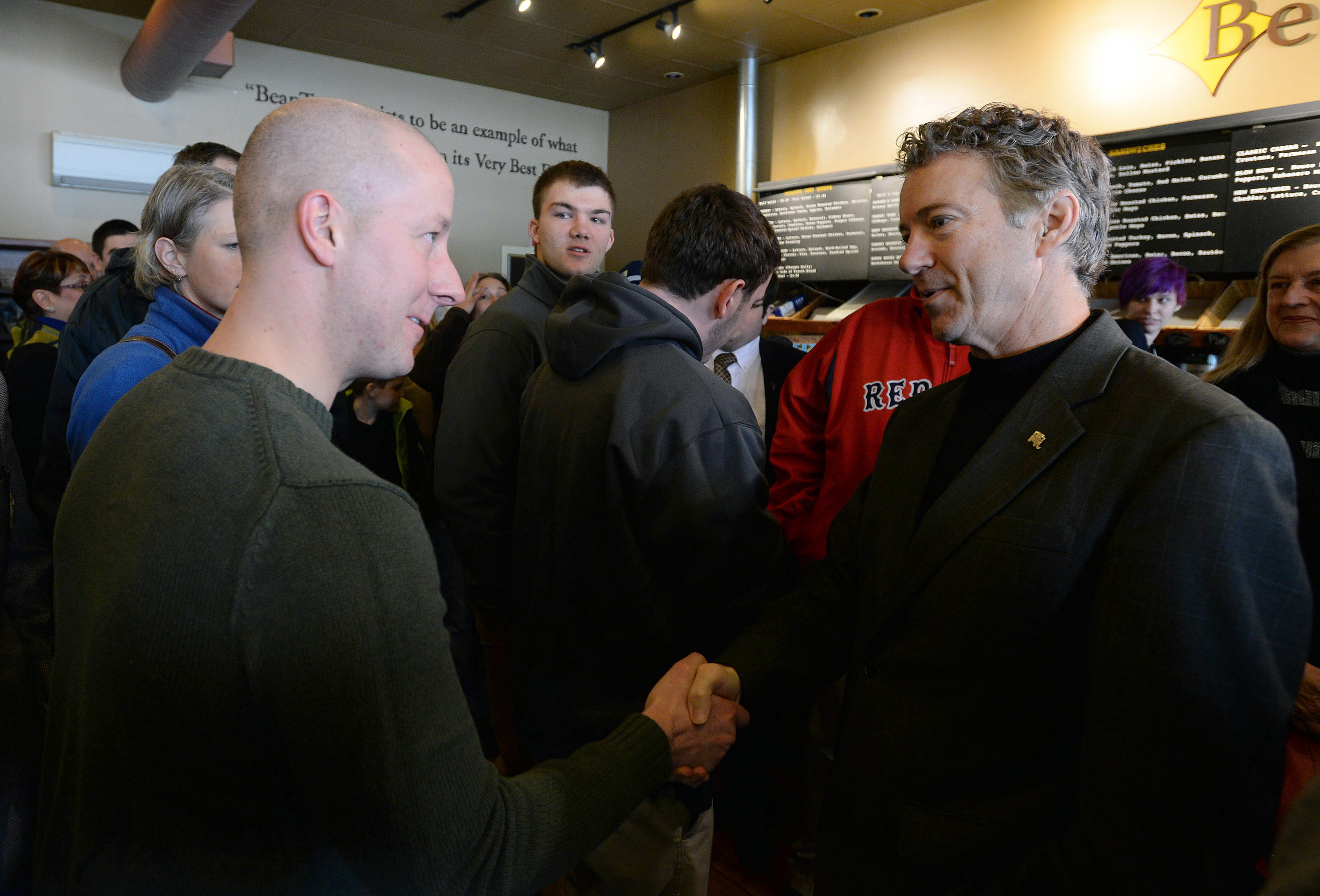 After the speech, Paul hung near the front of the dinner hall, standing for photos and talking about—yes—Milan Kundera. An AllState agent named John Rand stood by, counting off the many petitions he'd signed when Paul's PAC had emailed them to supporters.
"Audit the Fed, stop the ammo ban, stop Obamacare, all of that," said John Rand. "I'm not a yes man, but I'm hard pressed to find anything he's said that I disagree with."
A Fox News camera was filming all of this, and I was experimenting with the livestream video app Meerkat. The senator's eyes caught the cameras a few times, with visible displeasure. He'd just used Meerkat at South by Southwest, but he worried about what streaming video could do to the interactions between a senator with endless portfolios, and voters with endless and unpredictable obsessions. His staff later made it clear that he preferred that one-one-one voter interactions not be subjected to livestreaming.
"It is hard," Paul said in the Exeter interview. "The main thing about it is that these people didn't really agree to be on national TV. Also, I think some of them will be sorry that they said something, or if they say something, and joke, and I respond with a joke, does anybody get it? The interesting thing about jokes and humor is that when you print the transcript, it's not very funny a lot of the time. It's taken as serious that you said this about that. That takes a little fun out of things, if there's scrutiny every moment of your life. People do worry about that, public or private. If we know that every interaction with every voter is going to be filmed, it'll mean that you have plastic candidates saying nothing. No response, no nodding of the head, because you know everything will be filmed."
On Saturday, as he wound through southern New Hampshire for four public events, two video trackers were kept outside. In Exeter, both pointed their cameras hopefully but uselessly through a window as Paul took questions on everything from lobbying to defense to police brutality.
"I would lay some blame at the foot of the politicians who write these laws. "Some people gave me grief over this, but I believe this strongly. The gentleman in New York who died over the chokehold from the police, over selling loose cigarettes: I blame de Blasio and all these other Democrats for putting a $5 per pack tax on the cigarettes."
No tracker caught that, but Paul was happy with his answer. The senator, who has never pretended to be an extrovert, is visibly more comfortable in a town hall than he is chatting about the weather with the voters who want a selfie or signature.
"I've been contemplating the thing where you go off the stage," Paul said in our interview. "What's that called?"
A millennial press aide provided the term: Stage diving.
"Stage diving!" said Paul. "Well, so far we're avoiding the stage diving. I don't know. I like engaging, answering questions. To me, probably out of all of it, the answering of questions and the dialogue I like better than small talk. I would enjoy a dinner party more than a cocktail reception. I think most people, if they're honest, would say that small talk is just not that great. Maybe some people love it. Maybe they're faking that they love it. But I do like answering questions and talking about issues. I think that's what most people come for – they're politically engaged."
When the Exeter interviews were finished, Paul hopped back into a van and got out at the Beantowne café in Hampstead. For the first time all day, he went back to hitting Hillary Clinton.
"Anybody here think it's a good idea for Hillary Clinton to be accepting money from Saudi Arabia?" Paul asked a throng of café-goers and legislators. "Anybody here think that she ought to send it back to Saudi Arabia?"
The voters cheered. Paul upped the ante.
"Do you remember how when South Africa was misbehaving, we organized a boycott of South Africa?" he asked. "We should be boycotting Saudi Arabia."
That hadn't been in the gift-wrapped, Drudge-ready attack on Clinton. After Paul left the café, a spokesman had to clarify for The Washington Post that the senator and potential president was "not calling for a governmental boycott, but rather options for private citizens and investors."
How far was Paul willing to take this stance? I asked if he endorsed a policy initiated by the Obama administration, under then-Secretary Clinton, to make gay rights a precondition of aid to human rights NGOs.
"I would think we'd give to a lot of countries that don't have good records on gay rights," Paul told me. "I mean, any Muslim country probably has an abysmal record. Obviously, I'm not a big fan of most aid to begin with, so would I tie aid to behavior? Absolutely. For example, I introduced an amendment in the foreign relations committee to not give aid to countries that will put people to death for changing your religion in interfaith marriage. I'd be happy to say, for countries that punish you for homosexuality, too. Do any of them put people to death for that in Muslim countries? I'd be happy to say no."
Paul, ignoring a script that did not exist, had embraced a small, new policy. The contrast with Cruz couldn't be stronger. On Monday night, the two men appeared an hour apart in Fox News interviews. Cruz got a full hour with Sean Hannity, where he was given carte blanche to repeat his campaign themes. Paul got a segment with Megyn Kelly, a much tougher interview, who showed him national poll numbers that put him in fifth place, bunched up with Cruz and other conservatives, in a presidential race.
"Ted Cruz is a conservative," acknowledged Paul. "But it also goes to winnability. People will have to make a conservative. Which is the Republican that can not only excite the base, but can also broaden the party?"