DES MOINES, Iowa—Everybody wanted a piece of Steve King. The Iowa congressman was co-hosting a Freedom Summit that would bring most of the GOP's 2016 hopefuls together with an attentive audience and 200 often-attentive journalists. King had a few minutes here, a few there, until—finally—he had a full 60 minutes for Simon Conway.
The radio host descended from his WHO studio, down an elevator and past pictures of a young Ronald Reagan—the station's favorite son. Conway, born in Britain but adopted by Iowa, wanted to know what King was up to.
"I've got plates spinning, but they haven't wobbled and fallen off yet," said King. "Cranking out two amendments for the border bill."
King and Conway strolled into the studio; in a total coincidence, they wore identical black cowboy boots. The host took his place behind monitors, with a stack of printed-out news stories. King slapped on his headphones and smiled at a webcam. Conway prodded King to make news; the congressman obliged. He handed Texas Representative Louie Gohmert some credit for the campaign to bring Israel's prime minister to Washington. "He and I sat together, along with Michele Bachmann, in his office in Jerusalem just last year," said King. "I had conversations about him coming to speak to a joint session of Congress."
Conway, 54, who'd spent some formative years reporting in Israel, wanted to know a bit more about the state of things in Congress. King had voted against giving John Boehner another term as Speaker of the House. Had he been punished?
"I know this is 50,000 watts, I know there's a webcam, but it feels to me like my juice is stronger, not weaker, because of this," said King.
"That's fine, but it also seems to me like you're not having lunch with the cool kids," suggested Conway.
"Oh, I wrestled with it," said King. "I sat down that Sunday, wrote up the rationale in a one-page document, and now that document stands as a response."
They cut to commercial, and the host read some copy about a shaving razor company: "Enter my code, 'Conway,' in the promo box to get $5 off your first order." Then it was time for the phone calls, with Iowa's most conservative congressman encouraged to be himself.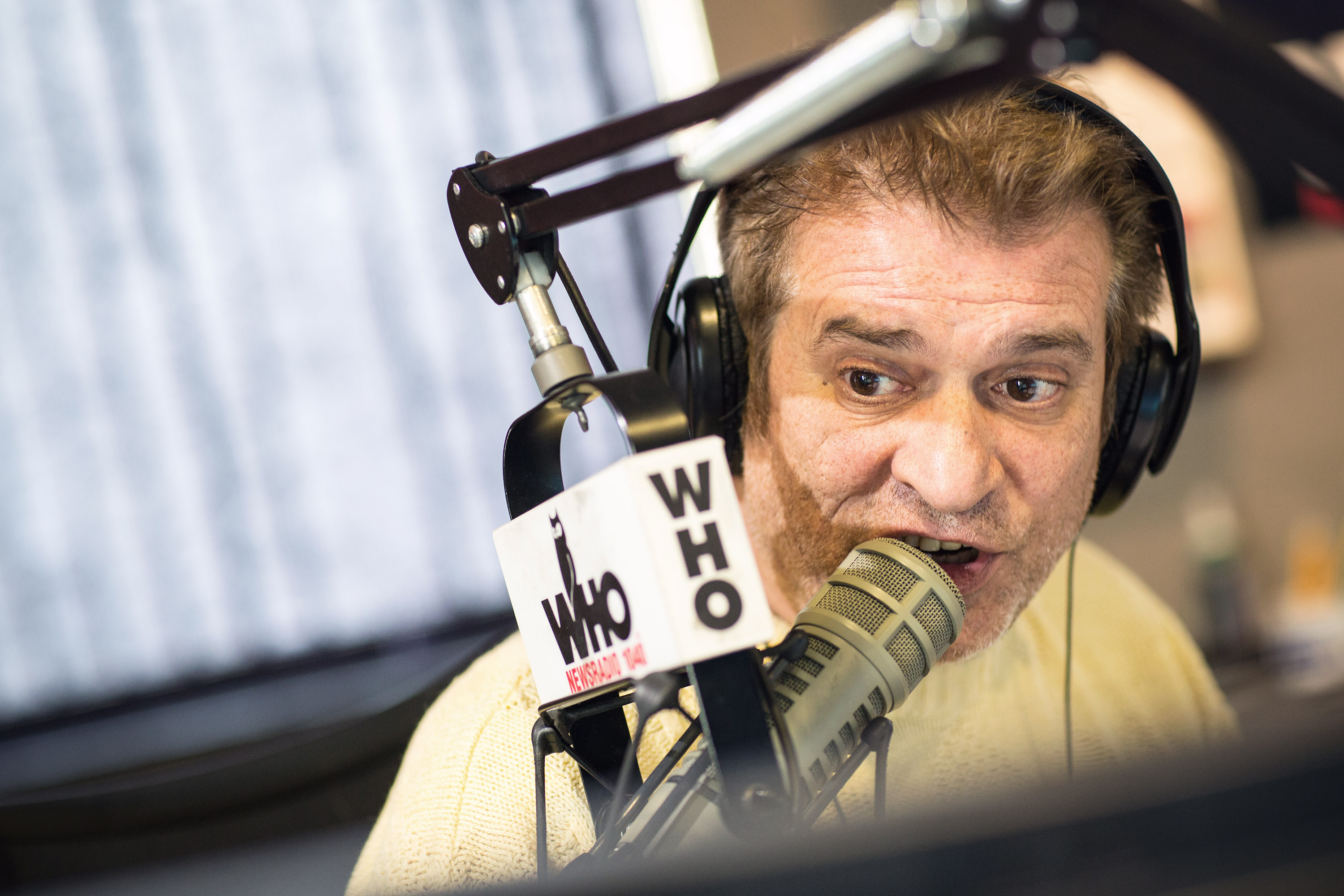 Since 2011, when he took over the drive-time WHO slot, Conway has acted as a gatekeeper for political candidates. He's not the only one in Iowa. Jan Mickelson, who hosts the morning block, gets his own time with would-be senators and presidents. Steve Deace, who used to host Conway's block, now broadcasts a syndicated show with less meddling and many of the same guests. When candidates stump in the Quad Cities at the eastern end of the state, they typically sit with former reporter Jim Fisher.
Iowa's Republican caucus-goers have an outsized influence on who becomes the party's presidential nominee. Iowa's radio talkers have the same power, just in greater quantity, spread among fewer people. They can't be handled with precious walk-and-talk interviews or soundbites, like the national press. They can't be blown off like newspaper editorial boards; Republican voters are more than three times as likely to trust their talk radio hosts than to trust their local fishwrap.
The men entrusted with this power are not angling for jobs on the coasts, or virality, or even the sort of questions that make guests sputter and gaffe. "My interest is not in 'taking down,'" Conway explained in an interview. "For example, let's say Mike Huckabee is on one day. I could interview him by digging out and quotes and saying, 'Aha, you said this!" Instead, I'll say 'There's been some controversy about you and Common Core.' I don't like throwing peoples' quotes back at them."
Mickelson agreed with that. Being an Iowa host meant that the phone would ring with potential presidents. The voice that could deliver the State of the Union would be warming your microphone, in between the car ads. There was no need for "gotcha" questions.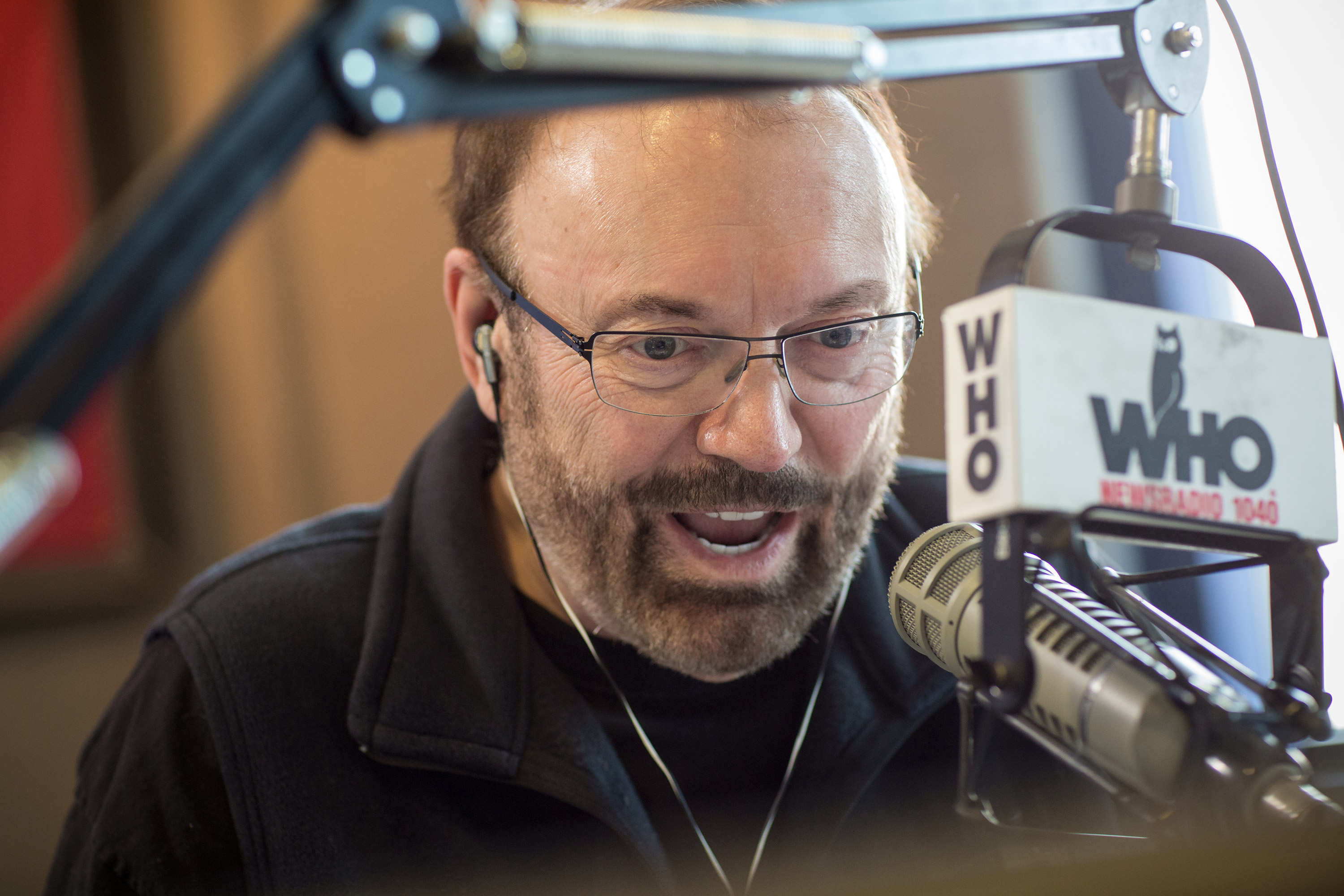 "It's not a career moment when I interview a candidate," said Mickelson. "We don't want to be jaded, but we're not impressed. Having high-profile personalities in Iowa—well, we're kinda halfway used to it and we think we're qualified to vet them. I'm like a public utility, light the light company or water company. I have a pragmatic use, and even if listeners don't agree with me they know I will ask the right questions."
That can lead the candidates into traps. By the time they've reached Iowa, they've figured out how to feed the daily journalism beast with harmless quotes. The interview with a Mickelson or Conway, somebody who is not out to hurt them, could wrap them around the axle. In 2007, Mickelson spent 10 minutes with Mitt Romney and asked about his Mormonism. Romney, who unlike Steve King did not realize the omniscience of the WHO webcam, started in on a doomed theological discussion.
"I understand my faith better than you do," said Romney. "You don't believe that, do you?"
"I think you make a big mistake when you distance yourself from your faith," said Mickelson.
He suggested that Mormons thought the Second Coming would occur in Missouri; the man who would win the GOP's 2012 presidential nomination started debating eschatology. "The church says that Christ appears on the Mount of Olives, and splits the Mount of Olives, and appears in Jerusalem," said Romney. "The world is reigned in two places, Jerusalem and Missouri."
In the early days of YouTube, the post-interview interview was a sensation. Mickelson didn't consider it a highlight. Romney hadn't revealed anything relevant to voters.
https://www.youtube.com/watch?v=G5sXcdiL1wE
"If they have a personal story they tell, they do very well," he said. "If not, they give me talking points. That's why Ben Carson is doing so well; people are impressed with his story. It's textured and once they hear his story they say, 'Hey, that guy could be president.' It's why Scott Walker did so well when he was here."
Fisher, who shares the anti-"gotcha" mantra, traced it to his days as a reporter. Taking candidates seriously got him closer to them. "My first full time radio guest was Ronald Reagan," he remembered. "This was in January 1980—though before that, we were carrying Reagan radio commentaries, and I'd met him half a dozen times. Hell, I sat in a hotel room and had a beer with him."
Reagan was the first of dozens of candidates who sought out Fisher, and got a friendly hearing interspersed with phone-ins. "One of the things you'll find with talk show hosts is that we are incredibly lazy," said Fisher. "If someone calls me, and wants to do an interview, I'll say yes."
That was Steve Deace's philosophy, too. In his studio, a two-room office in a complex in the midst of Des Moines' growing sprawl, Deace faces a push-pin map of his markets and a flatscreen TV playing college football.
"We don't chase candidates," said Deace, eyes trained on the laptop where he was organizing show notes. "We just don't. I learned early on that I have everything that a candidate would want: Access to an audience of people that they need to communicate to. Every time I had to track somebody down, they always sucked. Every time."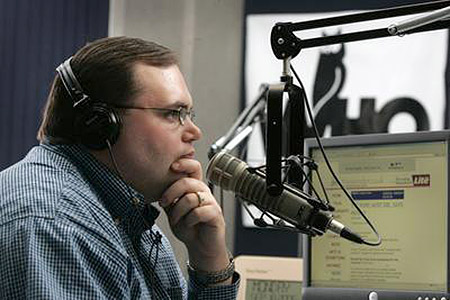 The awards in Deace's office are almost completely ironic. A caricature, from his WHO days, shows the portly host being carried by colleagues while shouting advice: "Remember! Fat people are harder to kidnap!" On another wall, he's displayed the election-year prize he won from the CityView alt-weekly: "Best Self-Righteous Media Hog."
He can take that prize whether or not the red light's on. Over a couple days in February, the always-accessible Deace was quoted in a Washington Post story about Rand Paul's absence from the Freedom Summit ("Dude, who do you think you are?"), a RealClearPolitics story about Scott Walker's sudden popularity ("He's just now getting vetted."), and an NBC News story about the same thing ("He's the only Republican who has a trophy.").
Deace doesn't formulate "gotcha" questions, exactly. But he's less interested than Mickelson or Fisher or Conway in the personal questions. "After we ask the positions," explained Conway, "we get into something like, 'What was it like the moment you laid eyes on your wife for the very first time?'" Deace is more moved by accountability. One the day before the Freedom Summit, with a Bobby Jindal interview on deck, Deace was thinking about the honesty he'd force out of Rand Paul.
"He used to come on a lot more often," said Deace. "Now, I want to ask questions like, 'Why have you taken every conceivable position on the immigration issue?' Suddenly his staff's not as interested in talking anymore."
Paul won't avoid Deace if he runs. None of the contenders can avoid any of the key talkers. If they do, the listeners hear about the gutlessness of the people who think they'll save America from Hillary Clinton. Their interlocutors expect nothing less.
"You know what?" Mickelson asks. "When this job started, I thought it was the coolest thing. I had talk show disease really bad. I thought: Okay, because I'm talking to important people, I must be important. It took me one election cycle or me to realize that was bull hockey."