Scott Walker has a cold. It's nine days before the Republican governor of Wisconsin will face voters, and his Milwaukee County twang is flattened out by the stuffiness. He stands on a soapbox, campaign bus at his back, and shows off a Green Bay Packers jersey to a hundred or so conservative Fond du Lac voters. It's No. 84, the jersey of a retired player named, conveniently, Javon Walker.
"See that number? Eighty-four?" asks Walker. "Last month we found out we had 8,400 new private sector jobs. That's the best September we've had in more than a decade. How about that?"
Walker's voters, some of them carrying copies of their governor's memoirs, applaud the good news. But wait – there's more.
"On Tuesday past week, September through September – so, September of last year, through September of this year – that ranks us in the top four," says Walker, holding up four fingers of the hand he injured on a recent pheasant hunt. "Not last, not near the last, but top four for job creation in the Midwest. That's a message you need to get out to your friends, your neighbors, your co-workers, because that shows Wisconsin is on a comeback."
As political rhetoric goes, it falls short of "Mr. Gorbachev, tear down this wall." It's the pitch of an era-defining conservative politician who has, unexpectedly, been losing an argument. Walker, the first governor ever to face a recall attempt and win, is locked in a tie with former Trek Bicycle executive Mary Burke. Walker won his first election at age 23. The 55-year old Burke has never previously run for office. Yet as Walker campaigns in Fond du Lac, an average of polls puts the Democrat up by 0.2 points. (An October 29 Marquette University Law School poll found Walker up by by 7 points among likely voters.)
"There's a reason why the big government union bosses have come into this state and said, I'm the number one target," says Walker in Fond du Lac. "It's because I took their power away and I put it in the hands of the hard-working taxpayer. They say, 'It's time to pay back Scott Walker.'"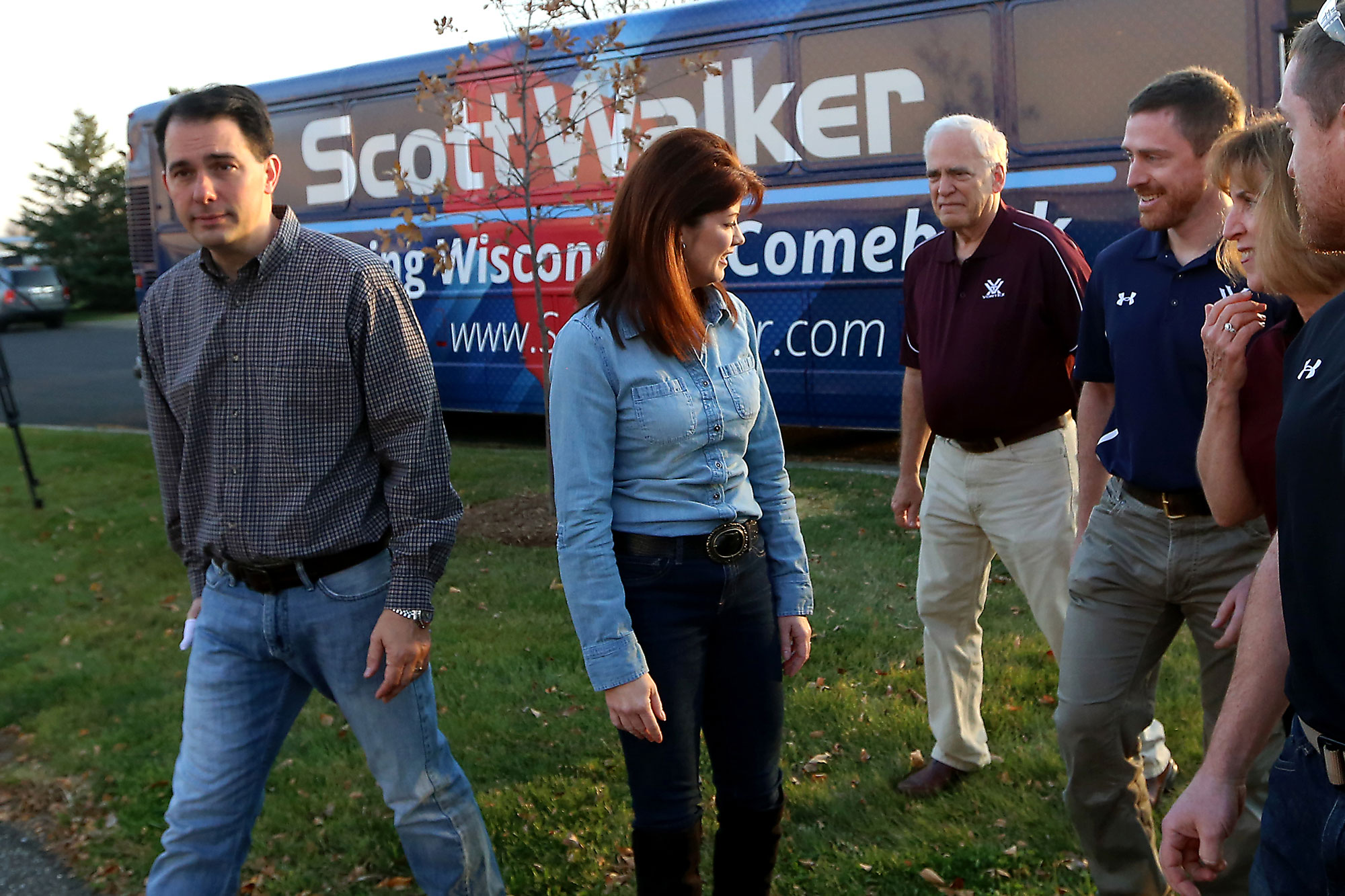 It's true that the unions want to pay back Scott Walker, even more so because, as everyone remembers, they failed once before. In March 2011, Walker signed a budget that stripped collective bargaining power from most public sector unions. He did so after weeks of protests that literally occupied the Capitol. (Every weekday, at noon, a dozen or so vestigial Madison progressives still trudge into the rotunda to sing from a book of labor ballads.)
And in 2012, Walker won the labor-backed recall election by a bigger margin than 2010. "The results were a historic setback for organized labor," wrote Karl Rove at the time. "How it must have stung that 38 percent of union households voted for Mr. Walker." After the 2012 elections, Michigan Republicans quickly approved a right-to-work bill. The Wisconsin governor, who celebrated Ronald Reagan's birthday every year with jelly beans and mac-and-cheese, had altered the boundaries of Republican ambition.
That's why Republicans fear the voters of Wisconsin. Walker has had the most success, and the most unified Republican backing, of the ambitious 2010 class of Midwestern governors. He's the model. Yet they're all in trouble. In Kansas, tax cuts – tax cuts personally lobbied for by Art Laffer, the Buddha of supply-side – failed to spark an economic boom and have put Gov. Sam Brownback in grave danger. In Michigan, Snyder has struggled more than expected against a Democratic challenger. A loss for any of them would scare Republicans in other states; a loss for Walker would replace their warm blood with ice water.
"If Walker lost, four or five states would do maybe half of what Wisconsin's done," says Americans for Tax Reform president Grover Norquist. "There'd be some nibbling at the edges, and some postmortems on how he defunded the left. If he wins, twelve to fifteen states would copy Wisconsin. I mean, who wouldn't? If the combined forces of the AFL-CIO and all their allies can't beat him, why not do teacher tenure reform, why make not make union membership voluntary, why not phase out the income tax? You get twelve states to do what Wisconsin did, and the Democratic Party would have to find several billionaires to make up the lost revenue."
Republicans took a while to realize that the recall victory, while humiliating for unions, had not solved Walker's political problems. The recall, while agonizing, had its perks. A loophole in state fund-raising laws had allowed Walker to collect six-figure checks from the likes of Sheldon Adelson. The Wisconsin Club for Growth had spent millions to bail out Republicans.
But the loopholes closed after the recall ended. The Wisconsin Club for Growth may as well have – it was ensnared in an investigation over $700,000 in donations from a mining company that happened to benefit a pro-mining candidate.
"I remember talking to lots of Democrats in Janesville who were just against the idea against recalling someone over a policy dispute," says Rep. Paul Ryan, shortly after a rally for Walker, where speaker after speaker warned of interference from out-of-state labor unions. "They opposed the recall. But they were Democrats. Now, they're back to being Democrats. "
Burke entered the race in October 2013 and focused incessantly on the state's jobs numbers. In 2010, near the bottom of the recession, Walker promised that a reform agenda would create 250,000 new jobs by the end of his term. The state would not even pass the halfway mark. Burke's mantra was repeated in seemingly every campaign ad: "Wisconsin's dead last in Midwest job growth."
At her Madison office, before speaking to a full room of volunteers, Burke describes Walker as an ideologue who didn't deliver. "Even without that 250,000 jobs promise, we're not keeping up with the country," she says. "We're not keeping up with rest of the Midwest."
Burke, whose grin takes up the better part of her face, has not run as the "labor candidate." She's run as a credible manager who won't make as many enemies as Walker. She doesn't want to re-litigate Act 10; Walker was right to ask teachers to contribute more to their pensions, but should have negotiated instead of ramming through the reform, just as he should have taken Medicaid expansion money as part of the Affordable Care Act.
"Eight Republican governors took that money and said it made fiscal sense," says Burke. "That was either pure ideology or some agenda other than what is good for the people of Wisconsin."
At another stop of the bus tour, in the Milwaukee exurbs that make up the Republican Party's largest and most reliable vote, I ask Walker why he's only able to argue that Wisconsin's doing fine. What was distinguishing his state from the rest of the Midwest?
"The difference is pretty clear," says Walker. "They didn't have the uncertainty of the protests, the recalls, and the second wave of recalls."
The governor climbs onto his soapbox and repeats that message to a hundred or so of his supporters. A few are wearing T-shirts with the slogan "I RECALL Walker Won Twice," which sold out as soon as the local GOP printed them. They cheer when Walker mentions that night's Green Bay Packers game, and recalls how good it felt to pay back the state's loan to Minnesota.
"I just reminded them that they have zero world championships, and we have thirteen!" says Walker.
The rally breaks up, and the bus rolls off as the Packers battle the New Orleans Saints. The final score is 44-23, Saints.
Enjoy this article? Don't forget to follow @BPolitics on Twitter and like Bloomberg Politics on Facebook