CHAMBERLAIN, S.D. – First came the dinner of roast beef, green beans, and a salad that combined the tang of macaroni and mayo with the crunch of hand-crumbled Fritos. Then came the raffle for a handsomely detailed rifle that retailed, they were told, at $1599. Then, finally, three dozen activists at the Brule County Democratic Party annual's "Fun-raiser" turned in their folding chairs and heard from their 2014 candidates.
"We have to win this year," said State Senator Larry Lucas, a longtime legislator who'd be retiring in December. "We've had good candidates before, and we have great candidates again, but now, we also have a scandal. The Republicans have opened the door for us."
The scandal, which needed no further explanation at the Chamberlain Country Club, was a byzantine affair that had engulfed the state's high-price visa program. Known as EB-5, it was buoying every Democrat; it was doing the most by far for Rick Weiland. The former Tom Daschle staffer, who's within single digits in the latest average of polls, bunched in with Republican Mike Rounds (who'd won two terms as governor) and independent Larry Pressler (a three-term Republican senator). Mayday, the "super PAC to end super PACs," was on the air with $1 million of ads, and the Democratic Senatorial Campaign Committee had followed.
And now his fellow Democrats were talking about him like the small-town coach talking about the quarterback who'd just been drafted. Corinna Robinson, the party's longshot candidate for Congress, told the room that she'd left a job to petition a minimum wage hike onto the November ballot.
"I'm not going to be able to afford those TV ads," she said. "I'd love a super PAC getting behind me!"
Dennis Pierson, the party's candidate for treasurer, asked his silver-maned audience to remember the scandal that helped the Democrats (briefly) take over the state senate. Weiland, clad in his standard campaign-trail blue suit, didn't even need to mention the scandal. He fast-forwarded to the story of how he won over the only voter – and resident – in the town of Iona.
"I usually ask people to give me nine bucks, to keep me on the road," Weiland remembered. "She had a ten-dollar bill. I reached into my pocket to get a one. She said, 'Keep the change.' That's how George McGovern put this party together in the 1950s. That's how Tom Daschle did it in 1978, a race that I worked on. You know why? You get to talk to people. Most people in this state think we should be expanding Medicaid. Most people in this state think we deserve a viable minimum wage. You go down the list. Giving people a fair shot — that's what we're all about, not a free lunch."
Weiland finished his speech with a few quotes from the Ken Burns documentary about the Roosevelt dynasty. "Teddy Roosevelt was a populist, an economic populist, and that's where we connect with Republicans and independents." Then Weiland grabbed his cutaway Taylor guitar, which had been strategically placed between him and a lyric sheet. Smiling widely, he launched into his version of the old folk song "Big Wheel," with a setting-appropriate chorus:
I can't run a $9 million campaign
but I don't have EB-5 to explain
and heyyyy-ey! No one's bought me!
Outside South Dakota, the scrambled and remixed Senate race is looked at like the latest flowering of the post-partisan, post-shutdown, post-Obama desire to quarantine the beltway.
Pressler, who has surged into contention with no money and a Washington, D.C., cell phone number (and home address), talks fearlessly about how his old party went insane and how he'd be among "the most powerful senators" in a new, independent caucus. In Kansas, Democrats had just successfully nudged their own candidate off the ballot and thrown resources behind an independent named Greg Orman.
"All four on Mount Rushmore," said Pressler at a Monday candidate forum put on by a Rotary International branch, "they were all independents at one critical point in their career."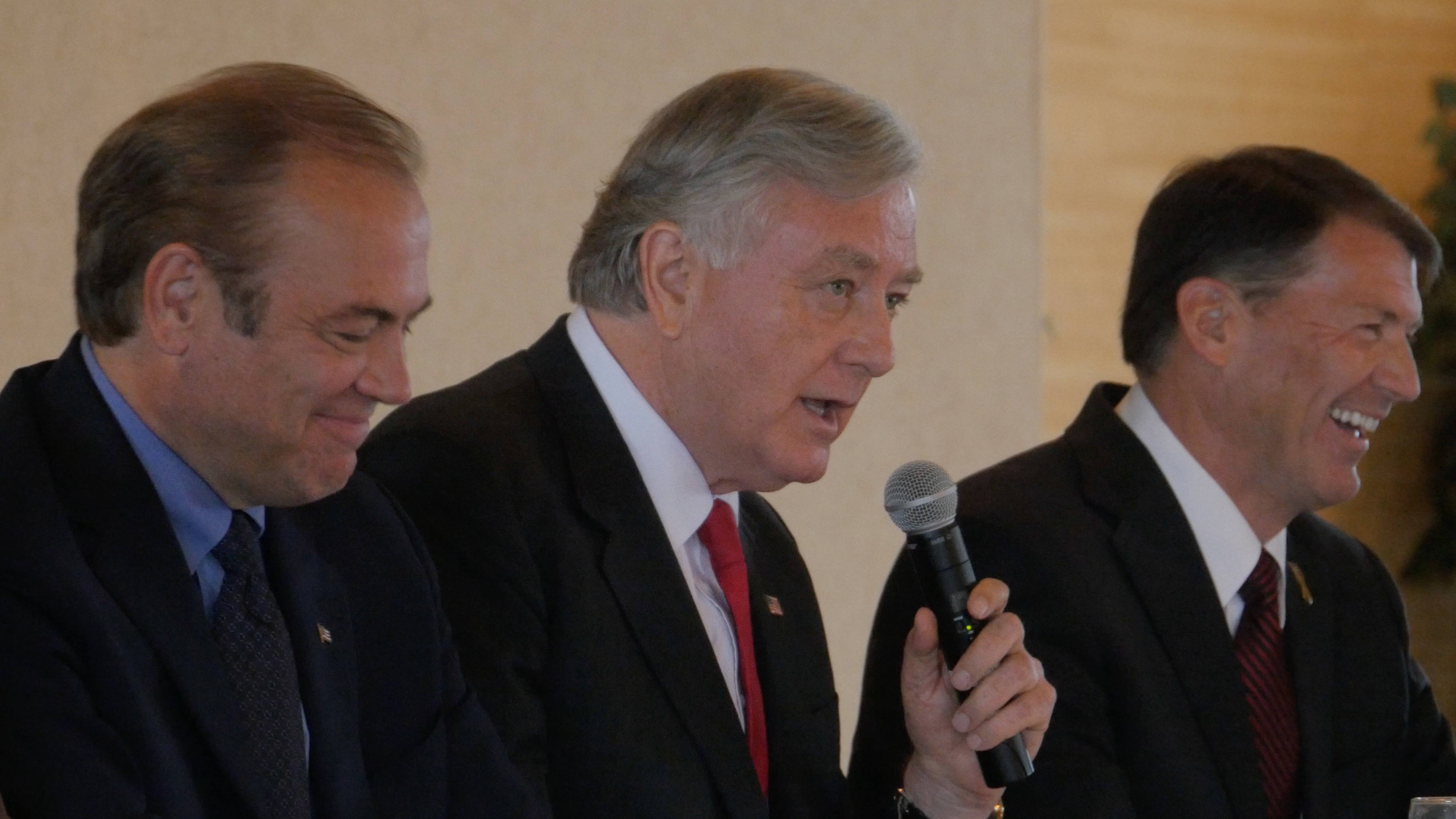 But South Dakota Democrats are not lying down for Pressler the way those in Kansas have for their independent. And Pressler's campaign is far more of a lark than Orman's. In an interview, he beamed with pride about how The Times of London was coming to South Dakota to watch him participate in a poetry reading. His defense of Obamacare is not that it works, but that it was a compromise based on Heritage Foundation schematics, and should be called "the conservative Republican health care plan." He voted for Barack Obama in 2008 and 2012; asked if he'd do it again, he demurred to answer "a hypothetical."
Pressler appeals to a certain kind of voter — and appeals even more strongly to the Washington pundit who's forever reminiscing about the sepia-toned days of Senate greatness and deal-making.
Weiland is trying something else. His campaign is a home-grown insurgency, old-fashioned prairie populism in the spirit of George McGovern. It started with a thumb in the eye of Washington. In 2013, Weiland joined his mentor Tom Daschle in a campaign to get U.S. Attorney Brendan Johnson, son of retiring Senator Tim Johnson, to run for his seat. Johnson passed; Daschle encouraged Weiland to make his own bid.
That infuriated Senate Majority Leader Harry Reid. He wanted former Representative Stephanie Herseth Sandlin to make the race. By general agreement, Herseth Sandlin could win, but Weiland couldn't. She'd opposed gay marriage, telling voters that she agreed with George W. Bush that "marriage should be between a man and a woman," and coming out for a state amendment to codify that. Weiland backed gay marriage. She'd become a lobbyist after her defeat; Weiland owned a restaurant in Sioux Falls. Weiland had never won a statewide race — a poster from his failed 2002 congressional bid hangs at the front of his Sioux Falls campaign office — and Sandlin had won three. But she declined to enter a muddy primary, and Reid wailed that Democrats were "going to lose in South Dakota."
While Washington's Democrats mournfully applied a red pen to South Dakota on their Senate maps, Weiland just plugged away. He ran a defiantly goofy campaign of town-to-town visits, making at least one appearance in every incorporated South Dakota town, recording music videos — his son behind the camera — which re-imagined country and folk songs as ballads about the campaign. Weiland's family and fellow strummers became the "Take It Back Band." One gathering of folk-bands-for-Weiland was dubbed "Rickstock," advertised with psychedelic posters.
https://www.youtube.com/watch?v=h3seyRhJ7h4
You could see why Washington heaved with sighs and invested in other races. No Democrat had won South Dakota in a presidential election since 1964. Tom Daschle's final campaign featured a TV ad that showed the then-leader literally embracing George W. Bush. The retiring Johnson was a favorite of bank lobbyists; Weiland sought, and won, the endorsement of Elizabeth Warren. In late 2013, after Weiland campaigned for raising the cap on Social Security taxes and expanding the entitlement, progressives produced their own polls that showed him only six points behind Mike Rounds. And at the same time, activists like Corrina Robinson were forcing the minimum wage hike onto the ballot, giving voters the option of raising it from $7.25 to $8.50, a tactic that has gently lifted Democrats in every state where it's been tried.
Nobody cared — not until the aforementioned scandal, which broke late last year and generally escaped the attention of national media. The EB-5 visa program, which began in 1990, allowed foreign nationals to earn residence in the United States by investing at least $500,000 in stateside projects that create at least 10 job jobs. Rounds governed South Dakota from 2003 to 2011, and EB-5 made plenty of sense for a state that lacks the rich farmland of Iowa and gushing natural gas wealth of North Dakota.
But the program was corrupted — the disagreement is only about the level of corruption. Joop Bollen, a Dutch immigrant who'd managed the program in the Rounds administration, eventually contracted it out to a private company that he happened to own. Bollen's SDRC allegedly charged its own fees to the EB-5 applicants. Last year, as an investigation was closing in on former Rounds appointee Richard Benda, he was found dead of what was later determined to be a self-inflicted gunshot wound.
Democrats, who are nearly powerless in the state — if Weiland loses, they'll likely be shut out of statewide offices for the first time in five decades — were relentless in hitching Rounds to EB-5. The frontrunner attempted to blunt their attacks with a Norman Rockwellian campaign ad, in which he faced the camera and explained the scandal the way he explained it to his dad over coffee.
"They just don't want to talk about the issues," said Rounds in the spot. "This is all they've got. We want to talk about fixing the bureaucratic nightmare in Washington."
That didn't stop the slide. EB-5 was a sort of stem cell, a scandal that could be transformed into anything — proof that Rounds enabled a broken immigration system, proof that he'd allowed wealthy foreigners to corrupt the state. On Monday, Rounds unexpectedly joined Weiland, Pressler, and conservative independent Gordon Howie (a former state legislator who had opposed Rounds from the right) for a debate, and the avuncular governor was hit from every side. Weiland and Pressler called for an outright end to the program. Howie asked why Rounds wouldn't testify under oath.
"You want to talk about character assassination?" asked Rounds. "I'm the guy who's been feeling it for a long time."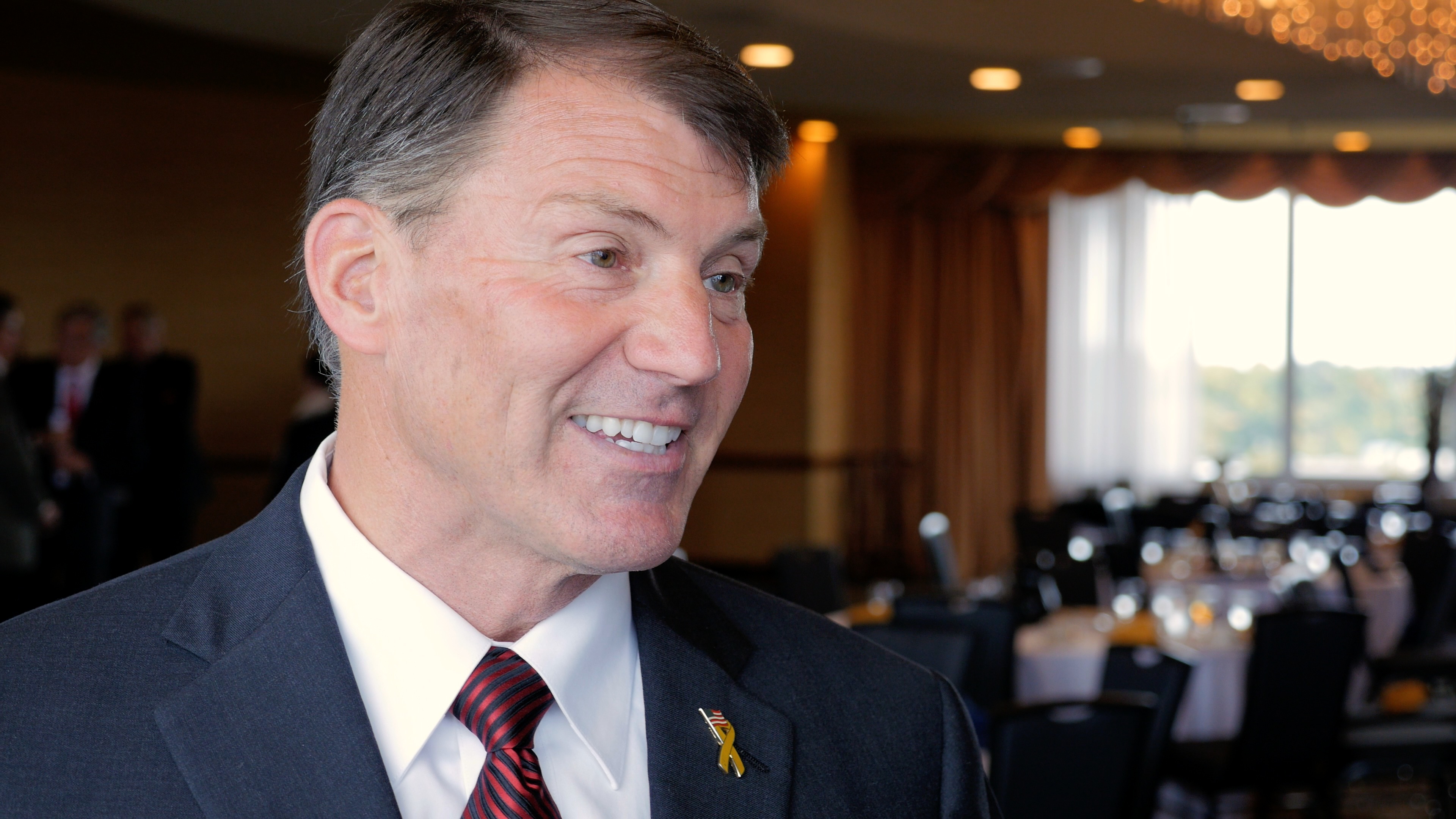 After the debate, Rounds rejected the idea that this should have been his race to win, easy — "South Dakota is a purple state" — and rejected all the charges about EB-5. "We did dozens of projects, over $600 million in investments in South Dakota," he said. "I did have a gentleman, who I trusted, and he did some things that were wrong toward the end of my administration, and after he left my administration. You know, you count on individuals, and sometimes they let you down."
Here was the accidental advantage of the Weiland campaign: It hadn't really counted on anyone. The denial of aid from national parties left struggling South Dakota Democrats alone to organize their November campaign, helped by some voter registration drives on Indian reservations, but hardly able to organize like their peers in Iowa or Colorado.
"It was a big mistake for Harry Reid and DSCC to write this off when they didn't even take a hard strategic look at the state," said Steve Hildebrand, the turnout guru for Daschle's last campaign and Obama's 2008 presidential win, who now runs a café in Sioux Falls. "They were stubborn and when they didn't get their way, they took their marbles and went home. When you're looking at a close race to hold your majority, you don't write any state off.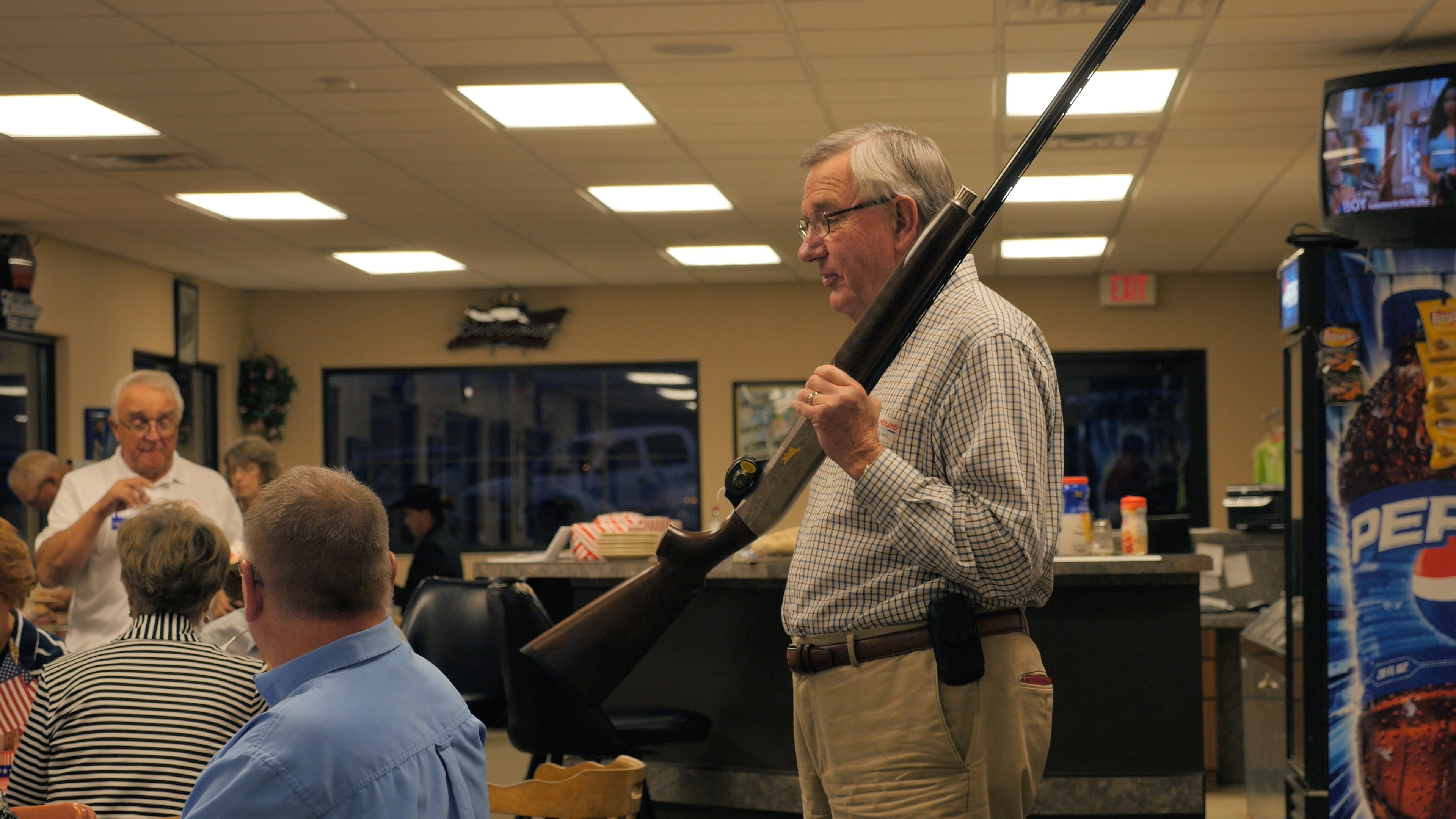 "Most operatives on the GOP side, if they're being open and honest, thought Rounds would be a weak candidate," Hildebrand continued. "He's never been a strong candidate in any race he's run. He won his first race for governor because the two stronger candidates went negative and blew each other up. But Reid held finances back from Rick, and held back intellectual power that could have gone to Rick's race. It was just a giant mistake on Reid's part."
Before he went back to work, Hildebrand made a request: "If you could e-mail what I just said to Harry Reid, that'd be great." And when I asked Weiland if he'd back Reid for majority leader, he smiled and answered succinctly. "I'm undecided on that," he said.
The lack of money and interest badly weakened a Democratic Party that had produced the 1972 presidential nominee and its longtime Senate leader. Ten years ago, for example, the voters of Brule County (pop. 5,366) handed a narrow 4-point victory to Tom Daschle in his final Senate campaign. Daschle lost his seat anyway. Two years ago, Brule County had given a 28-point landslide win to Mitt Romney, far better than the Republican had done statewide. The state kept growing deeper shades of red, and the county had been outpacing it.
So Weiland tried something new, and EB-5 enabled it. He ran against "big money" and its collusion with government. That was exactly the message the Tea Party had conquered vast swathes of the country with in 2010. Take "The Machine," a TV spot that Rand Paul deployed in his landslide Republican primary win. Over 30 seconds, it portrayed the Capitol as a mechanized anime monster, using its robotic arms to scoop up AIG and bail out banks. "Rand Paul can't be bought," promised a narrator. Weiland's revelation, two elections later, was that a South Dakota progressive could say the exact same thing — and voters would listen.
"You typically can't get to Washington most of the time unless you're shaking down or being shook down by big money," said Weiland in an interview. "Even the super PACs that are coming in, they're all about getting big money out of politics. I think of all the candidates running, you could argue that I'm the most independent."
The endgame is more than challenging, with the Democrats aiming to stitch together a bare plurality of Weiland votes. They need Gordon Howie, the conservative insurgent, to take as many votes as possible from Rounds, higher than the three percent he's polling at — but they can't be seen to support him. (Rounds rarely referred to Howie during an interview, unusual for candidates in this position.) They need an aggressive voter registration drive on the reservations to work, and for Weiland to pull the supermajority vote that Democrats usually get from there. They need the Progressive Change Campaign Committee's team-up with MayDay and MoveOn to come off, and for the "tens of thousands" of voters they claim to have on the Rolodex to come out.
And they need what's left of the Democratic turnout operation in a right-to-work red state to function at peak efficiency. On Tuesday, Weiland headed to a Labor Temple in Sioux Falls for a joint rally for his campaign and Measure 18, the minimum wage vote. Iowa Senator Tom Harkin had flown in to add star power, and it worked — he made the cover of the Argus Leader the next day, with a note about how Mike Huckabee was schlepping into town next to back Rounds. The idea of a close Weiland-Rounds race was just so new that Harkin didn't have any lines tailored to it. He asked some of the hundred-odd Democrats who showed up to tell him "about this Rounds guy," and assumed that South Dakota's Republican nominee was just as bad as the one Harkin wanted to beat in Iowa. "I don't know about Rounds," he said at one point, "but [Iowa candidate] Bruce [Braley's] opponent wants to get rid of the EPA."
Weiland stuck to the local favorites. "We can raise the wage," he said. "We can give people health care in this country. Just a few weeks ago, there was an effort to refinance student loans. We've got a trillion dollars sitting out there in student loan debt. It's a trillion dollars, almost as much as the credit card debt of the entire country. They couldn't get 60 votes to get that to the floor! You know how I'm gonna vote, and you know how Mike Rounds is going to vote. That's why we're gonna take it back."
Here was a South Dakota Democrat, asking a deep maroon state to get behind Elizabeth Warren's major legislative goal for 2014. After the debate, I asked Harkin why Democrats had campaigned as populists in South Dakota in the 1960s, as conservatives in the 1990s, and as also-rans ever since. What made him think Weiland could manage the bank shot.
"We Democrats didn't stick close enough to home," said Harkin. "Ronald Reagan had a lot to do with that. I just don't think we did a good enough job. It's not just how you vote. It's how you translate that vote to your constituents. You can't do that in 30-second ads. You have to be out, and out, and out, all the time. Rick's been out there."
Between events, in the quiet ballroom of an AmericaInn, I asked Weiland what kind of victory he'd have if he only managed to ride scandal and the Democratic base vote to an under-40 photo finish. That was more than Democrats had ever dared expect from him, but what did it actually mean for balladeer populism?
"The person with the most votes wins," said Weiland. "There's no run-off here. What did Clinton get in 1992? Without Ross Perot he probably wouldn't have won."
And a win was a win. On the way out of the interview, Weiland passed out his campaign business cards to hotel employees and asked his traveling aide to make sure the sound system would work at the next all-singing campaign stop. "We need a nine-volt battery," he said, "and we're all set."