Amid all the talk about these midterms being "the nothing election," there is one election that can well and truly be said to be about nothing. The Florida governor's race is almost completely free of substance except that manufactured by consultants to be shoveled out over the airwaves.
Instead, it has produced all the usual political virtues: ambition, vanity, money, shamelessness, the drive to claw your opponent's eyes out. Yes, the Florida governor's race has earned its distinctions.
The ridiculousness took shape again on Wednesday on a South Florida stage shared by Republican Governor Rick Scott and his Democratic opponent, former Governor Charlie Crist.
In a debate airing live in each of the state's 10 media markets, Scott initially refused to emerge from backstage, leaving moderator Eliott Rodriguez to explain to viewers that the governor believed Crist was cheating by placing a fan next to his podium. A fan.
Crist, of course, pled ignorance, saying he knew of no ban — that he could recall, anyhow — on any kind of apparatus that would waft cool air on himself. After several awkward minutes, Scott finally appeared, saying he was waiting on Crist. "Well, I waited until we figured out if he was going to show up," Scott said, throwing up his hands. "He said he wasn't going to come to the debate. So why come out until he's ready?"
https://www.youtube.com/watch?v=u54H2sV-0Hc#t=45
Rodriguez, a news anchor for CBS4-TV Miami, summed it up for the audience. "Ladies and gentlemen, that has to be the most unique beginning to any debate not only in Florida, but I think anywhere in the country."
The political attacks that followed, however, were anything but unique, and served only to remind voters of why the race is among the tightest in the country, and also may be the worst.
The Match-Up
Scott isn't a dynamic public speaker. A natural introvert more comfortable with a calculator than popular culture (he once said "Team Rubio" was his favorite Florida sports team), he has trouble connecting to average voters. He spent more than $70 million of his own fortune during the 2010 election, essentially turning a political flamethrower to the state's Democratic and Republican establishment, and voters almost immediately seemed to regret their decision. And yet, in a couple of weeks he may accomplish something that no Republican (other than Jeb Bush) has: win a second consecutive term as governor in the Sunshine State.
Part of what's keeping Scott in the race this year is his opponent. A rising star on the national political stage when he won the governor's office as a Republican in 2006, Crist is now a Democrat and struggling to do what his new party needs from candidates in non-presidential election years: inspire the base enough to show up on Election Day. Part of the problem is that voters are increasingly questioning whether they can trust Crist. While Scott has struggled to sharpen basic political skills, Crist may have crossed the point of no return for voters. In addition to his party affiliation, he's flipped on gay marriage, abortion, the federal economic stimulus package, gun control, the U.S. embargo on Cuba, the Affordable Care Act. We could go on, but you get the point. And so does the Florida Republican Party:
https://www.youtube.com/watch?v=9uirf03VYY4&list=UUKYbWPZcwhLkyF8I4oKhiag
It's one of the most important political offices in the country, which makes the absurdity all the more frustrating. While the two call each other names and spend millions on blurring their own records, the reality is that the winner of this race is the final voice on policy in the soon-to-be third most populous state in the nation. Florida has more children in public school (about 2.7 million) than there are people in 15 states. It's home to 132 species (Vermont, generally considered one of the most environmentally friendly states, has 12.) It claims to be home to the world's only professional clown school.
Florida is also the biggest battleground in presidential elections, as five of the past six elections have been decided by five percentage points or fewer. And the next governor gets to choose the secretary of state, who oversees the balloting.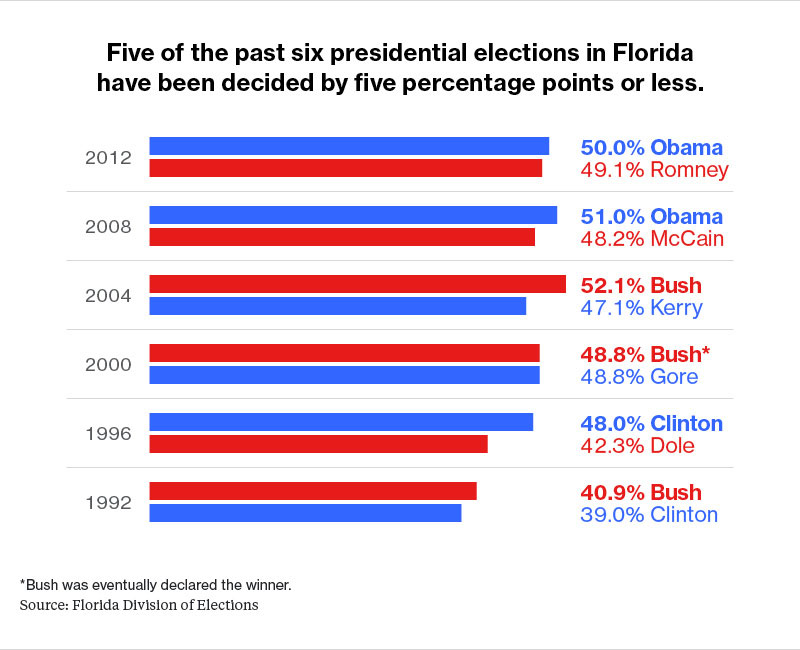 The decision for 11.86 million Florida voters picking their next governor appears to be boiling down to either (1) a Republican of whom few approve, or (2) a Democrat viewed as neither honest nor trustworthy.
In 23 out of 24 polls from Quinnipiac University, a plurality of voters have said they disapprove of how Scott is handling his job as governor. The one and only time Scott's approval wasn't underwater was when he'd been on the job for less than a month and most voters — 42 percent — said they didn't know enough to answer the question.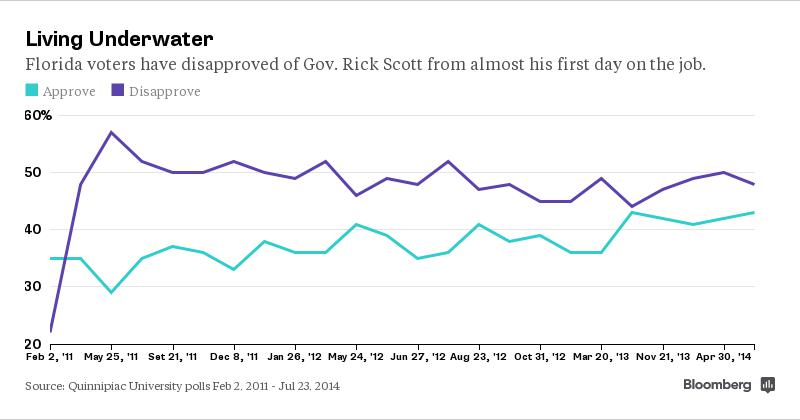 Still, the apprehension in that first poll was telling. When voters were asked to assess Crist's job performance after the same amount of time into his term as governor, they gave him an approval rating of 65 percent. But that was many polls ago for Crist. These days, he's trending the other direction. Again from Quinnipiac, here's the percent of voters who say they have an unfavorable view of Crist: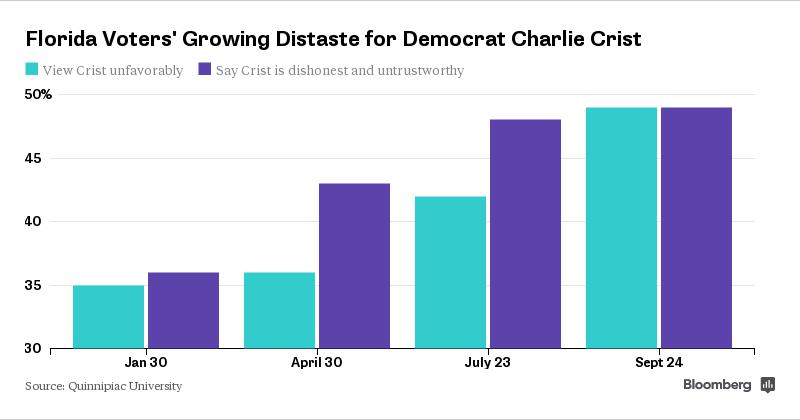 Contributing to the malaise of Florida's electorate is the fact that both men have held the state's most important elected office, which means voters know them well. Their narratives are well set, and it's not a flattering story for either one.
Crist's naked political ambition is essentially branded at this point: This is his sixth statewide campaign in 16 years. Of the previous five, he's won three and he hasn't sought re-election to any of them. (His last re-election campaign was 1994, when he was in the state Senate.) But Crist's drive to win elections is deeper than his willingness to switch parties and flip positions. A lengthy profile of Crist in his hometown paper, the Tampa Bay Times, detailed his limited interest in policy and short temper with staff. The article also featured the photo of a woman who Crist, in 1989, denied was his daughter while consenting to the child being adopted.
Scott, who grew up in public housing in Kansas City, has a true rags-to-riches story that should be a political asset during an economic recovery. Instead, it's a liability. He earned that fortune building the Hospital Corporation of America, which he was forced out of when the company was fined a record $1.7 billion for Medicare fraud. Not exactly a ringing endorsement in a state with the greatest share of Medicare recipients. Because of that scandal, Scott has the unusual distinction of governing a state that once sued him. (Florida accused Scott of insider trading amid the HCA ordeal in a suit that was ultimately shelved in favor of a larger federal case.)
Money. That's the answer to your next question.
In a geographically gigantic state with 10 different television markets, it takes tens of millions of dollars to run a campaign from Pensacola to Miami and these two candidates are their party's the best chance to pay the bills.
Scott spent $73 million of his own cash to win in 2010, and disclosed his net worth of $132.7 million this year, although a Democratic lawsuit claims that the governor is lowballing the total. Scott hasn't had to touch his own fortune this time around. The governor's political action committee has collected $40.5 million, and the state Republican party has taken in tens of millions more since Scott has been in office.
But before Scott came along, it was Charlie Crist breaking fundraising records, spending more than $55 million on his 2006 race for governor though his own political committee and the state party. Crist is legendary for his shameless pleas for more campaign cash. One operative recalls how Crist, when presented with a donation from the Johnson & Johnson political network, counted the zeros on the check, looked up, and asked, "Is this from just one Johnson?"
So far, it's a mostly policy-free campaign. This year, the two candidates together have spent more than$70 million, mostly on television advertising that's become an air war of attacks, as opposed to marketing an actual platform.
https://www.youtube.com/watch?v=DuTpgV7VY_ghttps://www.youtube.com/watch?v=rVT1j6PQjfs
And substance-free campaigns have only opened the door for more silliness.
https://www.youtube.com/watch?v=ZOppsQJtL2M
It's difficult to explain why either candidate wants this job.
Scott has a beachfront mansion, a private plane, a ranch in Montana. He doesn't need this job, and he's never quite been able to articulate why he really wants it. Here's our best shot: At this moment, the first paragraph of Scott's Wikipedia page mentions that he's the 45th governor of Florida. That HCA controversy? Not till the third paragraph. But to cement that legacy, he has to win a second term. No Florida governor has lost a re-election bid for 24 years.
Crist is also fighting for his political legacy, running for an office he walked away from four years ago to run for federal office. He lost a 1998 U.S. Senate bid as a Republican. He lost his U.S. Senate race in 2010 as an independent. If he loses a third statewide campaign with a third political label, Crist is just about out of options.
In the end, one of these two men will win a second term in office. But there's little for voters to be enthused about in the record of their first four years. Unemployment climbed in Florida from 3.5 percent to 11.1 percent while Crist was governor. It's tough to lay all the blame on him, as the economy obviously cratered everywhere. But Crist showed little interest in taking any action that might have slowed the slide in the state. He broke his pledge not to raise taxes, he let college tuition increase 15 percent per year, and his plan to restore the Everglades largely stalled.
Scott has largely ceded his power to his three chiefs of staff during his first four years in office. While he made job creation the justification for his existence, he started walking back his promise to create more jobs than there were unemployed workers in the state from almost the moment he was elected.
https://www.youtube.com/watch?v=O5c5ALe-Br0
The campaign will be over soon, and the good news is that one of these candidates will lose. But one of them will win.