Two years ago, Clayton Barker's interaction with the national Republican party was limited to a hamburger.
Barker, who entered politics in 2010 and found himself executive director of the Kansas state party a year later, oversaw a two-person office in a Topeka Strip mall sandwiched between a tanning salon and a payday lender. The staff consisted of Barker and Margie Canfield, the 84-year-old office manager who'd been answering the phones and stuffing envelopes for more than three decades.
"The RNC guy came out, bought me a hamburger, and told me that ten bucks was all the money we'd see," he said.
But that was before. Today, nearly 30 staffers work out of the small office, assembling mailers and calling tens of thousands of Kansas voters. On Wednesday, all the phones, laptops and computers plugged into the wi-fi crashed the Internet network—twice.
"I just had to schedule the trash pickup to come twice a week," said Canfield. "It's chaos but it's awfully exciting."
The Republican Cavalry has descended on Kansas. Their mission: Saving Pat Roberts, the state's three-term, 78-year-old Senator, who suddenly found himself fighting for his political life -- and Republican control of Senate. But despite millions in spending, star-studded campaign rallies, and a team of top flight strategists known for playing dirty, their efforts may be simply too late. For all the money and the work, the senior Senator from Kansas finds himself outmaneuvered by a politically inexperienced, independent candidate, whose biggest asset may just be that he's not Pat Roberts.
It's a battle that snuck up on the three-term Senator, who'd won 11 congressional races in his solidly conservative state with at least 60 percent of the vote. The situation took more than just Roberts by surprise: Kansas, one of the country's most conservative states, has not had a competitive Senate race since 1974. So, it makes sense that after surviving a bruising August primary against a Tea Party challenger, Roberts figured he was in the clear. His press secretary took off for a two week trip to Asia and his long-time campaign manager announced that the Senator had gone home—to northern Virginia—to rest. The statement alone was another misstep: A report months earlier in The New York Times that Roberts does not own a home in Kansas had already became a major issue during the primary.
While Roberts took a break, a 45-year-old independent businessman named Greg Orman was spending millions on the Kansas airwaves, introducing himself as non-partisan problem-solver eager to shake up Washington. A bit of political good luck turned Orman into a contender after the Kansas Supreme Court ruled the Democrat in the race, Chad Taylor, could remove his name from the ballot, allowing Orman to consolidate the anti-Roberts votes. With Roberts hemorrhaging points in the polling, the national party took over.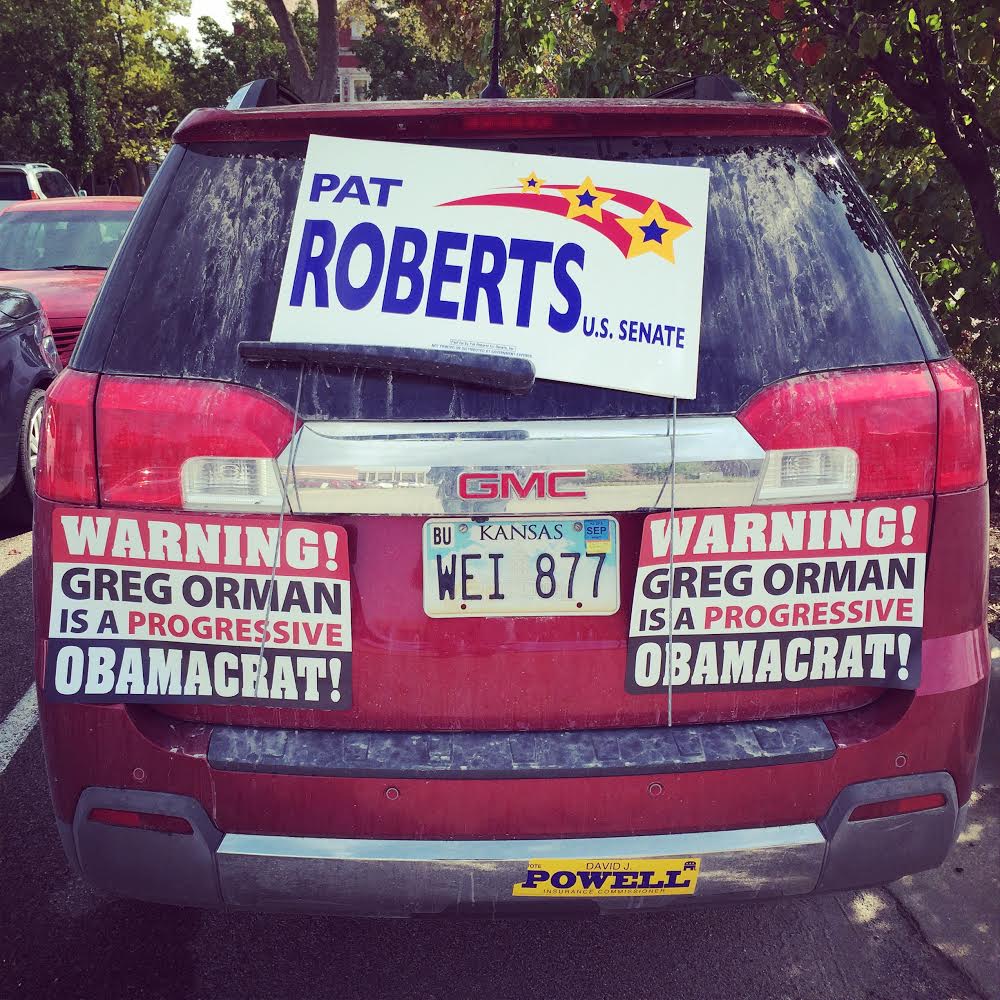 His long-time campaign manager, Leroy Towns, a retired professor in his 70s who Roberts called his "alter ego, trusted adviser, and friend," was jettisoned in favor of a team of national strategists. At the helm is Chris LaCivita, a former Marine known for his willingness to go dirty to win, who made his name working on the notorious Swift Boat ads that questioned then presidential candidate John Kerry's service in Vietnam.
The new campaign manager, Corry Bliss, was given 24 hours to get to Topeka before the first debate on September 6. He and several other staffers have moved into in a Residence Inn, where they've set up a grill in the courtyard. The regional political director for the Republican National Committee flew out from Seattle to investigate the local party's set-up, wrote a check to upgrade get out the vote efforts, and established nightly conference calls to report voter contacts. "That's just something you're not used to, having someone watching everything you're doing and checking,'' said Barker. "It makes us more goal-driven."
Roberts, believed to be in the safest of seats, had adopted an extreme Rose Garden strategy. He'd spent weeks not responding to his challenger's ads, his team had done no opposition research about Orman—who with little background in politics was largely unknown to voters.
The new team quickly shifted to attack mode. The strategists began delving into Orman's background, dropping reams of research about his political contributions to Democrats, his 2008 vote for Barack Obama, and his business association with Rajat Gupta, a former Goldman Sachs banker convicted of securities fraud. Orman refused to say which party he would caucus with in Washington, or answer questions about his positions on other issues. The Roberts team attempted to shift the perception from a refreshing outsider to a man of mystery, a man with a highly questionable past.
After weeks off the airwaves, the Roberts campaign went back up on September 16 and have since spent $843,000 on ads, according to a source that tracks campaign spending. "We're nowhere near the end of our book of opposition research on Greg Orman,'' said Corry Bliss. They began moving more quickly: Less than 24 hours after Obama gave an economic speech in Chicago, where he said that his policies "are on the ballot," Roberts campaign released an ad, featuring the footage of the president and saying that "a vote for Greg Orman is a vote for the Obama agenda."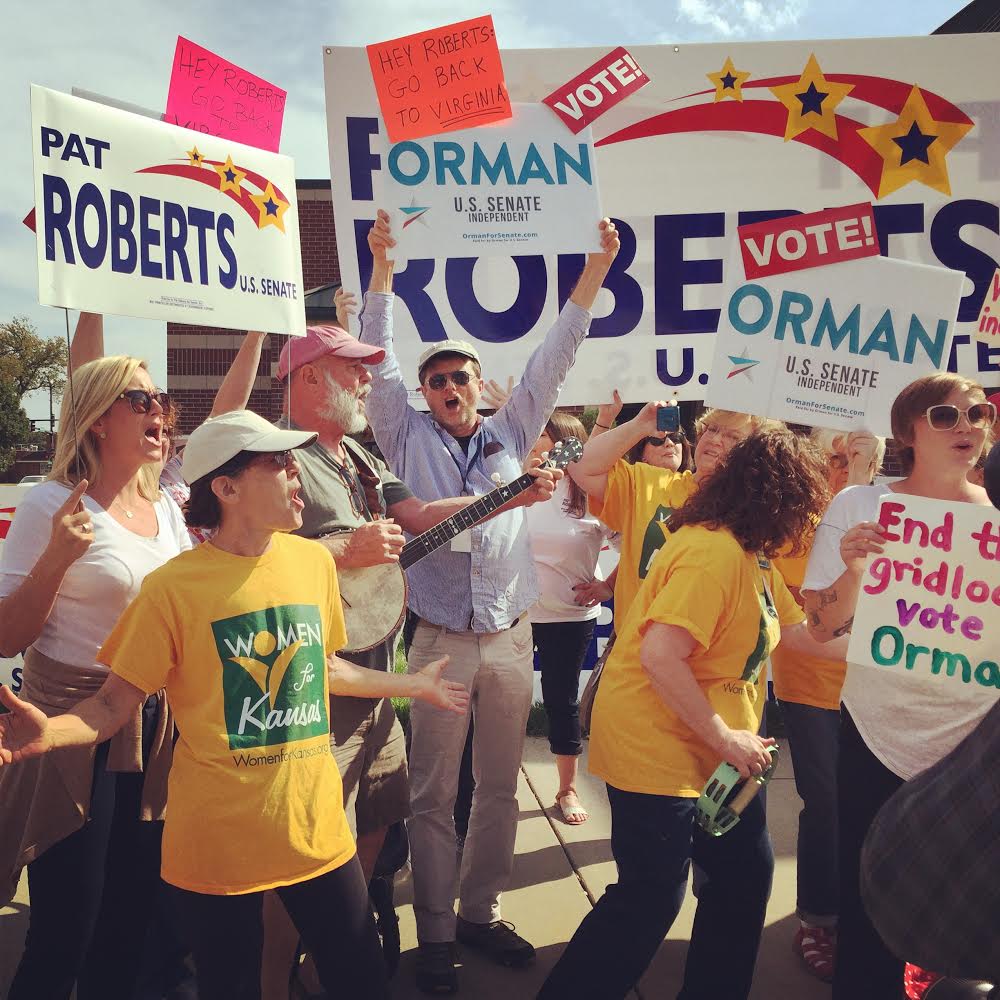 Washington Super PACs came into the state to reinforce the attacks, firing their standard ammuntion. "A vote for Greg Orman is one more vote for Barack Obama," proclaimed an ad by Freedom Partners, a group aligned with the conservative Koch Brothers. "Liberal Democrats across America support him because they know he'd support president Obama."
Freedom Partners invested some $855,000 on ads in the past two weeks. The NRA added $146,000 worth of spots. As of this week, Orman was still outspending Roberts on the airwaves, but that could soon change.
Ending Spending Action Fund, a group funded by Republican mega-donor Joe Ricketts, plans a million dollar television and radio ad campaign over the next two weeks defending Roberts. Americans for Prosperity, another Koch group, will launch a direct mail and online ad campaign, as well as sending out their field organizers, in coming weeks. The National Republican Senatorial Committee is considering running ads in the state, chairman Jerry Moran said this week, reversing their previous position that they would not spend money on the race. And after formally endorsing Roberts this week, the Chamber of Commerce plans their own grassroots ad campaign – a decision the group made 10 days ago.
"You can still buy airtime in Kansas as opposed to some of the other competitive states,'' said Scott Reed, who oversees the Chamber's political efforts. "We're all in."
For his part, Roberts began doing something a bit out of character: Fundraising. Lobbyists and top Republican fundraisers in Washington say he's been calling around trying to drum up some last minute cash. "The party wants to help him. They like him and regardless of why he's in trouble they want to help get him out'' said Republican lobbyist Vin Weber, a former Minnesota congressman who served in Congress with Roberts. ``They don't think of him as a guy who has thumbed his nose at the party."
A revolving door of A-list surrogates have spun through the Kansas prairie on rescue missions. The list is long and designed to reflect the full spectrum of the party: former Florida Governor Jeb Bush, former Alaska Governor Sarah Palin, Arizona Senator John McCain, Oklahoma Senator Tom Coburn, and former Republican Senate leader Bob Dole, a revered figure in Kansas politics. Mitt Romney is expected later this month, as is Kentucky Senator Rand Paul.
The Republican assault is having some impact. A poll released by CNN-ORC on Wednesday showed the race essentially tied, with Roberts at 49% to Orman's 48% among likely voters. But the question is whether all the firepower can defeat the impact of those empty weeks that allowed Orman to define his outsider image and reinforce Roberts as the consummate Washington player.
To try and build up Roberts' conservative credentials, his campaign brought in Texas Senator Ted Cruz, a Tea Party icon, who swooped in to Wichita for the morning. Standing beside Roberts, he called on Tea Party and conservative voters to back their long-time Senator.
"I promise you there is nobody more frustrated with Washington, DC than I am,'' he told a room for a Roberts supporters gathered at the Builders Association. "Let me urge you: If you're frustrated with Washington the answer is not to stay home and keep Harry Reid as majority leader."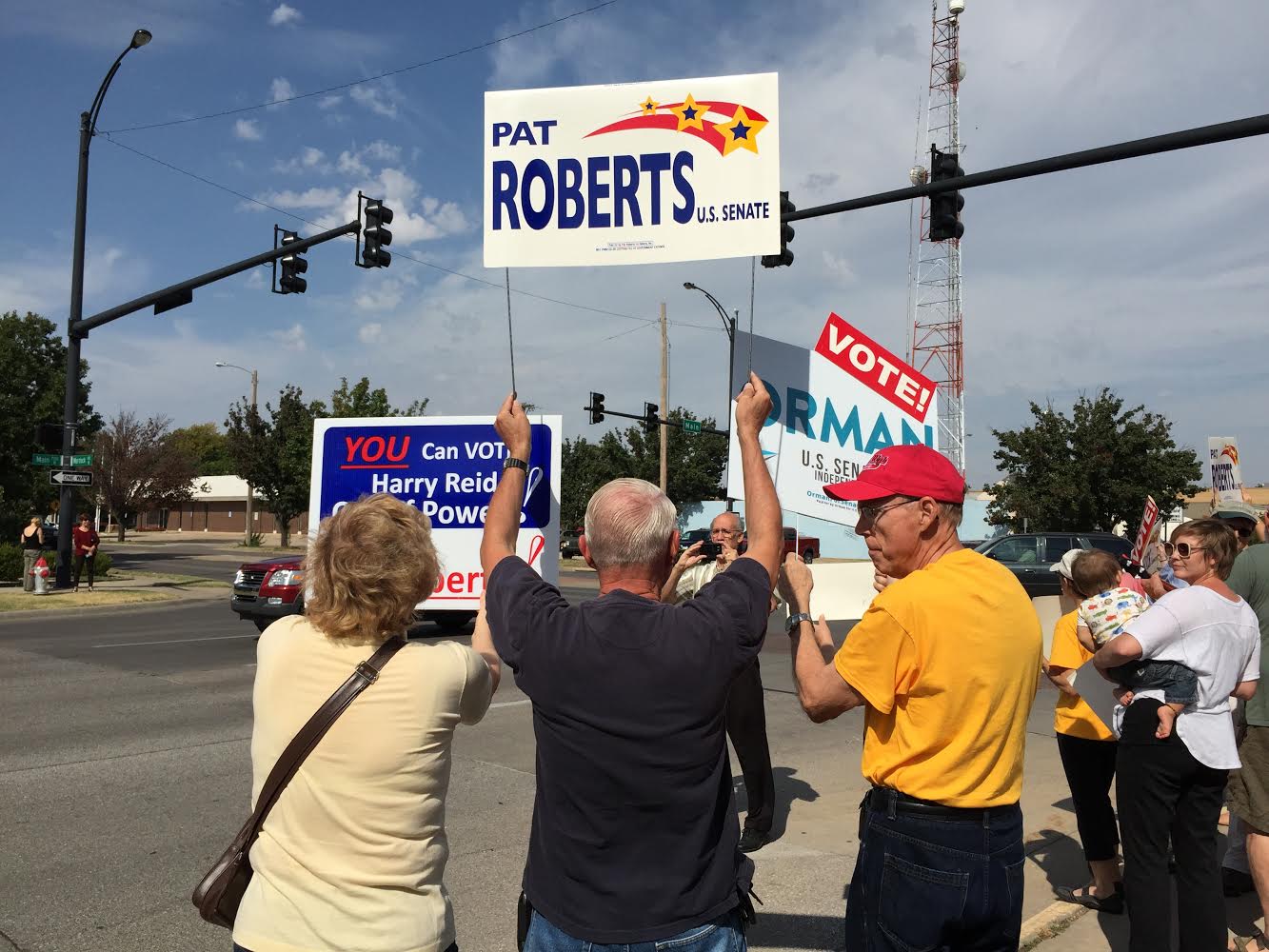 Much of Roberts success will rest on whether he can bridge deep divides with the Republican coalition. Moderates blame Republican Governor Sam Brownback's far-right tax and spending policies for the state's economic woes. Earlier this summer, many prominent establishment Republicans made news when they decided to back Brownback's Democratic opponent. And at least a few are equally critical of Robert's right-ward tilt. Former Republican Senator Nancy Kassebaum, who Roberts replaced in the Senate, declined to appear in a campaign ad with him. In a recent Marist/NBC News poll, 41 percent of voters self-identified as Republican and 30 percent as independents.
At the same time, at least a few conservative Republicans who backed Roberts' challenger in the summer primary, are threatening to sit out the election.
Standing outside the Cruz rally, bearded Orman supporters played banjos and tribal drums, a tattooed mom held a baby calmly sucking on a pacifier, as they shouted "Retire Pat." Roberts supporters surrounded them, trying to drone out their chant with their own. A few feet away stood an elderly couple holding Milton Wolf signs, still not-quite-convinced to switch their allegiances from the Tea Party candidate who lost to Roberts in the summer primary.
"There are bunch of people who aren't hard core Republicans who are simply not seeing things through a Republican lens this year," said Burdett "Bird" Loomis, a political science professor at the University of Kansas. "Roberts' problem is that he's old and not very responsive."
Tall, bald, tanned, and thin, with discrete hearing aids and a blue blazer, Roberts looks and sounds like a Senator out of central casting. Orman, with his gelled curly hair and management lingo, seems like he walked into the Kansas campaign from a start-up management suite. He favors technocratic jargon -- "if you're going to invest in a long life asset over time you need to have certainty in the funding source," he told a room full of voters at this week's debate -- and eagerly condemns both parties.
Orman's said he would caucus with whichever party wins the majority and would be open to switching sides later. On a lot of issues -- health care, immigration, energy, abortion, to name a few -- he tries to split the difference between the Republican and Democratic positions. He wouldn't have voted for Obamacare but now wouldn't work to repeal it. On immigration, he decries amnesty while saying he would vote for a path to citizenship for undocumented immigrants already in the country. He favors background checks for gun buyers and abortion rights, with some restrictions.
To avoid detailing his opaque policy positions, his strategy is to run out the clock: No more interviews with out-of-state press, few public appearances, and a heavy rotation of advertising. Democrats are officially staying out of the race, fearing that any fingerprints would hurt their chance to knock off a Republican. This week, a new super PAC, Committee to Elect an Independent Senator, organized by a Democratic donor, went up with television ads across the state.
"I've tried both parties and like a lot of Kansans I've been disappointed,'' Orman said in this week's debate. "I will stand up for the best ideas regardless of which party it comes from."
Standing at his podium during the debate, Roberts often read from his script, flipping pages and barely glancing up at the audience of three hundred business leaders, local officials, and Kansas politicians. Whether the question was about energy, taxes, or terrorism, his answer remained stubbornly on point: Blame Harry Reid, Obama, and Orman.
"A vote for Pat Roberts is a vote for a Republican majority to end the gridlock,'' he said. "A vote for Greg Orman is a vote to continue the Barack Obama, Harry Reid agenda."
Later, surrounded by reporters, Roberts bragged about the attention his race is getting.
"It is a national campaign, first one I've been in, really enjoying it guys," Roberts said, "We will win this race."
But when asked if he's having a good time, Roberts, a former Marine, issued a not-quite-believable affirmation: "Yes, I am, I'm having a good time. It's just like Marine Corps boot camp. Marines take the hill."