Jeanne Sweeney loved the Clintons so much that she displayed life-sized cardboard cutouts of the couple in her Cincinnati home. When Bill Clinton was "bad," like during the Monica imbroglio, he was placed in the closet. Hillary never went in the closet.
"Even the grandkids knew better than going into grandma's room and saying anything that wasn't in support of Hillary," said her daughter, Susan Kreuzmann. "Hillary was, to her, the real thing."
Sweeney gave as much as $16,800 in 17 separate donations, but those cut-outs were the closest she ever got to the Clintons. She died on Easter Sunday in 2008, eleven weeks before Hillary Clinton would deliver her emotional concession speech to President Barack Obama. Still, the 85-year-old found a way to back her heroine: Arranging the details of her funeral, in her final days, she told her children to ask mourners for campaign contributions in lieu of flowers.
"That was her. And anybody who knew my mother understood it immediately," said Kreuzmann. "I'm actually somewhat glad she didn't have to see her lose the primary."
Supporting the Clintons in their various endeavors over the years has taken a very large village. But within the global circus of Hollywood celebrities, Wall Street banks, foreign royalty, ex-government officials, and smitten ordinary citizens who've been drawn into the couple's orbit, there is a very small elect. According to a close reading of disclosure forms and other documents, only twelve couples have responded to every ask by giving more than two hundred dollars to the five national campaigns, the PAC, the Clinton Foundation, and Ready for Hillary—the outside group promoting a second Clinton presidential run.
These few devotees—the very innermost circle of the Clinton cult—have supported Bill and Hillary since at least 1992, through epochal triumphs and bimbo eruptions and the slow bleed of Whitewater culminating in the Monica scandal, which caused the faith of the most devoted to be tested—after which, of course, Bill could be once again taken out of the closet.
Between them, the 12 families have given more than eight million dollars.
It's helped to pay for the political campaigns, of course, but also funded the global good works of Bill Clinton's foundation, cemented Bill's presidential legacy with a 28-acre, LEED-certified, glass and steel museum complex, and helped maintain an certain style of living, donating flights on private planes, hosting Hampton vacations, and storage units full of gifts. Some of these—a china cabinet, a jacket, a copy of President Lincoln's Cooper Union speech, and a chandelier, among others—were later donated by the Clintons to the presidential library, thus preserving the relationship for posterity.
More evanescent is the constant beat of parties: Dinner fundraisers in Nantucket, Yom Kippur breakfasts, a Georgetown dinner for Elian Gonzalez where the Cuban boy, his family, and his lawyer dined on shrimp and smoked salmon. They've also been soldiers in Hillary's diplomatic wars, enlisted to help raise $60 million at the 2010 Shanghai Expo and thus help the new Secretary of State avoid a major diplomatic snub. They also helped fund the Clinton Birthplace Foundation, which preserved the small, square house the president lived in until he was four-years-old in Hope, Arkansas as a National Historic Site.
In this karmic circle, all manner of things flow back: tickets to state dinners, White House visits, speeches to favorite charities, book introductions, even ambassadorships. But the perks are not the point. It's a marriage, for better and worse, and also an obsessive kind of love, only intermittently requited, in which the true feelings of its object are forever uncertain. That is part of what it makes it so thrilling, even after all these years.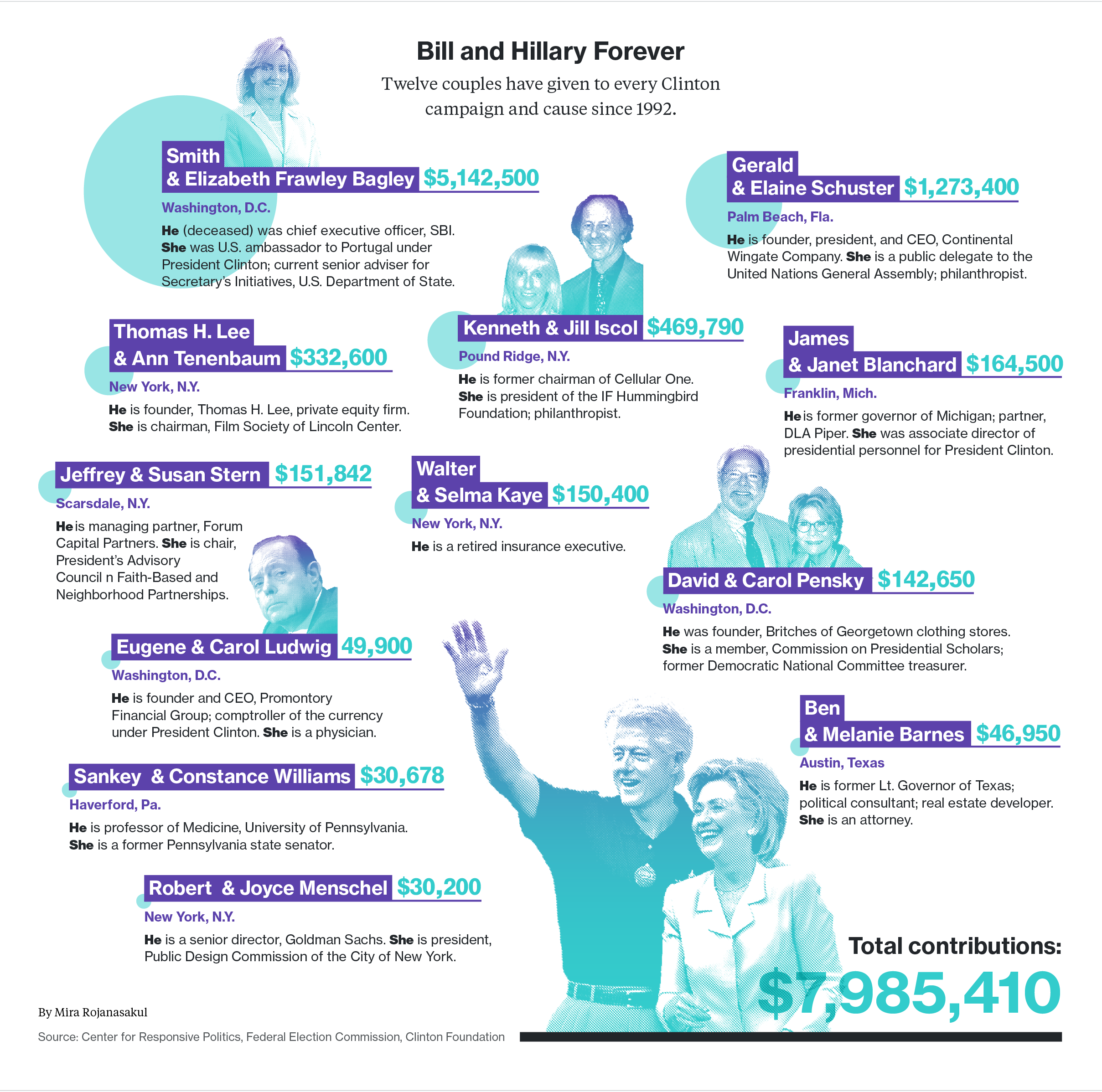 Former Michigan Governor Jim Blanchard ($60,000) is another of the dozen. "I would not claim to be in the inner circle of either Hillary or Bill, but I'm a loyal guy," he says ($164,500), sitting in his Washington law office, a small space festooned with at least ten photos of the Clintons. "We're good enough friends that they don't need to tell me and I don't need to tell them. It's just that simple. I know if I really needed something I could get them on the phone and talk to them. But I don't need anything other than their good will."
Blanchard has backed the Clintons since he first met a young, second-term Governor from Arkansas at a Georgetown dinner party in November 1982. As Hillary huddled in a corner discussing political strategy with the legendary Washington hostess Pamela Harriman, Bill collared Blanchard and began dispensing advice about raising taxes—something Blanchard would have to do as the newly elected governor of Michigan.
"I remember thinking how charming he was. He and Hillary. Both of them," Blanchard recalled. "They became friends right away."
The couples quickly became a foursome, Blanchard recalled, meeting at the hotel bar after governor's conventions. (Though Clinton, he notes, isn't much of a drinker, often nursing a glass of wine all night long.) During the conferences, Hillary would organize the spouses for their own meetings, where they'd discuss balancing work and political duties. She was practicing law then, making $92,000 in 1989. With Bill bringing in $35,000 annually as governor, Hillary supported the family.
"Hillary's been a good friend of my first and second wives. But I never thought of her of running for office, much less senator of New York," Blanchard recalled.
"Would I have thought of her in a top policy-making position somewhere, absolutely,'' he continues. "But, look, at the time, only his friends even thought he could be president."
But Blanchard quickly became a convert to the Hillary cause. He hosted fundraiser after fundraiser, organized the Michigan campaign, like he did for her husband, and fought for delegates before the Democratic National Committee. In between, he helped arrange for his firm to act as pro bono counsel for the Clinton foundation. Along with his wife, Janet, he's given nearly $60,000 to the Clintons, not counting the more than $100,000 he raised from others for the 2008 campaign.
"She's in many ways more focused and disciplined then he is. Not as apt to make small talk," he says. "She was always good, don't get me wrong, she is now very much in his league and in some respects better."
Much of the wall space in his office is devoted to basking in the reflected glory of Clinton's political career and the Clintons' efforts to assure him that he's been integral to their mission. Framed across from his desk are two front pages from the Detroit Free Press: the day he was reelected as governor and when Clinton won the White House in 1992
"Take a look at this. The two guys who are yanking away are Clinton and myself." He holds up a photo of famous faces—Joe Biden, Jesse Jackson, Michael Dukakis, Pat Schroder and others—standing behind a long conference table. On one side, Blanchard is calling to the people behind him. On the other, stands a younger Clinton, mouth open and gesturing in mid-conversation.
The photo is from a 1987 closed door meeting at the Grand Hotel on Mackinac Island organized by Blanchard for Democratic governors to audition the eight prospective presidential candidates. The Democratic party was in his home state for their annual Governors Association meeting, a group Clinton then headed.
At the meeting, the New York Times later reported, Clinton warned his fellow Democrats not to "demean the candidates," citing two frequently heard statements: that Mr. Dukakis couldn't win because his family was Greek or that Gore was not "a real Southerner."
Clinton, recalled Blanchard, had ruled out running in 1988. "I remember him saying: Chelsea was too young, it was just not right."
As he pulls photos from the shelves, he charts the Clintons' political journey. There's the shot from a golf course. "You can see he was wearing those stupid shorts." The night before Clinton was sworn in. "Look, his hair was chestnut," he exclaims. And the one taken by Nevada Gov. Bob Miller's wife at a breakfast for Democratic governors held at the Library of Congress. And finally, one of Blanchard and another super-donor, former ambassador to Portugal, Elizabeth Bagley, with Hillary at the State Department. That one has a handwritten note: "Thanks for your service and 'having my back' —Hillary."
In fundraising circles, the Clinton's are famous for those kinds of personal touches—the notes that make their donors believe they are more than just open wallets.
The realities of these odd relationships are most often submerged beneath smiles and thank-you notes, and when they surface, it can be disappointing.
In 1992, Blanchard had been promised a cabinet post as Transportation Secretary. On Christmas Eve, after the tickets to Little Rock were already purchased, he saw on the news that the new administration had gone with someone else instead: Federico Pena, the Hispanic mayor of Denver, who helped fulfill a campaign promise for a cabinet that "looked like America." Blanchard called Warren Christopher, director of Clinton's transition team, enraged.
"He said: Sorry, I couldn't get back to you. The president was going to call you but he had to do some Christmas shopping,'' said Blanchard.
In lieu of the transportation post, Christopher offered Blanchard a job in the White House, as assistant to personnel. Blanchard turned it down, after which they gave the job to his wife, Janet. White House chief of staff Bruce Lindsay threw out the idea of an ambassadorship, maybe to Canada or Germany.
"Why do I want to go anywhere?" Blanchard replied. "I don't want to go anywhere. I have a president in the White House who's my friend. I can get him on the phone."
Lindsay asked him not to rule it out, at least not before he met with the president—who turned on the classic Clinton charm. Sitting in the Oval Office, Blanchard watched as Clinton walked to a closet and pulled out a putter.
""He said here, take this, Bush left it,'" said Blanchard, slowly swinging the club back-and-forth. "I couldn't figure out why but later I realized. Bush is left-handed. Clinton is left-handed. This was a right handed putter!"
Blanchard took the job as Ambassador to Canada. And through all the intervening years, he's always been a loyal member of Team Clinton, ready to go one more round. "How can you, not after all we've been through, not want to help again."
The first time New York philanthropist Susan Stern, another of the Clinton elect, met Hillary Clinton she was running late, rushing to a fundraiser at a house in Westchester. Stern arrived, still wearing her pleated tennis skirt, in the midst of Hillary's remarks.
"I saw this woman who had a headband and glasses and a pleated skirt also," she recalled. "I was mesmerized. I said I don't know anything about him but I would vote for her for anything."
Stern and her husband, Jeffrey, a private equity investor, hosted some fundraisers when Clinton ran for reelection. Then, when Hillary decided to run for New York Senate, they escalated their level of involvement, which led to greater intimacy. At a Hillary fundraiser at Stern's home, she served a cake for Hillary's birthday.
"It was like having someone hanging out at house. She was just wonderful,'' Stern remembers. "My son had his whole basketball team, and she was hanging out with them. And we raised a lot of money."
After she won, Clinton offered Stern a job managing relationships with the families of 9/11 victim, but she turned it down, saying she didn't have the social work expertise needed for the job. Instead, she suggested Clinton make Israel her first foreign trip.
Less than ten minutes after hanging up the phone, Clinton staffers called back with an invitation to accompany the new Senator on the tour of the Holy Land. They flew commercial, with Hillary sitting next to long-time aide Huma Abedin and Stern in the row behind. When they arrived, they headed to the King David, the traditional hotel for visiting dignitaries. Clinton invited Stern up to her room to share a huge fruit basket left by the hotel. "She said come on over, 'I have all this food.' And we hung out with her and it was amazing,'' Stern recalled. It was the first of several trips Stern took with Hillary to Israel.
Now, the Clintons run in the Stern family. Her sons helped mobilize younger voters while they were in college. And her daughter-in-law recently handed out books at a signing in Chappaqua. Stern and her husband have donated nearly $52,000 to the Clintons—a figure that doesn't include the more than $100,000 they bundled for the 2008 presidential bid.
"If she decides to run she will have the entire Stern family working from all over the country, including my little grandson," said Stern. "If she runs, I'll get rid of everything else I'm doing like I did last time and give it my all."
Stern, like many donors, is a kind of collector of moments of Clinton intimacy, emblems of their relationship. in late August 2000, she recalls, when Stern joined Clinton and Chelsea as they campaigned in Scarsdale, as a scrum of voters pressed in, Stern asked Chelsea how she handled the attention.
"She said: 'Mrs. Stern, I've actually never known any other life," she recalled. "I said: 'Here's a head's up, this is not normal."
Then, there was the time Hillary called her from the 2008 Democratic National Convention to ask how Stern's hip surgery went. Or the time she called to ask after one of her sons when he was in the hospital. She's saved all the letters, including the one Hillary sent to her mother on her 90th birthday.
And she recalls one particularly special evening in January 2000, when Stern was honored by the Israel Policy Forum. President Clinton's term was coming to end and his speech to the group would be his last major address to a Jewish audience. Many of his top foreign policy aides attended but Clinton sat with her family. "He addressed my mother and said, 'you know, your daughter is pretty good. She might have a future in this business,'" she recalled. "Of course, my mother was flying."
Notes to Clinton's national security staff written on an early draft of his speech reveal a slightly different perspective: "He needs to say: Suzie is someone he knows."