Temer Wants Probe Against Him Halted on Alleged Bad Evidence
by
President says he won't resign or let Brazil be derailed

He says recording doesn't back up allegations against him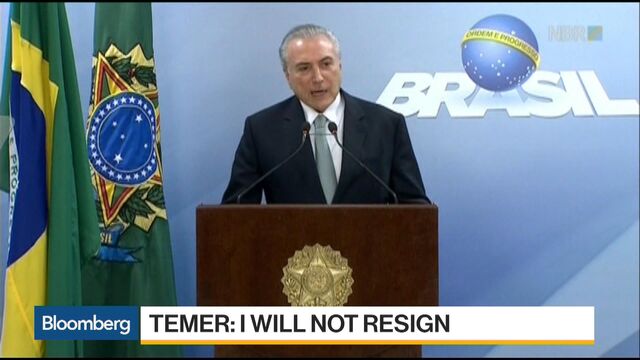 Brazil's President Michel Temer on Saturday urged the Supreme Court to suspend a corruption investigation against him, saying recorded evidence had been doctored.
"Today we are filing a petition with the Supreme Court to suspend the inquiry until the authenticity of the clandestine recording be definitively verified," Temer said in a nationally televised speech from the presidential palace.

Brazil's Prosecutor-General Rodrigo Janot says Temer helped obstruct the so-called Carwash corruption probe and may have engaged in passive corruption, according to court documents made available on Friday. On Wednesday O Globo newspaper reported on some of the evidence used by Janot, contained in a tape which allegedly revealed Temer approving hush money for a jailed politician who mastermind last year's impeachment of former President Dilma Rousseff.
The Supreme Court said it will decide on Temer's request on Wednesday, and that it will have experts verify the recording. Janot asked that the court maintain the investigation and said that, while he doesn't oppose to an audit of the tape, he's sure of its authenticity.
The scandal prompted opposition parties and some coalition members to call for Temer's resignation and to request an impeachment hearing. Financial markets plummeted on Thursday on fears the crisis would halt Temer's agenda to fix depleted public coffers and jump-start economic growth. Doubts about how conclusive the evidence against Temer is helped prompt a market rebound on Friday.
Following a terse statement denying wrongdoing on Thursday, Temer on Saturday spoke for around 12 minutes, seeking not only to discredit the evidence but also the person who recorded it.
Taped Conversation
Temer, 76, said JBS chairman Joesley Batista had set him up when he taped their conversation in March. JBS, the world's largest meat producer, sought to profit financially from the scandal through foreign currency and share transactions, Temer added. Brazil's security and exchange commission said on Friday it was looking into possible insider trading by JBS, while the company said it manages its exposure to currency and commodities on a careful, daily basis.
JBS' parent company denied that the audio of the conversation with Temer had been doctored. Batista and other executives who signed the plea bargain stand by "the veracity of all the content delivered to public prosecutors," the company said in a statement it sent by email following Temer's speech. "They won't hesitate, if needed, to provide the means to reinforce the proofs they delivered.'
Batista's JBS has become the world's largest meat producer after a $20-billion, decade-long buying spree which was heavily supported by Brazil's development bank BNDES. The company is now seeking a leniency agreement with Brazil and U.S. authorities.
Temer, a career politician who formally assumed office in August after becoming acting president just over a year ago, also suggested he was needed to ensure a recovery of Latin America's largest economy.
"Brazil won't be brought off track," Temer said, citing recent economic achievements. "I will continue at the head of government."
Yet he faced a further setback on Saturday, as the Brazilian Socialist Party decided to abandon his ruling coalition and join the opposition, newspaper Valor Economico reported.
(An earlier version corrected Joesley Batista's title.)
Before it's here, it's on the Bloomberg Terminal.
LEARN MORE