Merkel Re-Election Bid Roiled by Trump's NATO Spending Demands
by
German leader's SPD rival rejects alliance's spending target

Schulz says 'most definitely' won't happen if he's elected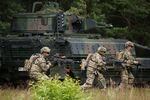 Germany's Social Democrats zeroed in on an election-year line of attack against Chancellor Angela Merkel, saying they reject a NATO defense-spending goal pushed by U.S. President Donald Trump.
Fresh from a string of electoral defeats, the SPD candidate for chancellor, Martin Schulz, stepped up his campaign against a major boost in military spending as the party works out its platform for the German election in September. National polls suggest the SPD trails Merkel's CDU-CSU bloc by as much as 12 percentage points.

While the SPD has campaigned for weeks against the alliance's target for all member countries to move toward spending 2 percent of economic output, Schulz now made it clear that he rejects it. Germany spends about 1.2 percent of gross domestic product on defense and Schulz said reaching the NATO goal would require as much as 30 billion euros ($33 billion) a year in additional outlays.
"This most definitely won't happen with me and the SPD," Schulz told reporters in Berlin on Wednesday. Foreign Minister Sigmar Gabriel, Schulz's predecessor as SPD chairman, called the North Atlantic Treaty Organization benchmark "nonsensical" a day earlier.
It's a sign of growing partisan tension within Merkel's government as she prepares to meet fellow leaders of NATO countries in Brussels on May 25 -- including Trump, who has said Germany owes "vast sums of money" on security. The Trump administration has demanded that members of the military alliance detail how they'll reach the 2 percent goal by 2024.
Unrealistic Levels
Schulz and Gabriel said Germany has an obligation to increase defense expenditure, but balked at the 2014 pledge by NATO governments, which calls on those that don't meet the target to "move towards the 2 percent guideline within a decade." The SPD leaders have said such spending levels are unrealistic for Germany and would provoke tension in a European Union already wary of German economic power.
"It's a classic Social Democratic move," Jan Techau, head of the Richard C. Holbrooke Forum at the American Academy in Berlin, said by email. "Trying to cash in on the assumed pacifism of Germans is an old strategy."
Merkel backs the NATO target, though she has recently stood up more assertively to Trump, reinforcing her point that security isn't only about military outlays.
Volker Kauder, head of Merkel's Christian Democratic-led caucus in parliament, said Germany has been on the hook for some time.
"The Americans have already pointed out before Trump that the German military has to be in better shape, and that's what we'll do," he told broadcaster N24.
In a draft campaign platform released this week, the Social Democrats reaffirm that NATO is an indispensable "pillar of the trans-Atlantic partnership" at a time of "new international insecurities and challenges." They also express support for "the preparedness and defense capability of our country and the trans-Atlantic alliance."
Before it's here, it's on the Bloomberg Terminal.
LEARN MORE