Merkel's Party Defeats Social Democrats in German State Election
by
Projections show CDU victory in Schleswig-Holstein region

German leader keeps momentum ahead of September national vote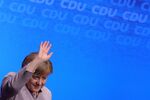 Chancellor Angela Merkel's party won a state election in northern Germany, according to projections based on exit polls, handing her Social Democratic challengers their second straight defeat at the polls before the nation votes in September.
The German leader's Christian Democratic Union took 33 percent of the vote on Sunday in Schleswig-Holstein to 26 percent for the Social Democratic Party, a new sign that it's lost the early momentum sparked by its nomination of Martin Schulz, a former European Parliament president, to run against Merkel in the fall.
The Green party took 13.5 percent, the Free Democrats 11.5 percent, the anti-immigration Alternative for Germany 5.5 percent and the anti-capitalist Left party 3.5 percent, according to ARD's projections. Also represented in the state assembly is a Danish minority party.
The result is likely to end the Social Democrat-led coalition that's governed the state of 2.8 million for the last five years. That opens up a range of possibilities, including another SPD-led government including the Free Democrats, or a new alliance led by the Christian Democrats.
The defeat increases the stakes for Schulz, who is seeking to deny Merkel a fourth term, in elections next Sunday in his home state of North Rhine-Westphalia, Germany's most populous region with almost 18 million people and the biggest testing ground before the federal election Sept. 24.
Before it's here, it's on the Bloomberg Terminal.
LEARN MORE