Le Pen Concedes Defeat, Claims Mantle of Opposition Leader
by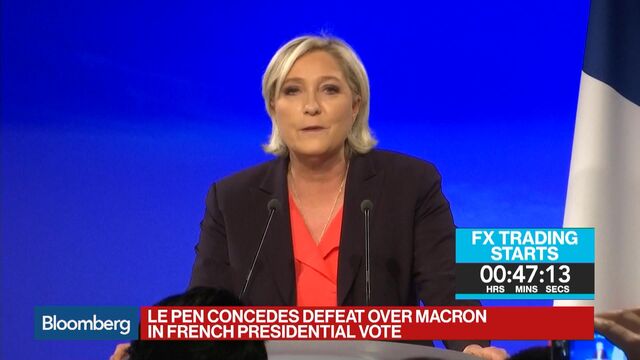 Marine Le Pen conceded defeat to Emmanuel Macron in France's presidential election and claimed the mantle as leader of the country's opposition.
"The French have elected a new president and opted for continuity," Le Pen told supporters just outside Paris. "I wish him success in the face of great challenges," she said.
Initial projections give Macron 65 percent of the vote in the second round of the election, compared with 35 percent for Le Pen. Legislative elections are scheduled for June.
"We have been designated the leading opposition force in this second round, that shows a re-composition of political life," she said. The legislative elections loom and "I'll be at the head of this fight," she said, adding that "the National Front also needs to renew itself."
Before it's here, it's on the Bloomberg Terminal.
LEARN MORE