Balance of Power: A French Brawl
by and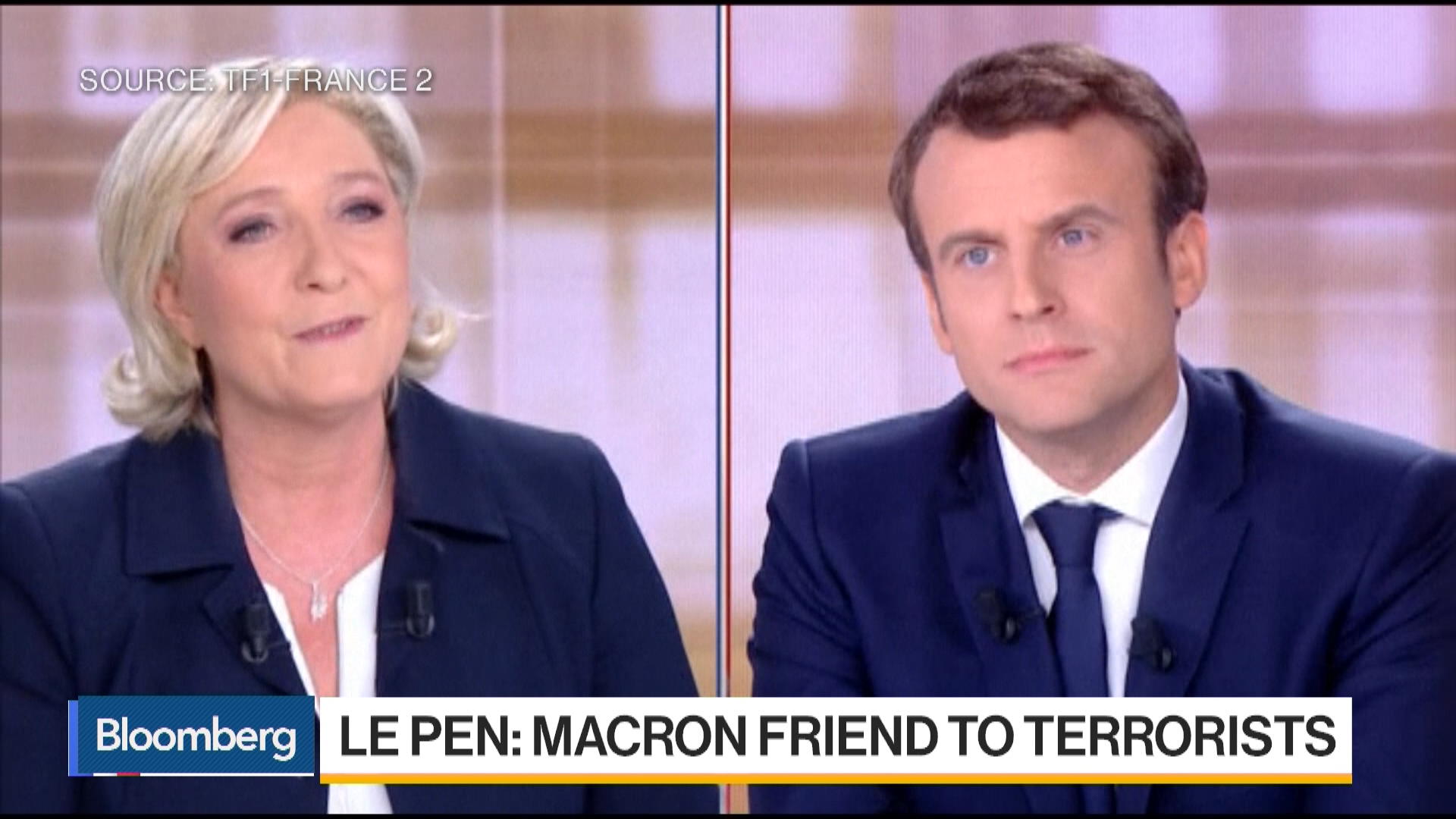 Sign up to receive the Balance of Power newsletter in your inbox, and follow Bloomberg Politics on Twitter and Facebook for more.
If the Trump-Clinton debates last year were testy affairs, this was a full-on political brawl.
Marine Le Pen's showdown with Emmanuel Macron was her last chance to cut into his 20-point lead before Sunday's presidential election. She went straight at Macron for being too establishment -- and too weak -- to lead France.
"Monsieur Macron is the candidate of savage globalization," Le Pen said in last night's debate. ``You have a soft spot for Islamic fundamentalists,'' she fumed, accusing him of wanting to turn France into a ''trading floor.''
Macron worked hard to keep his cool as Le Pen smirked, gesticulated and provoked. But he fired off a few shots of his own. "I'm looking at the high priestess of fear-mongering. You are a product of the system that you denounce, you live off it. You are a parasite."
A snap poll of voters made Macron the winner by 63 percent to 34 percent, suggesting it's unlikely Le Pen changed the trajectory of the race and that Macron is on the cusp of becoming France's next president.

Global Headlines
Republicans gamble on risky Obamacare vote | House Republicans insist today's repeal vote will pass, but no one is quite sure if they have the numbers. A compromise on keeping coverage for already-sick people may be enough to send it to the Senate, where it would face a major rewrite. If Republicans fall short a second time, it's a blow to Trump for failing to sway enough lawmakers and would raise questions about House Speaker Paul Ryan's job security.
Trump bank threat isn't scaring banks | Wall Street isn't worried about Trump's warning that he might break up big banks. Bloomberg's Robert Schmidt spoke with executives, lobbyists and lawyers and reports that White House aides rarely -- if ever -- bring the issue up and have little desire for another controversial legislative fight.
Is fixing the Middle East really that hard? | Trump doesn't seem to think so. The president sat down to a working lunch with Palestinian Authority leader Mahmoud Abbas yesterday and mused that resolving the Israel-Palestinian conflict is "something that I think is, frankly, maybe not as difficult as people have thought over the years."
Chaos in Caracas | Images of an armored car ramming protesters went viral on Wednesday, underscoring the chaos that's killed more than 30 over the past month. President Nicolas Maduro was lambasted for dancing at a televised rally while his troops clashed with protesters. His critics now accuse him of seeking to use the military to suppress his own citizens.
South Korean front-runner could bring Northern thaw | As South Korea's presidential campaign enters its final days, attention is turning to how lead candidate Moon Jae-in would deal with Kim Jong Un. Moon, the son of North Korean refugees, favors a softer touch toward the regime. That could put him at odds with Trump, who has threatened military action against Pyongyang over its nuclear weapons program. The election is on May 9.

May unleashes fury over Brexit dinner leaks | The British prime minister unloaded on European media and politicians, accusing them of interfering in the U.K. election in a blistering new line of attack. The U.K. press ate it up, with the Sun blaring "May Goes Ballistic at EU." The risk, though, is that it will make the atmosphere surrounding the Brexit talks even more toxic, raising the danger that they will collapse without the free-trade deal she craves.
And finally... | Prince Philip -- the husband of Queen Elizabeth II -- is stepping down from public life at the age of 95. The Duke of Edinburgh is most famous in Britain for speaking his mind and his politically incorrect gaffes have amused, and sometimes appalled, the nation. The Queen, who is 91, will continue to carry out her full program of engagements, Buckingham Palace said.
Before it's here, it's on the Bloomberg Terminal.
LEARN MORE