It's Street Kids Versus Posh Digs in Jab at Iran's Rouhani
by
Economic benefits from 2015 nuclear deal debated ahead of vote

Raisi says he will better tend to the needs of poor Iranians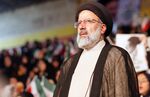 Iranian presidential candidate Ebrahim Raisi released a campaign video that claims drastic income inequality under the presidency of Hassan Rouhani and portrays his government as favoring the rich.
The economic benefits, perceived and real, of Iran's 2015 nuclear deal with world powers are the focus of this month's presidential election, and the video turned a harsh light on the subject in a 30-minute broadcast on state television. The footage shifts between street children and shabby homes and shots of tall towers, majestic villas with swimming pools and posh Western-style apartments.
Playing on themes popular in populist campaigns in the U.S. and Europe, it also takes a jab at large shopping malls it says are hawking foreign brands at the expense of local producers, whose plants are being shut, leaving Iranian workers jobless. As Rouhani seeks re-election in the May 19 vote, his rivals have attacked him for trying to bring in foreign companies and investors, saying he has failed to tend to the immediate needs of poorer Iranians.
Rouhani hasn't done a good job reaching out to lower social classes, said Adnan Tabatabai, chief executive officer of the Center for Applied Research in Partnership with the Orient, a research center based in Bonn, Germany.
Still, the potential "for turning him into a pro-rich figure is to some extent limited," Tabatabai said. "People do realize that slogans in their favor are not helping them as long as they are only slogans."
Rouhani, 68, has argued that Iran's economy is still recovering from a decade of economic sanctions prior to the nuclear deal and that it needs a boost through foreign investment and access to new technology. The nuclear deal's provisions easing sanctions didn't take effect until early last year.
The video disregards such arguments. In one scene, an old man is sitting on the floor in a house with broken windows and holes in the walls. Palms raised to the sky, he says he gets to eat only bread and has no income or health insurance. "I can only confide in the wall," he says. "Who else is there to hear me?"
 
Later, the music picks up and Raisi enters. Wearing a black turban indicating descent from the Prophet Mohammed, the 56-year-old cleric is shown addressing supporters. Thirty-eight years have gone by since Iran's Islamic revolution, in which the "people had many aspirations," he says. The level of poverty and joblessness in the country isn't "dignified," he adds.
For a story on how Rouhani's campaign got an endorsement boost, click here
"I want to save people from this situation," said Raisi, who is considered close tot Supreme Leader Ayatollah Ali Khamenei. "It can be done".
Rouhani adviser Hesamodin Ashena denounced the film for projecting a "bleak picture" of the Islamic Republic, with the sole aim of "attracting votes," according to the state-run Iranian Students News Agency.
Before it's here, it's on the Bloomberg Terminal.
LEARN MORE