Abe Aims to Enact New Constitution in 2020, Year of Olympics
by and
Wants Japan's self-defense forces mentioned in Article 9

Abe 'strongly' hopes new constitution to go in effect in 2020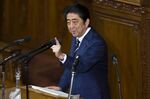 Japanese Prime Minister Shinzo Abe said he's aiming to enact a revised constitution in 2020, the year that Tokyo hosts the Summer Olympics for the second time.
"Japan experienced a great rebirth as it prepared for the Tokyo Olympics in 1964, and the confidence it gained at that time became a driver for our rapid growth into a developed country," Abe said Wednesday in a video message broadcast on NHK News. "I strongly hope that the year when the newly reborn Japan starts to to firmly move forward, in 2020, will be the year when a new constitution is enacted."
Abe said that that the war-renouncing Article 9 of the constitution should be amended to explicitly mention Japan's self-defense forces. He also said there should be more discussion about making higher education free. The video message was delivered to a civic group in Tokyo calling for a revision of the 70-year-old constitution, which was drafted by the U.S. during its postwar occupation.
Abe's setting of a date for revising Japan's constitution comes as the Japanese public remains mixed on whether to revise Article 9. A mail-in survey conducted by Kyodo News found 49 percent of respondents were in favor of changing the pacifist wording, compared with 47 percent who said they were against it, according to a report published in the Tokyo Shimbun April 30.
While constitutional change was one of the founding principles of Abe's ruling Liberal Democratic Party, revision requires a two-thirds majority in both houses of parliament, as well as a national referendum.
Before it's here, it's on the Bloomberg Terminal.
LEARN MORE