Trump Tries to Save Face After Taking a Thumping on His First Budget Showdown
by and
President calls for September shutdown or ending filibuster

Mulvaney says Democrats trying to show GOP isn't reasonable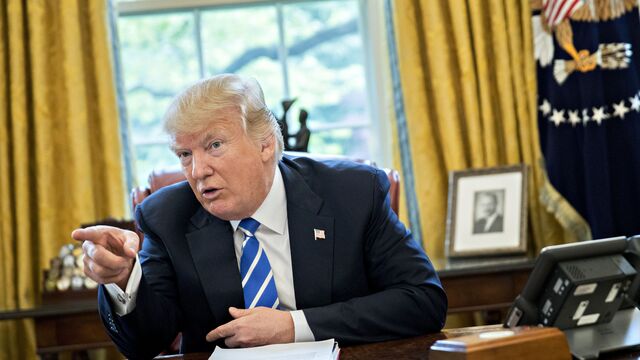 President Donald Trump's first budget showdown with Congress went so poorly he's already talking about a government shutdown in September and an end to the Senate's filibuster rule.
"Our country needs a good 'shutdown' in September to fix mess!" the president tweeted on Tuesday as Republicans struggled to save face over a $1.1 trillion spending bill that denied Trump most of his wish list. The White House hastily put budget director Mick Mulvaney on a conference call to accuse Democrats of being "desperate to show that we aren't reasonable."
House Speaker Paul Ryan, meanwhile, put out a press release touting the deal as a victory over Democrats -- but within an hour made a quick pivot, telling reporters that he shared Trump's frustration over the measure.
The spending legislation that is headed for a House vote as early as Wednesday became the latest flashpoint between the Trump administration and Congress, with Republicans already feeling the heat on their failure so far to repeal Obamacare. Many in the party tried to shrug off Trump's bluster on Tuesday, unwilling to let his remarks unravel the spending deal.
The president himself changed his message shortly afterward, telling Air Force Academy cadets in the White House Rose Garden that the plan contains more money for the military and border security.
"This is what winning looks like," Trump said even as he castigated Democrats for claiming victory in the spending bill talks.
Even so, some Republicans weren't bothering to sugarcoat the outcome. Senator Lindsey Graham of South Carolina told CNN Tuesday that "Democrats cleaned our clock" on the spending bill. "This is not winning from the Republican point of view," he added.
Trump had demanded that Congress give him time to shape the spending bill, but he was denied victory by Democrats -- and many Republicans -- on most of his requests. That meant the plan to fund the government through September includes no money for his Mexican border wall, only a minuscule cut at the Environmental Protection Agency and full funding for Planned Parenthood.
'Change the Rules Now'
He lashed out on Twitter, blaming lawmakers Tuesday for a plan that ignored his wish list.
"The reason for the plan negotiated between the Republicans and Democrats is that we need 60 votes in the Senate which are not there!" he wrote. "We either elect more Republican Senators in 2018 or change the rules now to 51%."
Democrats weren't pleased with his outburst.
"Threatening to shut down the government, on the heels of a successful, bipartisan agreement, is a sour and shameful note," said Senator Patrick Leahy of Vermont. Senate Minority Leader Chuck Schumer said, "It is truly a shame that the president is degrading it because he didn't get 100 percent of what he wanted."
The real problem is that Trump doesn't have the votes to pass his spending plans, and his own party leadership had no desire to march into a shutdown over the Mexican border wall or cuts at agencies with strong GOP backers like the National Institutes of Health and the State Department.
Trump 'Beat Them'
Trump had told Bloomberg News Monday both sides seemed "happy" with the spending bill and that he would sign it if it remained unchanged after House and Senate votes this week. But the president's attitude changed after he was confronted with newspaper headlines proclaiming that the Democrats won the spending bill fight.

During his combative conference call, Mulvaney insisted that Democrats "can take credit" all they want, but they didn't "get a penny" in new money for matters such as Obamacare subsidies. "They wanted a shutdown" to show the president as incompetent "and he beat them on that on the highest levels," Mulvaney said.
Mulvaney's phone connection cut in and out and he struggled to be heard over a background medley of classical and patriotic music. He abruptly disconnected as "Yankee Doodle Dandy" played over him.
At a later press briefing, Mulvaney said Trump wants to change Washington, "and if it takes a shutdown, that's what it takes."
"That's why it's so frustrating to see Democrats go out and say they won and we lost," the budget director said.
Trump won't emerge completely empty-handed. He will sign a measure that adds $15 billion more for defense -- half of what he asked for -- and $1.5 billion for border security -- without having to give the Democrats a ransom in dollar-for-dollar domestic spending increases. But that's tacked on to an underlying bill little different from one that had been pre-negotiated under President Barack Obama, lawmakers in both parties said.
Debate Delayed
The irony is that Trump himself asked Republicans late last year to delay the spending debate until late April.
"I think they would like to have a say-so on how money's going to be spent going into the next year," Ryan told reporters after Trump's victory in November.
Conservatives who had successfully delayed a final deal last year sounded bitter about the experience.
"We did a short-term spending bill for this time so that when Republicans controlled the government, we could actually do the things we campaigned on," Representative Jim Jordan of Ohio, a founder and past chairman of the conservative Freedom Caucus, said Monday on CNN.
Representative Jeff Duncan of South Carolina called the deal "crap" in a Facebook post, saying moderate Republicans failed to stand firm on issues like defunding Planned Parenthood and so-called sanctuary cities, even though they have the White House, the House and the Senate in their control.
Even ending the minority party's ability to filibuster Senate legislation -- something Majority Leader Mitch McConnell said Tuesday "won't happen" -- wouldn't necessarily have helped much, given GOP resistance to spending cuts and the border wall. McConnell said an "overwhelming majority on a bipartisan basis" in the Senate opposes changing the rules.
White House and Republicans said they would do better on the next negotiation on the next fiscal year, which starts Oct. 1, but there's little reason to expect the results then to be substantially different. While Trump can't keep the government open without the Democrats under current rules, the unpopularity of the president and the border wall aren't helping him much.
Not a 'Peep'
Trump has failed to reach out to Democrats so far, Schumer said. "Instead of calling names, sit down and try to work with us," the senator said. "We haven't heard a peep."
Representative Dave Brat, a Virginia Republican and Freedom Caucus member, complained that his party isn't holding firm.
"Schumer is grinning and conservatives are flinching," Brat said. "We just won the House, the Senate and the presidency. All of our people back home -- we're getting hammered on this. This one's not close -- 95-5 conservatives back home are hammering us."
On the other hand, moderate Republican Senator Susan Collins of Maine said she was pleased with the spending deal -- in particular the $2 billion increase in NIH, money for Community Development Block Grants and transportation grants, programs Trump sought to cut.
She said the bill wasn't very different from what appropriators had negotiated last year and said it was a mistake to punt the deal in December. "Would the outcome have been different? I do not believe so," she said.
As for the border wall, Schumer said it would be ineffective and expensive and that he spoke to seven or eight Republicans who opposed it.
Leahy, the ranking Democrat on the Appropriations Committee, said in an interview that he offered Republicans a separate roll call vote on the wall, which Republicans knew would fail. The White House backed off after being told the GOP didn't have the votes, Leahy said.
"Let him try to get Mexico to pay for it," Schumer said.
Before it's here, it's on the Bloomberg Terminal.
LEARN MORE